Habey has recently unveiled HIO Project, a $100 ARM Linux board designed for rapid prototyping powered by Freescale i.MX6 dual lite or quad, and shortly after, the company launched a Kickstarter project for HIO Wallpad, an in-wall Power-over-Ethernet touch controller for home or office automation embedding HIO Project boards.
HIO Project Boards

HIO Main Board (HIO-EMB-1200) specifications:
Soc – Freescale i.MX6 Dual Lite or Quad ARM Cortex A9 processor @ 1 GHz + Vivante GPU
System Memory – 1GB DDR3
Storage – 4G iNAND flash, 1x micro SD socket
Video Output – 1x HDMI
Audio – 1x on-board audio codec with 1W Amplifier built-in to I/O expansion headers
Connectivity – 1x GbE PHY to I/O expansion headers
Expansion Connectors:

1x PCIe PHY to I/O expansion headers
8x 50-pin 1.27mm pitch female header for I/Os: 24bit Parallel Display Port, dual channel 24bit LVDS, MIPI DSI up to 24bit, MIPI CSI up to 4 lane, 8bit parallel camera interface, GbE PHY, x1 PCIe PHY, 2x USB2.0, I2S audio codec output with Line-out/detect, Line-out, Mic-in/detect, speaker out (1W), 4bit SDIO, IOMUX outputs: up to 5x UART, 2x CAN, 3x SPI, 3x I2C, 34 configurable GPIO

USB – 2x USB2.0, 1x OTG (Device)
Debug ports – 1x UART Console, 1x JTAG
Power – 5VDC
Dimensions – 72mm x 80mm x 10mm (HIoTX form factor)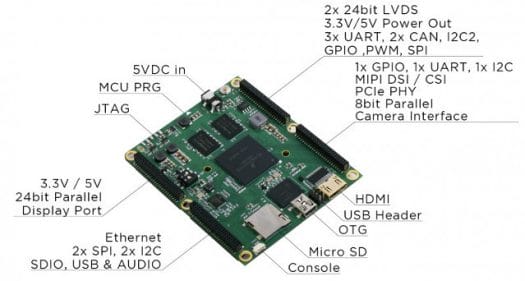 There are three daughter boards available:
POE Board (HIO-POE1260-IWK)

Standard RJ45, Power Over Ethernet 802.3af compliant
Ethernet RJ45 POE input or standard GbE input without POE module
Serial Port 1x RS-232 (Tx, Rx) via RJ45, 3x RS-232 (Tx, Rx) via pin header
Power – DC Input 2 pin terminal block or RJ45 12V DC power input
Dimensions – 72mm x 60mm

IO Board (HIO-IOB1240)

Ethernet -1x GbE RJ45
Camera – 1x 8bit Parallel, 1x MIPI 2-lane CSI,
I/O – 2x I2C, 2x USB2.0, 1x 4bit SDIO, 1x 5V +3.3V pin header
Audio – 1x Line-out, 1x Line-in, 1x Mic-in, 2x 1W speaker out
Power – 5VDC Power In
Dimensions – 72mm x 40mm

HIO-PNL1280-IWK Board

Display -Parallel RGB, default support Sharp 3.5" LCD Panel, 2.8VDC
Audio -1x Mic-in, 2x 1W speaker out
WiFi -1x USB WiFi Module
I/O -1x USB2.0, 1x I2C for TP, 1x power button
Dimensions – 72x 80mm
The main power can work on standalone, and you can insert one or more daughter boards, at the top or bottom of the main board. In the picture above the main board is apparently coupled via the PoE board and HIO-PNL1280-IWK daughter board. The company can provide the Android SDK, and a Linux SDK is also in the work. The IO boards, panel boards, POE boards and other daughter boards, add-on modules developed for the HIO Project should become open hardware, albeit not the main board.
The boards should become available at the end of May , but you can now reserve the main board (Dual Lite) for $99.99, PoE board for $59.99, IO Board for $19.99 and a 5V/3A power supply for $12.99. Shipping varies between $12.99 and and $39.99 depending on your location. Strangely, HIO-PNL1280-IWK board shown in the first photo does not seem to be available for reservation. You can find details more on HIO Project website. If you're feeling lucky, you could also participate in the giveaway "competition" to get one of 5 free kits.
HIO Wallpad
HIO Wallpad kickstarter project showcases HIO Project capabilities, and allows you to connect and control your entire home or office automation system via a single PoE Ethernet cable for data and power, albeit there's also Wi-Fi connectivity as an option. It's basically like a 3.5″ Android phone that you'd insert in your wall running Android 4.2.2 or, soon, Linux.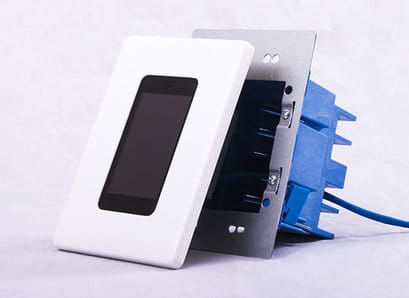 HIO Wallpad specifications:
SoC – Freescale Cortex A9 1GHz i.MX6 DualLite with Vivante GC880 (3D) and GC320 (2D) GPUs
System Memory – 1GB DDR3
Storage – 4GB NAND flash, 1x microSD slot (internal)
Connectivity – Gigabit Ethernet, WiFi
USB – 1x mini USB 2.0 OTG (device only, internal)
Audio – MIC-in internal header, 2x header to 2x 1W internal speaker (optional)
Display – 3.5″ LCD capacitive touchscreen panel connected via a parallel RGB interface. Resolution 480×800.
PoE – Via aforementioned HIO-POE1260-IWK board.
Enclosure – 2-gang box (vertical) made of plastic, aluminum, and steel.
Dimensions – 164 x 114 x 40 mm
Temperature Range – Operating: 0 – 50°C
Thanks to the company's PoE dedicated system and third-party home automation software, the HIO Wallpad can be used as a standalone home automation system. However, another goal of the project is to make it hacker-friendly, so that hobbyists can code their own software and/or develop their own hardware to control anything they can think of, and eventually build a community around HIO Project. If your application requires a bit more real estate on the screen, a 7″ development kit is available as a perk.
An "early adaptors" $139 pledge will get you an HIO Wallpad with PoE, $159 HIO Wallpad PoE + Wi-Fi. Both perks exclude the 2-Gang box, PoE injector/switch and network cables shown on the picture, so you'll have to acquired them separately. The 7″ display development kit goes for $499. Shipping is free in the US, but $30 or $50 outside depending on the perk. If the campaign is successful, products will be shipped in batch in July, August and September.

Jean-Luc started CNX Software in 2010 as a part-time endeavor, before quitting his job as a software engineering manager, and starting to write daily news, and reviews full time later in 2011.