I must have heard about virtual reality for many years, even since I was a kid. But during that time, progress was slow, but it seems the time is ripe for virtual reality kits targeting consumers. The cheapest way to get started is with a smartphone adapter such as vrAse or Opendive, but if you want a possibly better experience using the power of your PC or game console you'll want a more expensive kit such as Oculus Rift, or for developers, Oculus Rift Development Kit 2 that sells for $350. One possible downside of such kit is that it requires USB, HDMI and power cables, so it limits your mobility. ANTVR, a Beijing startup, will soon launch a virtual reality kit of the same name that will be available either with an HDMI cable, either without cable using WHDI (Wireless Home Digital Interface) with less than 1ms lag.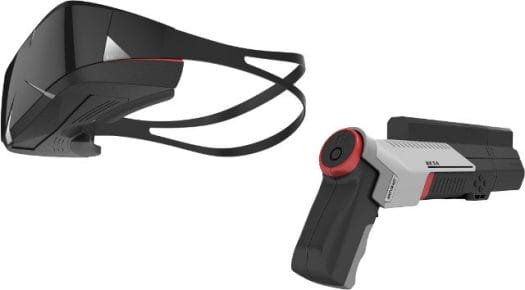 The kit is composed of a virtual reality headset, a video driver box, a remote controller, and lithium battery, and you can use it to play 3D games or watch movies.
The company has highlighted the following key features for their kit:
ALL-IN-ONE

Supported by all mainstream gaming platforms
Compatible with any game or movie (2D or 3D)
2 x 9-axis IMU (Inertia Measurement Unit), 1000Hz (headset + controller)
WHDI wireless transport module, low latency

The BEST VR headset to date

1920×1080 Full HD screen (1.03MP per year)
100° Field of View
Internal rotation + movement tracking

Transformable remote controller

Remote controller only – Used as a joystick or gamepad
Remote controller with a video driver box – Used as a gun
For the HDMI version, you only need an HDMI cable to transmit audio and video signals from your PC, Xbox, Playstation or Android device. Power comes from the Lithium battery, and the control signals and data (e.g. accelerometer, gyroscope and magnetometer data) are transmitted via U2B  module, a  USB-2.4GHz and Bluetooth dongle. The gun and headset are also connected via a cable. The complete connection diagram is shown below.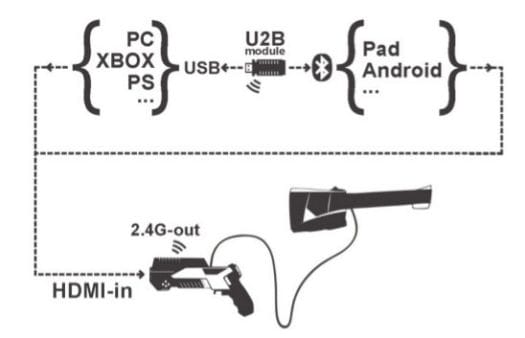 If you'd rather like to go 100% wireless, you could choose the WHDI version that remove the need for the HDMI cable, as audio and video are transmitted wirelessly.
Here are a few things, you can do with this kit.

Virtual reality kit can make you dizzy, so the company has implemented "ONE-step control" so that if you take a step in any direction, the game character will continue walking until you take a step back, in order to avoid this issue. Crouching and jumping are also supported. The device also features a glance window that you can open to check what's going in the real world, and close to get back to "business", supports for left and right handed players, and provides enough space for prescription glasses,
ANTVR plans to provide an SDK for software development so that more games and applications become available with the platform. U2B module is said to be open source to adapt the control commands, and use it for other applications such as gaming systems, UAV, and robots.
ANTVR virtual reality kit will be available on Kickstarter starting may 14, where you'll be able to pledge for the standard version for $300, and the WHDI version for $500 both including international shipping. The products will be manufactured if the company meets its funding target ($100,000) by the end of the 40-day campaign. More information should eventually be available on ANTVR webite.

Jean-Luc started CNX Software in 2010 as a part-time endeavor, before quitting his job as a software engineering manager, and starting to write daily news, and reviews full time later in 2011.