[Update 2: Now that I have a 4K TV, I've redone the test myself, and Rockchip RK3288 can play 4K videos properly. The mistake was to use Software decode in MX Player which renders to the framebuffer instead of the video buffer. Visit the post entitled 4K Output and Video Playback Capability Tested on 6 ARM based mini PCs and Boards for details.]
[Update 1: The post has now been updated, after it was clear one of MX Player options was misunderstood. The conclusion remains the same]
Over the last few years there have been complains about Android TV boxes decoding 1080p video, rendering them to a 720p frame buffer, and upscaling them back to 1080p resolution for video output, so you ended up playing 1080p videos at a real 720p resolution. I never investigated the issue in details, and thanks to new media players now coming with a 1080p user interface / framebuffer, the debate for 1080p has more or less ended, and instead it has moved to 4K media players. A few days ago, 4K test patterns (actually 2160p / 3840×2160) were released as a PNG picture, and an lossless H.264 MKV video so that 4K resolution could be tested. The reason for having both a picture and a video is because both may go through different hardware path as I explained the aforementioned post. I don't have a 4K TV myself, but Javi, working for Asiapads, tested both the picture and video on the upcoming Zero Devices Z5C Thinko HDMI TV stick powered by Rockchip RK3288 with a Samsung UHD TV.
First the bad but expected news. Even if you set 3840×2160 video output in the device, the user interface resolution remains at 1920×1080, so if you display the 4K test pattern, comprised of a grid of black and white pixels, you would only see a gray background, or an image with a low resolution. So if what you are looking for is a device to play games, browse the web for super sharp text, you'll need to find another solution, probably a full blown computer with a graphics card capable of handling 4K UHD resolution.
What about video playback? The first challenge is to find a player that will actually play the video, because it seems most player won't have lossless H.264 at all. To play 4K_video_test_pattern.mkv, you need to do the following:
Install MX Player app
Play 4K_video_test_pattern.mkv in MX Player, and on the top of the app click on H/W to select S/W decoder
Click on the icon on the right of the Next button to adjust the aspect ratio to "100%" so that the image is not distorted. fit to screen.

Click on pause to have time investigating
Here are the results on Zero Devices Z5C Thinko at 3180×2160 @ 30 Hz. [Update: this picture is based on 100% setting in MX Player, which zooms the video, so in any screen resolution, all pixels will be seen, even if you use 320×240…. But as we'll see below, even in 100% mode we can determine whether a device supports 4K or not]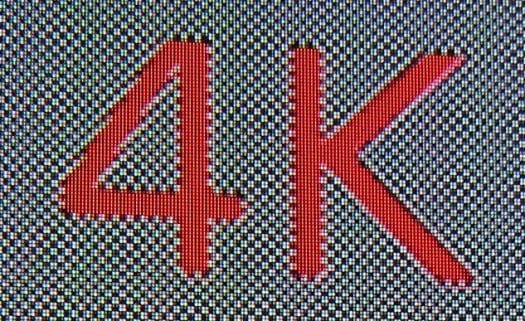 and if the device is set to 1080p resolution: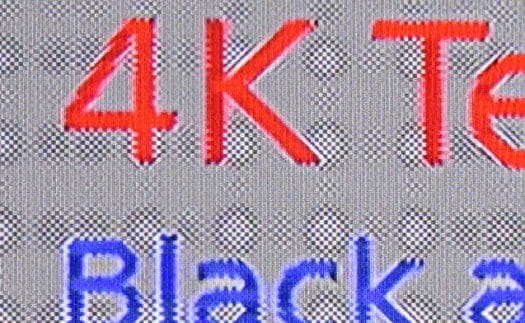 The pictures are not taken with the same level of camera zoom, but it still seems convincing. 4K looks much better, so it must be that RK3288 Android devices really output 4K after all.
I also tried this yesterday on A80 OptimusBoard (AllWinner A80) connected to a Full HD Panasonic television, and I could clearly see some black and white dots [Update: Because I used "100%" mode which turn out actual show all pixel (even off screen) and in effect zooms the video], so I decided to take a picture too…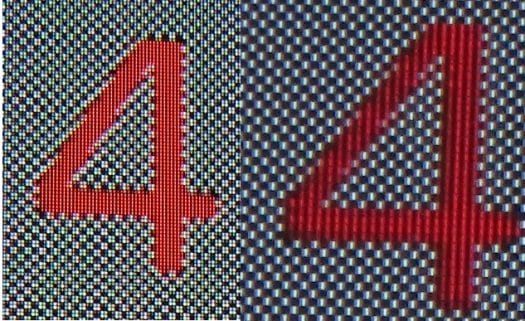 The left part above is taken from the picture of the Samsung 4K TV, and the right part is taken from a picture of my Panasonic FHD (1080p) TV, and it becomes pretty obvious what happened here. First on the top of the number "4" there are 6 dots on both pictures, so that's the first oddity. But when you look at the red dots on both pictures, it's pretty clear to see what happened. For each black and white dots on the UHD display there are two red dots, but only one on my FHD television. The conclusion is that MX Player very cleverly interpolated the dots to re-create a 1-pixel grid at 1080p resolution, and the real picture quality output from the Rockchip RK3288 is actually 1080p despite outputting a 3840×2160 signal to the TV, so "4K" does indeed appear to be a marketing trick rather than a reality, as it applies to video decoding and output capability only, but the image is downscaled at some stage before being upscaled again. The same is most probably true for Amlogic S802 based Android media players too. I'm pretty confident with my conclusions, but I'd be glad to read other opinions. The only thing I don't understand is why 1080p video output on Z5C Thinko looks so much different than 2160p.
The left part above is taken from the picture of the Samsung 4K TV, and the right part is taken from a picture of my Panasonic FHD (1080p) TV, both using 100% mode in MX Player, which explains why all pixels are shown. But if you look on the 1080p TV, only one pixel is used for each black or white dots, whereas on the 4K TV, it's clear 4 pixels (2×2) are used for each dot, meaning the true video resolution is actually 1080p, as if it was 4K UHD (aka 2160p), there would be one pixel per dot in 100% mode.
Moreover, If I play the video in MX Player using "fit to screen" on the TV, the background is clearly gray, as expected, and I understand Javi could only see the white and grey dots on his 4K UHD when using 100% mode in MX Player. So the conclusion is clear: Rockchip RK3288 based Android devices, and probably Amlogic S802 Android devices, can not output true 4K videos / images, so it's just a marketing trick, with the devices being capable of decoding 4K UHD videos, and outputting 4K UHD to your TV, but unfortunately the video is downscaled, before being upscaled in the process, so what you see on your new shiny 4K TV is actually a video rendered @ 1080p resolution.
[Update: This is what the 4K test pattern (png) looks like on a 4K UHD Seiki TV, Thanks Dan!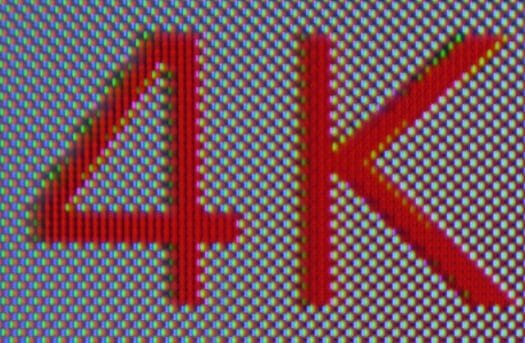 One white dot (RGB) does indeed correspond to one pixel, and the black and white dots are the same "size" as the red dots in the numbers.
Original high resolution pictures can be found @ https://drive.google.com/folderview?id=0B4ijp-kf8RV0VFRYblZMWGNaY1E&usp=sharing

Jean-Luc started CNX Software in 2010 as a part-time endeavor, before quitting his job as a software engineering manager, and starting to write daily news, and reviews full time later in 2011.