I've already listed specs, and shown a few pictures of Kingnovel K-R68 (R6) Android media player based on the latest Rockchip RK3288 quad core processor. I've now gone through all my usual tests, so today, I'll write the review, going through the user interface, testing video playback, reporting one various performance benchmarks including network and storage performance, tested most hardware features, and played a few games.
First Boot, Settings and First Impressions
Albeit there's an infrared remote control with the device. I've not used it all, especially, as we'll see below the default user interface is the stock Android home screen. As usual, I've connected an RF dongle to use Mele F10 Deluxe air mouse. Before powering up the device, I've also connected an HDMI cable, a USB hard drive, and an Ethernet cable. Albeit there's a power button, the device will boot automatically as you connect the power adapter, and the boot completes in just over 20 seconds.
The status bar is shown by default with a power (Standby or Reboot) button, volume buttons, the back, home, and app list icons, as well as an icon to hide the status bar. I've enabled the screenshot button in the settings. The user interface defaults to Chinese as shown in the screenshot above, so I had to go to the settings to change the language. The resolution was set to 1920×1080.
The Settings are basically the same as Uyesee G1H, but with some colorful icons on the left, instead of the usual black and white icons, and there's no "Home" to select between launchers. The Wireless and Networks section features Wi-Fi, Bluetooth, Ethernet, and Data Usage sections, as well as a "More" section with VPN, Portable Hotspot and so on. You can choose between "Default Output" (PCM / Down-mixing), "Spdif Passthough", and "HDMI Bitstream" (HDMI pass-through) in the sound settings, (Not tested, as I don't have audio receiver). The Display settings include options to adjust for overscan, select HDMI, YPbPr, and "TV" (Composite) video output, as well as the resolution: "auto", 1080p 24/25/30/50/60Hz, 720p 50/60, 720×576 or 720×480. Again it's exactly as the previous RK3288 sample I tested (G1H). 4K options should also show if the box is connected to 4K TV, Most of the tests have been done using HDMI output, but I also tested composite and component (YPbPr) video outputs.
Composite works, but in NTSC mode I had a green line on the bottom, which I could not hide with the "Screen Scale" menu. I had no such problem in PAL mode. I had the same problem with Component (YPbpr) output as with my other RK3288 device, as only the Chrominance signal would apparently be displayed. Resolutions selectable with YPbPr are only 720p, 720×576 (PAL) and 720×470 (NTSC), and there's no option for 1080p.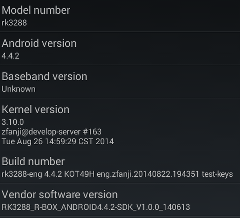 K-R68 features a 8GB eMMC flash partitioned with a 1.91GB "Internal Storage" partition for apps with 1.53 GB free, and a 4.27 GB "NAND FLASH" partition for data. A single partition for apps and data would be ideal, but this partitioning should work fine for most people. The "About device" section reports the model number as "rk3288", Android 4.4.2 on top of Linux kernel 3.10.0. The firmware is not rooted, and I don't have male to male USB cable, so I could not root it via the OTG port. In this review, I won't show a video of the settings and user interface, because it's just the same as Uyesee G1H, apart from a different home screen (pictured above), and colorful icons in the settings menus.
Google Play Store works as expected, and I could install most apps such as ES File Explorer, MX Player, Antutu, Quadrant, Beach Buggy Blitz, etc… and even paid apps such as Sixaxis Controller installed properly. Vidonn activity tracker app was reported as "incompatible with your device". I also installed Amazon AppStore after downloading it via the stock browser, and loaded Riptide GP2 on the device.
I haven't used the remote control, but the power button on the status bar only lets you reboot and put the device into standby. Press the Power button on Mele F10 deluxe also brings the same menu. The power button on top of the device can only be used to power off the device completely, and to do so, you'll need to press it for 10 seconds. The enclosure also gets pretty hot. The maximum temperatures measured with an infrared thermometer on the top and bottom of the box were respectively 46 °C and 56 °C after running Android 5 benchmark, and after playing Riptide GP2 for 30 minutes at 1080p (right after playing a 1080p movie for 2 hours), the measured max. temperatures reached 58 °C and 77 °C…
The firmware is stable and fast. I had no reboot and hang ups during my testing. Thanks to fast eMMC, apps loading times can be impressive, for example XBMC loads in less than 2 seconds, and I never had slowdowns as experience in Uyesee G1H while installing apps. The user interface resolution is 1080p by default, but if you want some extra performance for some games for example, you can switch to 720p if you wish.
Video Playback
Contrary to Uyesee G1H, Kingnovel K-R68 comes pre-loaded with XBMC. So I played videos from a SAMBA share over Ethernet using XBMC, only switching to MX Player in case of issues. I had problems with Gigabit Ethernet again (instability), so I used a 10/100M hub between the device and my Gigabit switch (D-Link DSG-1005A), and the connection was perfectly stable. So all results are based on XBMC playback unless otherwise stated.
I started by playing videos samples from samplemedia.linaro.org, and H.265/HEVC video by Elecard:
H.264 codec / MP4 container (Big Buck Bunny), 480p/720p/1080p – OK
MPEG2 codec / MPG container, 480p/720p/1080p

XBMC – OK, but smoothness could be better.
MX Player – Video playing at an estimated 2 to 4 fps, with most frames skipped

MPEG4 codec, AVI container 480p/720p/1080p – OK
VC1 codec (WMV), 480p/720p/1080p

XBMC – Audio only
MX Player – OK (H/W decode)

Real Media (RMVB) – RV8, RV9, and RV10 – OK and relatively smooth, also not perfect like on PC (VideoLAN)
WebM / VP8 – OK
H.265 codec / MPEG TS container

XBMC – Audio only
MX Player – OK (H/W decode)
So XBMC can't play H.265, no VC1 videos, and MPEG-2 play, but are not super smooth.
Next are some higher bitrate videos:
ED_HD.avi

– OK, no problem even in fast moving scenes
big_buck_bunny_1080p_surround.avi (1080p H.264 – 12 Mbps) – OK.
h264_1080p_hp_4.1_40mbps_birds.mkv (40 Mbps) – OK
hddvd_demo_17.5Mbps_1080p_VC1.mkv (17.5Mbps) – Audio only (That's the VC1 codec issue in XBMC).
Jellyfish-120

-Mbps.mkv

(120 Mbps video without audio) – OK
All high definition audio codec could play (downsampled) in XBMC:
AC3 – OK
Dolby Digital 5.1 / Dolby Digital 7.1 – OK
TrueHD 5.1 & 7.1 – OK
DTS-MA and DTS-HR – OK
Sintel-Bluray.iso Blu-ray ISO file could play just fine in XBMC.
None of the 4K videos could play without issues in XBMC. The HEVC/H.265 video were all played in MX Player:
HD.Club-4K-Chimei-inn-60mbps.mp4


XBMC – OK most of the time, but skips about 60 frames at the end of the video (The image will freeze before the end of the video).
MX Player – OK

sintel-2010-4k.mkv

XBMC – Played in slow motion, unwatchable.
MX Player – OK

Beauty_3840x2160_120fps_420_8bit_HEVC_MP4.mp4 – OK (H/W decode), but some white "fog" appears on the black background
Bosphorus_3840x2160_120fps_420_8bit_HEVC_MP4.mp4 – OK (H/W decode)
Jockey_3840x2160_120fps_420_8bit_HEVC_TS.ts – Plays with S/W decode (MX Player reports codec not supported by H/W).
Finally, I played some Several AVI, MKV, FLV, VOB and MP4 videos in my library. Most could play, but several had audio/video sync issues, a number of FLV videos could not play at all, and one XVID video had lot of frames skipped during playback. A complete 1080p video (1h50) could be played in XBMC without issues. Once XBMC refused to exit, as clicking on the exit button did not work at all, but I could not reproduce the issue. Overall, the XBMC experience is disappointing, but if you combine MX Player and XBMC capabilities most videos can be played.
Links to various video samples used in this review and be found in "Where to get video, audio and images samples" post and comments.
Network Performance (Wi-Fi and Ethernet)
The network test consists in transferring a 278 MB file between a SAMBA share and the internal flash, and vice versa, repeating the test three times using ES File Explorer. Wi-Fi performance is excellent and very consistent, as transfer times were all between 1m42s and 1m44s, averaging a cool 2.69 MB/s.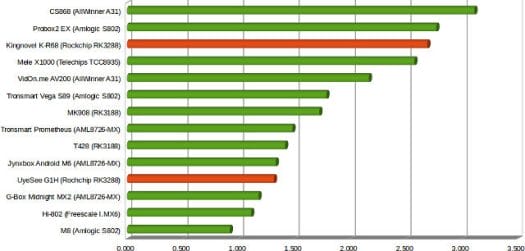 While I'm with Wi-Fi testing, I also ran Rockchip's "Wi-Fi display" app, but even though the display was detected by my phone and "successfully" connected, mirroring did not work at all. I tried several times, but my subsequent attempt all failed to connect at all.
As mentioned previously, I had stability problems (again) with Gigabit Ethernet, so I could only properly test Fast Ethernet performance. Using the same test procedure as Wi-Fi, K-R68 shows very good performance compared to other solutions I've tested.

This test is not a pure network performance test, as it may be affected by storage write performance. Having said that, I've experience similar results writing to flash or USB hard drive for all devices under test.
Under Linux, you can test network performance with iPerf, and it turns out iPerf app is also available for Android. So I gave it a try using "iperf -t 60 -c 192.168.0.104 -d" command line. This runs a "dualtest" (a bidirectional test simultaneously) for one minute, and based on the test results, there's definitely an issue with Gigabit Ethernet, but only in one direction (872 Mbps vs 314 Kbps), but Fast Ethernet is running great:

Client

connecting

to

192.168.0.107

,

TCP

port

5001

TCP

window

size

:

 

425

KByte

(

default

)

--

--

--

--

--

--

--

--

--

--

--

--

--

--

--

--

--

--

--

--

--

--

--

--

--

--

--

--

--

--

[

 

6

]

local

192.168.0.104

port

37734

connected

with

192.168.0.107

port

5001

[

ID

]

Interval

      

Transfer

    

Bandwidth

[

 

6

]

 

0.0

-

60.0

sec

 

6.09

GBytes

  

872

Mbits

/

sec

[

 

4

]

 

0.0

-

63.4

sec

 

2.38

MBytes

  

314

Kbits

/

sec

[

 

5

]

local

192.168.0.104

port

5001

connected

with

192.168.0.107

port

51937

--

--

--

--

--

--

--

--

--

--

--

--

--

--

--

--

--

--

--

--

--

--

--

--

--

--

--

--

--

--

Client

connecting

to

192.168.0.107

,

TCP

port

5001

TCP

window

size

:

 

136

KByte

(

default

)

--

--

--

--

--

--

--

--

--

--

--

--

--

--

--

--

--

--

--

--

--

--

--

--

--

--

--

--

--

--

[

 

6

]

local

192.168.0.104

port

37843

connected

with

192.168.0.107

port

5001

[

 

6

]

 

0.0

-

60.0

sec

  

654

MBytes

 

91.4

Mbits

/

sec

[

 

5

]

 

0.0

-

60.1

sec

  

658

MBytes

 

91.8

Mbits

/

sec

I've tried different Cat5e Ethernet cable with it did not solve the issue.
Miscellaneous Tests
Bluetooth
I could easily pair K-R68 to my Android smartphone (ThL W200) over Bluetooth, and transfer a picture.
Since the firmware is not rooted, and I'm not sure how to root it, I had to skip Sixaxis test for PS3 Bluetooth Gamepad support
Vidonn X5 activity tracker suppoert Bluetooth 4.0 LE, so I installed the Android app, and successfully connected to my wristband to get the data.
Storage
FAT32 formatted micro SD card and USB flash drive could be recognized and properly mounted by the system
I've also connected my USB 3.0 hard drive with NTFS, EXT-4, FAT32, and BTRFS partitions, and as usual only NTFS and FAT32 could be mounted automatically.
| | | |
| --- | --- | --- |
| File System | Read | Write |
| NTFS | OK | OK |
| EXT-4 | Not mounted | Not mounted |
| FAT32 | OK | OK |
| BTRFS | Not mounted | Not mounted |
A1 SD Bench was run to benchmark the NTFS partition (/mnt/usb_storage/USB_DISK2/USB3_NTFS). The read speed was 29.47MB/s, and the write speed of 24.63MB/s, both of which are pretty consistent with the results achieved with other devices, albeit the write speed was the weakest of the products tested by a small margin.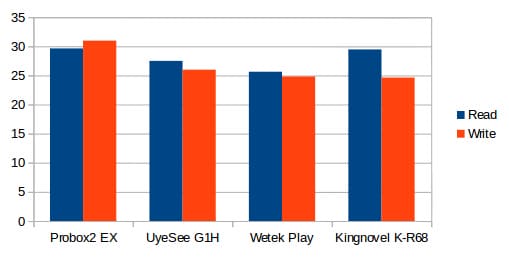 The internal storage read and write speeds are very important to apps loading time, and overall system performance, and K-R68 excels in this benchmark, at least compared to Uyesee G1H, and Probox2 EX.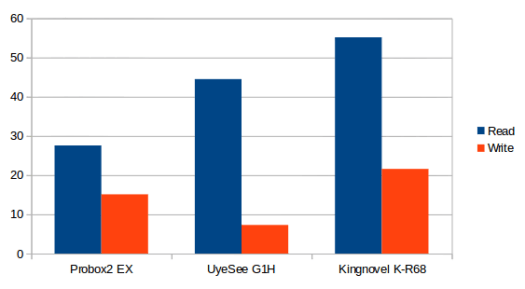 The fast eMMC write speed explains why I never felt slowdowns during my testing, contrary to what happened with G1H.
USB Webcam
Using a white brand UVC USB webcam with built-in microphone. I could test audio successfully with the Echo service in Skype, and I could see the video, but as I tried to leave a video message, the app exited.
Google Hangouts could detect the webcam (Video icon at the top right of the screen), and I could start a video call, but the webcam image was not shown.
Gaming
I've tested three games: Candy Crush Saga, Beach Buggy Blitz, and Riptide GP2.
I played Candy Crush Saga with my air mouse, and used Tronsmart Mars G01 wireless gamepad in the two other games. Beach Buggy Blitz was super smooth even with graphics settings maxed out and 1080p resolution, and Riptide GP2 was very smooth most of the time, and albeit not perfect, RK3288 devices are a massive jump in terms of playability compared to earlier generation of chip, and even Amlogic S802. I've also tested stability by playing Riptide GP2 for 30 consecutive minutes, and everything runs fine, but the bottom of the device can get pretty hot (Over 75 °C). Thanks to the rubber pads, it does not touch the table though. The top is much cooler at around 55 °C.
Kingnovel K-R68 Benchmark
CPU-Z app returns the exact same data as for G1H TV box, that is a Rockchip processor with four Cortex A12 cores @ 126 MHz to 1.80 GHz with a Mali-T764 processor. Only the firmware version differs.
G1H got 39,273 in Antutu 4.x @ 1080p resolution. Since them Android 5 has been released, and K-R68 got 37,428 points between Redmi Note (MediaTek MT6592) and Xiaomi Mi3 (Qualcomm Snapdragon 800). Results between Antutu 4.x and Antutu 5.x are not directly comparable.
I had no luck with Quadrant, as I was greeted with gray screen when I wanted to start the test.
I've run Ice Storm Extreme test in 3DMark to see if there was any improvement compared to G1H score.
A score of 7,531 points, is only slightly higher than than 7,278 points achieved by G1H, and is about the same as the one achieved on a smartphone based on Qualcomm Snapdragon 801. However many recent devices based on Qualcomm 800 and greater get a score above 10,000 or simply maxes out the test.
Conclusion
Kingnovel K-R68 hardware has massive potential with a fast processor, outstanding 3D performance, and excellent Wi-Fi and eMMC storage performance. The firmware is stable and provides a smooth experience, but if you are looking for a device well supported by XBMC, it's not there yet. Having said that, I've only tested the XBMC version provided with the sample (Gotham 13.2), and there are some version that may have better support include HEVC hardware decoding such as Beyond XBMC 3.4 (beta) and an XBMC version released for Firefly-RK3288 development board.
PRO:
Fast new processor
Excellent 3D graphics performance for games
Stable and fast firmware.
Excellent Wi-Fi performance
Fast eMMC, both for reading and writing speeds.
Both 720p and 1080p user interfaces are supported
Video Output – 1080p support 24, 25 ,30 , 50 and 60 Hz output which may be important for some videos. 4K @ 60Hz should be supported thanks to HDMI 2.0 (not tested).
HEVC video decoding support
Webcam supported in Skype (although it did not seem to work with Google Hangouts)
CONS:
XBMC has too many issues: VC1, H.265 not supported, audio/video sync issue, some MPEG-2 and XVID videos are skipping frames, none of the 4K videos I used could play properly, etc…
Some MPEG-2 file won't play smooth in either XBMC or MX Player
Potential Gigabit Ethernet issues, at least confirmed with my switch (D-Link DSG-1005A).
No proper power off (standby only)
The enclosure (bottom) can get pretty hot, with temperatures over 75+ C after long periods of 3D gaming.
Video output – Component only output the Luminance signal with my TV, composite (NTSC) has a green bar at the bottom, no problem for PAL.
If you are a distributor, you may want to visit Kingnovel K-R68 page for some details, and possibly contact the company. The box does not seem to be selling on e-retailer sites yet, or it's sold under another model name. The box appears to be sold on Geekbuying under the model name R6 for $107.99.

Jean-Luc started CNX Software in 2010 as a part-time endeavor, before quitting his job as a software engineering manager, and starting to write daily news, and reviews full time later in 2011.