Since I've listed the specs and torn down No.1 D3 smartwatch, I've spent several days wearing the smartwatch / watchphone, and trying most of its features, so it's time for a review. I'll go through all screens of the user interface, include a video review, before providing a conclusion to this review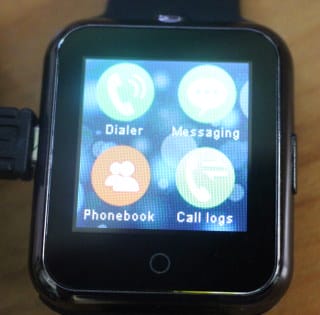 Charging the watch take between 15 to 30 minutes, and you can turn it on by pressing the only button on the side of the watch for a few seconds. The first menu you are likely to see if the one with the phone functions including the Dialer, messaging, phonebook and call logs.
You can use these in two ways: with a micro SIM card inserted into the watch, or/and via your smartphone connected over Bluetooth. I mostly used the watch connected to my smartphone, but both methods worked for me. When you receive a call, it's not quite as private as on a phone, since everyday can hear the other party talk via the watch' speakers.
In order to synchronize contacts, logs, and receive SMS and call notifications from your Android phone to your watch, you'll need to install BT Notification app.
Once this done you'll get all notifications (by default) shown on your smartphone forwarded to D3 watch. The small touchscreen makes it very inconvenient to read and scroll through notifications, so it's more useful to check if it's an important message / email / missed call that you need to check on your smartphone.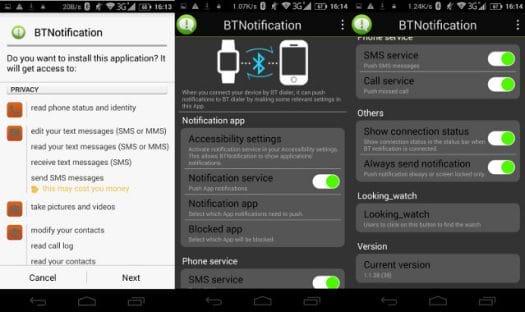 The second screen, accessible via a left tor right swipe includes Bluetooth connectivity, App (QR code for BT Notification shown above and some other Chinese apps), Notification, and Settings.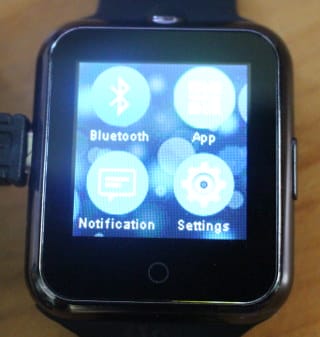 Bluetooth pairing with my smartphone was very easy and worked the first time. If you plan to listen to music on your smartphone, you may want to disconnect the watch however, as it then be used as a Bluetooth audio device. There may be an option to disable this, but I have no found it out. Each time you manually connect to the smartphone, you'll also be asked whether you want to sync time and data from your phone.
Notification will simply let you access to all notifications received from your smartphones.
Settings has 4 menus:
Common settings

Time & Date
Language – English, French, Spanish, Purtuguese, Iatlian, German, Turkish Russian and Chinese
Input method – ABC, abc, numeric
Light control (LEDs around the watch)
Flight mode
Misc

Security settings – For phone lock, password
Call settings – Auto redialm, call time reminder, answer mode…
Restore settings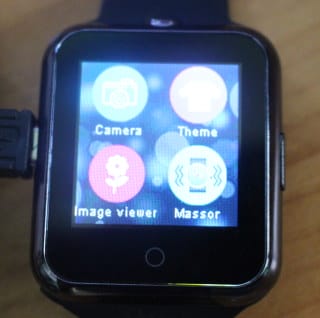 One more swipe from left to right will bring about the user interface with Camera, Theme, Image Viewer, and Massor icons.
The camera does work, although in camera mode the screen may be difficult to see clearly in broad sunlight, and the picture resolution is very low: 128×128. So it find it rather useless… I've included some sample just below.
The "Theme" will only let you choose between 3 color/background images, and you can't customize it with one of the picture you may have taken with the camera
Image viewer is like a file manager to watch the picture saved to the micro SD card you may have installed in the watch.
"Massor" is rather funny, as it's just an on/off button to start and stop the vibrator in the watch. I wonder what people might do with this feature…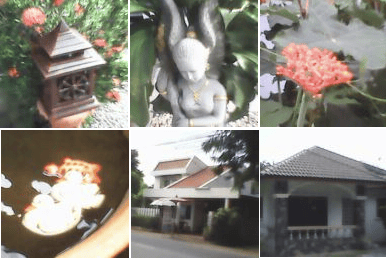 Let's move on to the next 4 icons…
Audio player can be useful if you don't mind low quality and having people around listening to your music. It can play music from the micro SD card or from your smartphone over Bluetooth.
"Anti lose" may be one of the most useful features of the watch. You can locate your phone by making it ringing – make sure you don't leave it in silent mode however -, and have the watch showing "BT Lost" message with some audio alarm when Bluetooth connection is lost. The only downside is that you may have some false positive once or twice a day with your phone safely in your pocket, but the Bluetooth connection dropping a short time, triggering the "lost phone" alarm.
Powersave can be enabled/disabled, but I have not tested it in details.
"BT Camera" can also be pretty cool, as you can use the watch as a trigger for your smartphone's camera. Your phone camera output will show on the watch, and you can press a button to remotely take a picture. For some reasons (connection issues?) it will fail from time to time. The pictures are saved in your smartphone, as it you took the pictures directly with your phone.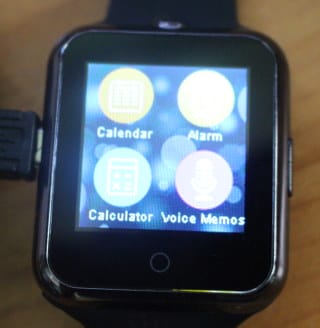 The next menu are some software tools that include a calendar, alarm, caculator and a voice memos app.
The calendar only has a monthly view, and while you can switch between previous and next month, you can't do much more with it.
Up to five alarms can be set, and you can configure repeat modes, as well as alert type: ring, ring + vibration, or vibration only. The latter is quite convenient if you don't want to bother people around you.
The calculator is quite basic, and the voice memos app worked well for me to record short audio message, until it failed in the video review…
Let's swipe the screen again to get to Motion sensor, profiles, file manager, and world clock icons.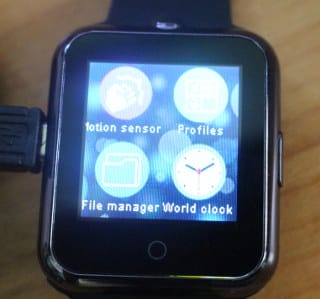 In order to save energy, the screen will auto turn off after 15 seconds of inactivity, which means you have to press the button to check the time. If you don't like this you can enable the motion sensor and "wake-up gesture" to automatically turn on the display. In theory it looks very convenient, but in practice it will often turn on the display, even when just typing on the keyboard, so I had to disable it to avoid depleting the battery too fast.
Profiles are just the typical profiles found in phone with General, Silent, Meeting, and Outdoor.
The File manager let you delete files, create folders, rename files/folders, and more generally browse your micro SD card. By the way, while the specifications mention that the biggest supported SD card is 16GB, I had no problem using a 32GB SD card in the watch.
World Clock will show a world map, where you can point destination to get the time in other part of the world. It's very difficult to use as the screen is just too small, and it will not always respond to taps…
The next user interface is for fitness / health functions with a sleep monitor, a sedentary alarm, a pedometer, and an heart rate monitor.
I have not really tried the sleep monitor, as with most fitness tracker, it's just a gimmick features. Sedentary might be a little more useful, as the watch will tell you to exercise if you have stayed passive / remained seated for too long. You can select the time in minutes by yourself.
The pedometer is not always running in the background by default. You need to start and stop it manually. Once it is started it can run in the background, so you can go back and use other functions. The downside is that battery life drops to about half day when the pedometer is enabled continuously. Accuracy appears to be decent, possibly slightly under reporting the number of steps, as I ran 2 kilometers, and 2,100 steps were counted.
The heart rate monitor should have been a great feature, but it only takes one measurement at a time, and requires 10 seconds to do so.
That's why going to the next user interface might be a good idea with the ECG function that takes continuous measurements. Both Heart Rate and ECG app will turn on the electro-optic sensor on the back of the watch (green light), and neither seem accurate.
When I sit on a chair and relax, measurements range between 66 and 89 bpm, already a wide range… So I went to play badminton and run, and the measurements… were exactly the same… So for fun, I removed the watch from my wrist, and launch the ECG app, and the "air's heart beat" was also between 60 to 90 bpm… Massive fail here.
BBT must be to measure body temperature, and when you wear the watch you may have the feeling it's working at it reports 36.6 to 36.8 C, but again remove the watch from my wrist yielded the same results, and I have not tried to get a fever to test the function…
UV is supposed to measure ultra violet exposure, and let you know if it is unsafe to stay under the strong sun. Again I'm not really sure it's working, as when I tried under the shadow a strong sun was reported…
By hey, the stopwatch is working great at least!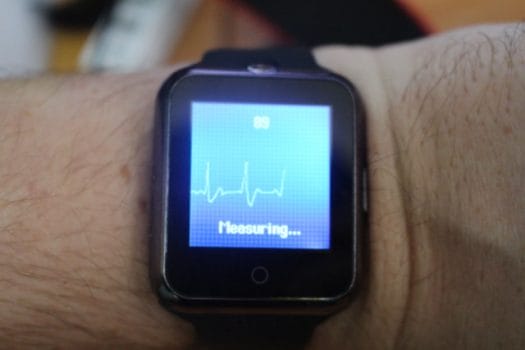 That's it, I've gone through all of the main options in the watch user interface, so let's talk about battery life. I've already mentionned that the watch would last about half day when the pedometer is running in the background. If I only enable Bluetooth, no SIM card connected, and checking the watch a few times a day, it should last around 24 hours on a charge.
A short micro USB to USB cable to provided to charge the watch, and it will fill the 380 mAh battery relatively quickly, between 15 to 30 minutes. When you connect the USB cable to a computer, a USB configuration menu should show up.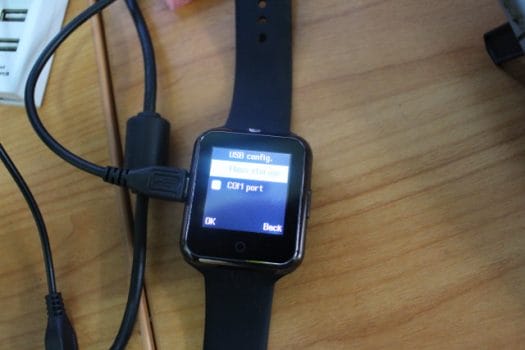 One option is Mass storage, and it will provide access to your micro SD, if any, and the other option reads "COM port".
I checked out the output from dmesg in Ubuntu to find out what it was about:

[

7004.625851

]

usb

5

-

2.2

:

Product

:

Product

[

7004.625853

]

usb

5

-

2.2

:

Manufacturer

:

MediaTek

Inc

[

7004.651693

]

cdc

_

acm

5

-

2.2

:

1.1

:

ttyACM0

:

USB

ACM

device

[

7004.652146

]

usbcore

:

registered

new

interface

driver

cdc

_

acm

[

7004.652148

]

cdc_acm

:

USB

Abstract

Control

Model

driver

for

USB

modems

and

ISDN

adapters

[

7004.652354

]

usbcore

:

registered

new

interface

driver

usbserial

[

7004.652373

]

usbcore

:

registered

new

interface

driver

usbserial

_

generic

[

7004.652388

]

usbserial

:

USB

Serial

support

registered

for

generic

[

7004.658618

]

usbcore

:

registered

new

interface

driver

option

[

7004.658679

]

usbserial

:

USB

Serial

support

registered

for

GSM

modem

(

1

-

port

)

And the watch is recognized as a GSM modem.
Let's not forget that a smartwatch is also a watch, a D3 comes with two faces: a digital watch and an analog watch.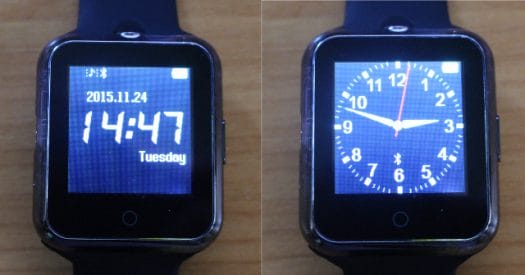 I've also covered all these features and issues in my video review.

Conclusion
No.1 D3 smartwatch has so many features for a super low price that you could not possibly expect everything to work flawlessly. Here's the summary of the advantages and drawbacks of this smartwatch.
PROS:
Ultra low price (~$23)
Micro SIM card slot
Micro SD card slot up to 32GB
Smartphone sync over Bluetooth with calls, sms, email… notifications working pretty well
Screen is quite readable even in direct sunlight
Wristband material is very flexible and should not break easily over time (TBC)
Lots of features including anti-loss function, Bluetooth camera remote, pedometer, etc…
CONS
Battery life is rather short: ~24h with Bluetooth on/no 2G; ~12h with Bluetooth and Pedometer on
Display not always on
Built-in camera is not very useful, and take low resolution pictures (128×128)
Heart rate monitor, body temperature, and ultra-violet measurements don't seem to work at all.
Fitness functions (e.g. pedometer) are not working by default, and the app (Fundo) does not seem to record activity.
Difficult to read details of notifications as the screen is so small (2 lines shown at a time) and scrolling do not work very well.
Too many features / icons may make it cumbersome to browse the different section (customization would be good)
Only 2 watch faces available
Not waterproof
I'm looking for a smartwatch with at least one week battery life, always-on display, and always-on fitness features so No.1 D3 smartwatch does not meet my requirements. But I already knew this before the review, and it was still interesting to review a low cost smartwatch. So I would not use it as my main smartwatch, but it can be a fun device to play with. If you are in hacking things, you could also try Fernly, a reverse engineered operating system for Mediatek MT626x processor, which I've been told does not exactly work out of the box with MT6261 found in D3 watch, so some extra work should be needed.
Again, I'd like to thank Tinydeal for providing a sample for review. They sell the item for $22.99 including shipping. Alternatively No.1 D3 smartwatch can also be purchased from GearBest, Aliexpress, Amazon US and others.

Jean-Luc started CNX Software in 2010 as a part-time endeavor, before quitting his job as a software engineering manager, and starting to write daily news, and reviews full time later in 2011.