Last week I provides specs, took some pictures, and run Antutu benchmark on Iocean M6752, a 64-bit ARM smartphone powered by Mediatek MT6752 octa-core Cortex A53 processor with 3GB RAM, 16 GB eMMC, and a 5.5″ FullHD display. I've been using the device as my main smartphone for over a week, and I'm now ready to write a full review for the phone.
General Impressions
At first the material and color used on the back cover feels a little strange, but I quickly got used it, and the build quality seems pretty good, and the phone is very light. I must have made one or two calls during the week, and I mainly use my smartphone to check emails, run social network apps, browse the web, play some casual games like Candy Crush Saga, watch YouTube videos, and make Skype calls, and for these tasks I could not really fault the tablet for any of these applications. I was not a believer in Full HD display for smaller phablet screen, but now that I have tried, I can say the 1920×1080 display looks significantly sharper than the 720p display on my older ThL W200 smaprthone.
Battery life is decent, although it might be a challenge to get a day of battery life at time. I also noticed the charge drop from 100% to 85% overnight with cellular and Wi-Fi enabled at night, which still seems a little more than I would have expected. The phone boot in about 20 seconds, and I have to say overall I could not fault the phone during my week of testing, except for GPS.
Benchmarks: Antutu, Vellamo, and 3DMark
I've alread shared the Antutu results last week, but here's it is again today. With 37,008 points in Antutu 5.6.2, Iocean M6752's score is not quite as high as the latest flagship models Samsung Galaxy Note 4, Meizyu MX4 or OnePlus One, but it's still pretty good, as it places it between Google Nexus 5 and Samsung Galaxy S5 both based on Qualcomm Snapdragon 800.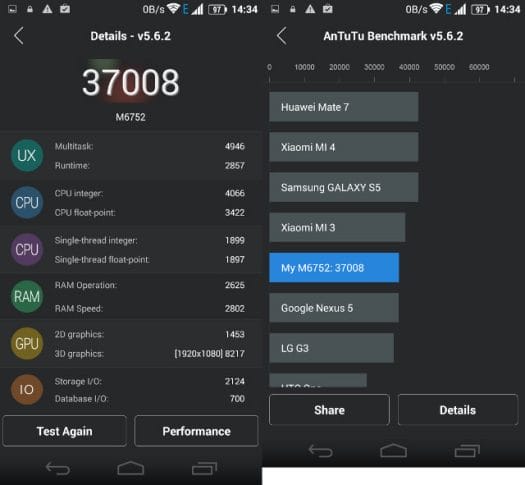 It's always better to run a few other benchmarks, as Antutu score is easily cheated, so I also ran Vellamo 3.1 and 3DMark's Ice Storm Extreme benchmarks.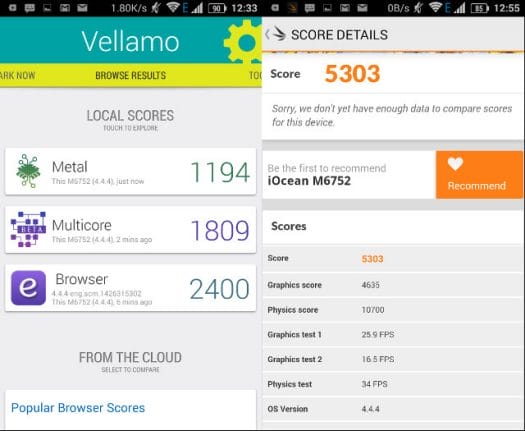 Vellamo 3.1 scores confirm the very good performance of the device, but 3Dmark benchmark score shows the limitations of the dual core Mali-T760 GPU used in the Mediatek processor, as for example Allwinner A80 gets around 6,500 points (PowerVR) and Rockchip RK3288 over 7,000 points (Mali-T764).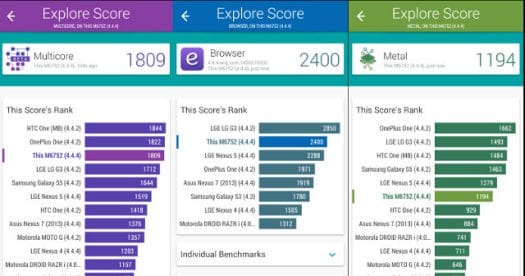 Internal Storage and Wi-Fi Performance
I used A1 SD Benchmark to test the performance of the internal storage. The results are pretty amazing, with 114.17 MB/s read speed and 77.79 MB/s write. However the utility reported "cache reads", and this should obviously overstates the performance of the flash, but this is probably due to the 3GB RAM available in the system allowing for lots of caching.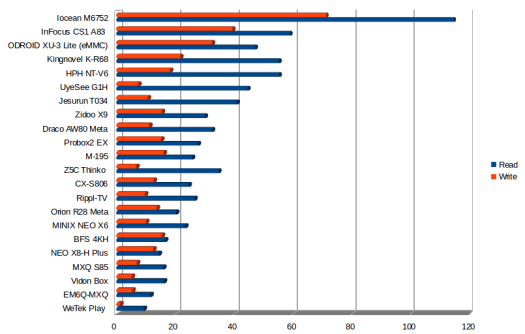 Despite the probably inaccurate results, the flash is certainly fast, as the phone boots in 20 seconds. For reference, Infocus CS1 A83 tablet, second on the chart, boots in 15 seconds, and HPH NT-V6 (Rockchip RK3288) in 20 seconds, so the flash performance should still be at near the top.
Wi-Fi performance was tested by transferring a 278 MB file over SAMBA using ES File Explorer three times, and I placed the smartphone were I normally place TV boxes and development boards for a fair comparison.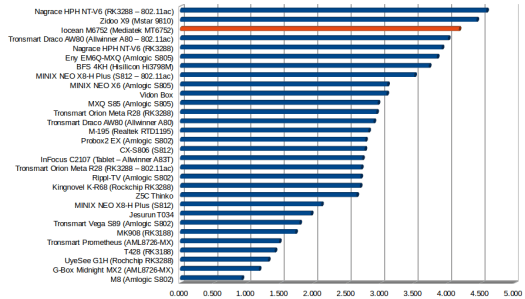 Wi-Fi performance is excellent, as M6752 phone managed to transfer the file @ 4.1 MB/s on average (32.8 Mbps) only outperformed by two other devices, including one with 802.11ac Wi-Fi that's not available with the phone.
Please note that the testing environment, including your router firmware, may greatly impact the relative Wi-Fi performance between devices.
It would have been nice to test 3G and LTE download/upload speed, but I don't even have a 3G SIM card, and LTE is not supported yet where I live.
Rear and Front Facing Cameras
Rear Camera
The 14MP camera does an excellent job, just as good if not better than my Canon point and shoot camera, and better a very clear during day time, but as usual still pictures and videos in low light conditions are not very good. The auto-focus works well, and close shots including small text are clear. The  flash also does it job at night for close subjects. Video records only at 1280×720 by default, and I have not found a way to change the resolution in the camera app. Still picture default resolution is 4096×2304.
You can check photos samples, as well as video samples shot during day time, at dusk, and a night below that should be watch at 720p resolution. The original day and dusk videos are recording in 3GP format with H.264 video coded at 30 fps amd AAC stereo audio, but the night video drops to 17 fps.
Here's the day time video.
Dusk video – http://youtu.be/POdcc-MUL1w
Night video – http://youtu.be/honLvSGV1Gk
Front-facing camera
The 5MP front-facing camera is OK, as long as the subject is not moving too much, and I've also used it in a Skype call without issues. Here are a few samples. Resolution is 2560×1440.
Video Playback
I installed Antutu Video Tester to test video playback on the smartphone, and results are mediocre with only 382 points against 700+ for the best device out there.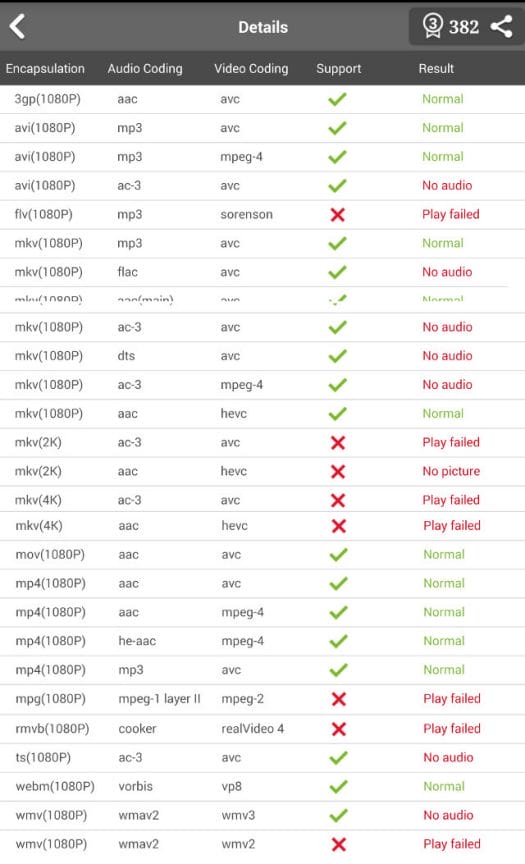 Many audio formats are not supported including wmav2, dts, ac-3, and flac. The processor also does not support 4K videos at all. It might be possible to improve video playback by installing thrird party media player apps like MX Player or Kodi.
Battery Life
I probably used the phone 3 to 5 hours a day browsing the web, checking email, watching YouTube video and playing some games, and a full charge in the morning would take me to the evening for sure, but maybe not up to late at night.
I used LAB501 Battery Life app to test battery life for web browsing, video playback (720p), and gaming. I started from a full charge until the battery  level reached about 15%, with Wi-Fi and Cellular on, and brightness set to 50%:
Browsing (100% to 14%) – 303 minutes (5h05).
Video (100% to 12%) – 255 minutes (4h15). So good for about 2 full movies on a charge.
Gaming (100% to 15%) – 166 minutes (2h46)
So this confirms the 2,300 mAh battery will be depleted pretty quickly, at least compared to the results I got with Infocus CS1 A83 tablet with a bigger 3,550 mAh battery, but also a larger 7″ screen.
It took the phone 3h30 to fully charge from 0% to 100%. You can however get a 90% charge in about 1 hour, so the last 10% may take a lot of time.
Miscellaneous
Bluetooth
I could pair with my other mobile devices without issues, and transfer pictures in either direction. Bluetooth Smart (BLE) also work, as I could retrieve fitness data from Vidonn X5 smartband.
GPS
When I ram Google Maps, and GPS test app at home (with Wi-Fi on), GPS seems to worked pretty well. But then I went for a short run, and checked GPS "performance" with Nike+ Running. This is a road around a stadium, so the tracking should look like an ellipse. Just for yourself…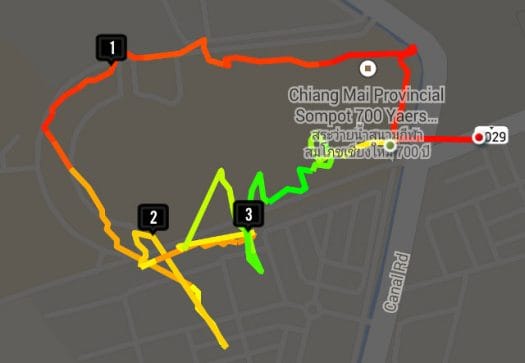 I did wait for a GPS fix before running, and the phone was placed on my left arm, so it should have had line of sight to GPS satellites during the run. GPS is the weakest point of this smartphone. I just used the default settings, and I have not tried some Mediatek GPS hacks yet.
[Update: Turning Wi-Fi off will greatly improve accuracy]
Gaming
Candy Crush Saga, Beach Buggy Bleach, and Riptide GP2 all played very smoothly, even with high graphics details thanks to the Mali-760MP2 GPU.
Others
The touchscreen supports 5 touch points according to Multitouch app.
The smartphone has stereo speakers on the back, but they sound quite poor, and are nowhere near the good quality I get with Infocus C2107 tablet, so if you plan to use that smartphone to listen music with other people, you'll definitely want to use external speakers.
Video Review
If you want to get more details about the phone, I've filmed a video going through the user's interface (mostly settings), showing some benchmark results, tryout a largish PDF in acrobat reader, playing Candy Crush Saga and Beach Buggy Racing, and more. The fisheye effect in the video is due to my using an action camera (SJ1000).

Conclusion
Iocean M6752 is really a great smartphone for the price, with a large and sharp screen @ 1920×1080 resolution, excellent Wi-Fi performance, a fast processor, lots of RAM, provides performance close to flagship models from better known brand, and most features works very well. Unfortunately, GPS does not seem reliable, video recording seems to be limited to 720p30, video playback is not so good (according to Antutu Video Tester), and it would be nice to have a couple extra hours out of the battery.
PROS
Relatively fast 64-bit ARM processor
Lots of memory (3GB RAM)
Clear and crisp 1920×1080 display
Outstanding performance for internal storage and Wi-Fi.
Pictures looks good in good lighting conditions, both for close ups and landscape shots.
Good gaming performance
OTA update (first time ever I get an OTA update on one of my Android phones…)
CONS
GPS is a disaster. It will lock relatively fast, but may not be very reliable.
Antutu Video Tester score is a little low (<400) mostly because of audio codec failures, and 2160p videos are not supported.
A slightly longer battery life would be nice, although it should be good enough from morning till evening.
Video recording might be limited to 720p, and quality is pretty poor at night.
Rear speakers do not sound very good
GearBest provided the Iocean M6752 smartphone for review, and if you think this might be a phone you'd like to get, the company offers the phone for $219.99 including shipping with Coupon "Iocean". Other sellers include Tinydeal, Geekbuying, and Coolicool with price starting at $222.99.

Jean-Luc started CNX Software in 2010 as a part-time endeavor, before quitting his job as a software engineering manager, and starting to write daily news, and reviews full time later in 2011.