Recent processors all have the ability to adjust the operating frequency to either decrease power consumption, or make sure the processor does not overheat. That's why for example Intel processor have a maximum junction temperature (Tj max) so that if this temperature is reached the processor can slow down to cool things off, and avoid damaging itself. That also explains why computers with the same processor, storage and memory may have greatly different performance under load depending on their thermal design.
I'm currently testing a fanless mini PC with an Intel Celeron N3150 Braswell processor, and yesterday I noticed the frequency would be stuck at 0.22 GHZ (yes, that's 220 MHz) at all times, even when starting the web browser and loading long web pages. It was very slow, and I had a a few "windows not responding" in the process.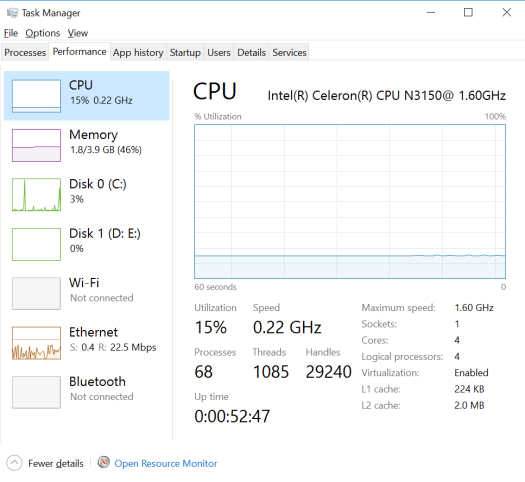 I checked the metal box temperature with an IR thermometer and got 46 C, which did not seem that high. I had added some black tape a few hours ago, or the case was a bit reflective leading to lower temperature measurements.
Nevertheless it was late, so I started the computer again the following day, and it was responsive, with an even higher SSD read speed as last night (~400MB/s). So I launched 3DMark benchmark, and the results were disappointing to say the least, as they were much lower than the scores I got with MeLE PCG01 Atom Z3735F Bay Trail mini PC. I'm a linux user, and I'm not that familiar with Windows, so after some Google, I found that HWiNFO would do the job checking out the temperature and throttling.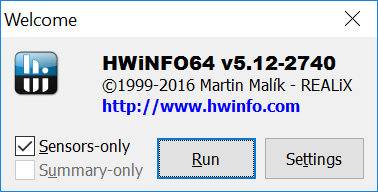 Once you start the application, select "Sensors-only" and click "Run".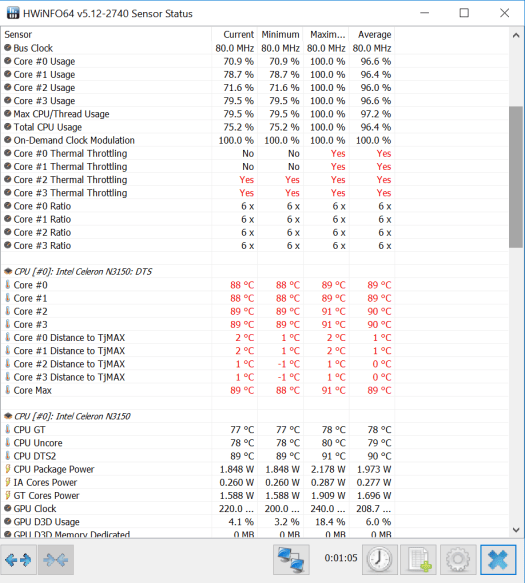 And the program gave me the confirmation that all four cores of the processor were severely over-heating, and subject to thermal throttling.
MINIX NGC-1 is the computer with this behavior, but luckily it is not shipping to end-users yet, only to reviewers, so hopefully the company can find a solution before launching the products. It's also possible I received a defective sample, and we'll have to see what the few others bloggers with the device will experience. My room temperature is 24 to 30 C during the day, so it could have an impact too, but normally products are tested in ovens at set temperatures. Anyway, it will be interesting to find out how this get resolved.
I'm obviously postponing the review, since when thermal throttling kicks in, the mini PC's performance and user experience are about equivalent to the ones of the Raspberry Pi model 1 when it was released in 2012…

Jean-Luc started CNX Software in 2010 as a part-time endeavor, before quitting his job as a software engineering manager, and starting to write daily news, and reviews full time later in 2011.