Energympro EP-SH09 is a strapless fitness tracker with an heart rate monitor and Bluetooth 4.0 LE for synchronization with your smartphone, in the first part of the review, I took some picture of the device, and expressed my opinion about the build quality. I've now played close to two weeks with the tracker, so I can share my experience with the device. Bear in mind that this was still considered an engineering sample, so the company will likely on some of the issues I encountered before it ships to the general public or resellers.
A capacitive touch area just under the display is used to cycle through 7 watch faces: Time, Date, Bluetooth (Icon will change to a chain when connected), step count, distance, calorie count, and heart rate monitor.
It works well enough, but there are a couple of point that you may want to be aware. The display will stay on for about 15 seconds after the last touch, and remember the last face. It's very nice if you are running, and want to periodically check your heart rate status, and a single press with show the current heart rate if that's the one you've selected before. However, this become an inconvenience when you just want to watch the time, as you may have to cycle through several watch faces before getting accessing it. One way to work around this would be to enabled / disable watch faces within the app, as for example I personally don't really care about distance and calorie count.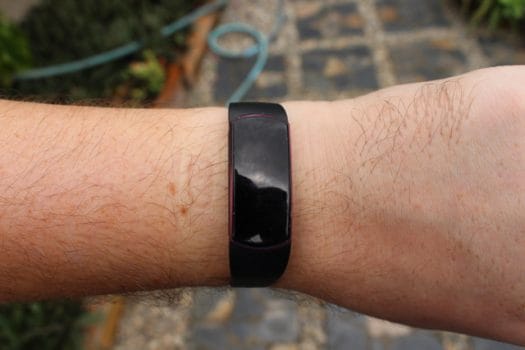 Another issue common to all OLED display is poor visibility under bright light. The picture above was taken taken under bright clouds with the time displayed, and if click to access the full size picture you'll see very dim battery level and numbers on the area with the camera shadow. So it's basically unreadable under such conditions, unless you place your hand over the display. An e-paper display is the best for those conditions, but then at night it would require a backlight.
Since the button area is using what looks like capacitive touch technology it won't work with thick gloves (thin ones should be OK), and if you exercise under rainy conditions you may have to wipe the area before using it. I don't find this to be a big issue at all, but still something to keep in mind. By the way, the tracker is IP67 rated and I've kept it while washing my hands and taking showers, and humidity has not come through.
One of the first thing you want to do is install Smart Movement app for iOS or Android, and I did so on Iocean M6752 smartphone based on a Mediatek processor and running Android 4.4. Since it's relying on BT 4.0 communication, you'll need a phone with Android 4.3 or greater.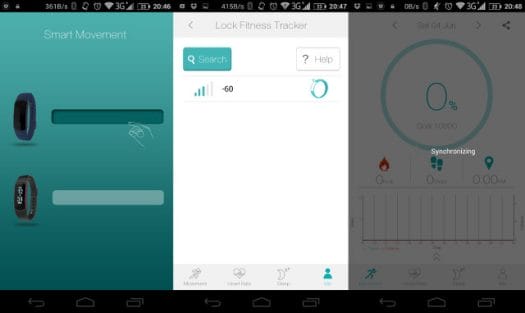 After tapping on the first screen, EP-SH09 should show in "Lock Fitness Tracker", and Bluetooth "Connecting", should then be followed with "Synchronizing" to set the time and date automatically, and retrieve fitness data. It works fine, but takes a little longer than expected, maybe 30 seconds to one minute.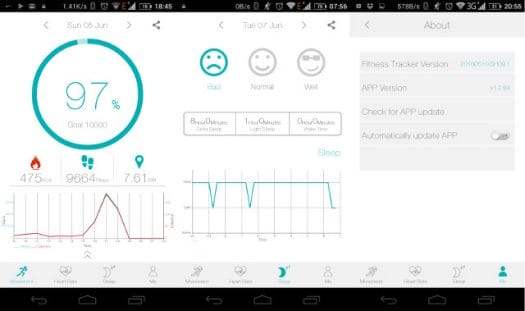 You'll then have four sections in the app:
Movement with calorie and step counts, as well as estimated distance, and a chart for the day.
Heart Rate which will show real-time and recorded heart rate chart
Sleep to report whether your sleep last night was bad, normal or well.
Me with settings and various extra options
The step count appears to be quite reliable, although different devices may report activity in different manner, and for example I'm not wearing both Xiaomi Mi Band 3 and EP-SH09, and the two have different options of my level of activity. The former normally count more steps when I'm busy at home taking care of daily life tasks, while after a walk, I noticed the Xiaomi band reported 1,533 steps against 1,285 steps for the Energympro one. The picture below shows the tally on both devices after a day.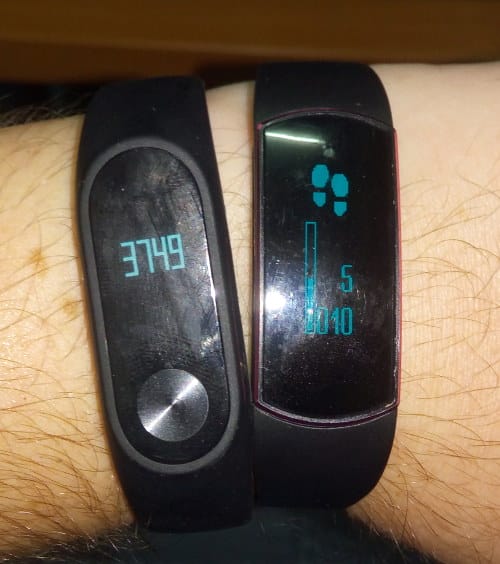 Variations are expected between devices as after all they just use motion sensors and algorithm to estimate the step count. The important part is that the band behavior is constant over the days, and I can confidently say EP-SH09 does the job, and you can adjust your goal as you see fit.
I'm not so sure about sleep monitoring however, as all my nights were reported to be "Bad". While it might have been true for some, but I don't feel it was the case for most.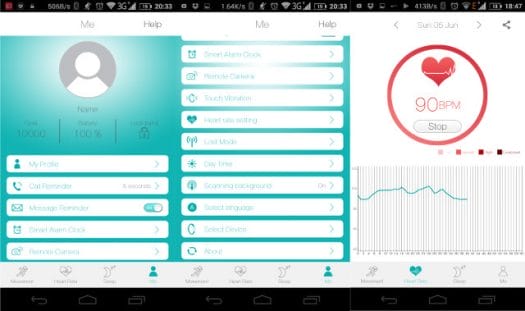 The Me section has some important information and features starting with My Profile to report your gender, age, weight and height, which should affect the step count, and setting activity levels for the HRM. Call and message reminders are use to display the caller ID and vibrate when you get a call or receive an SMS, and the feature works as expected with one caveat that in my phone at least, the app will not always run in the background, and get killed. I have not found a way around this yet. Smart Alarm Clock will allow you to set up to three silent alarms that will vibrate at the given time. I've tried it, and the alarm works, but it seems to stop pretty quickly. So if I ever use I setup a "silent alarm" on the watch, and a "noisy alarm" on my phone two minutes later… Remote Camera just does what it is expected to go, i.e. acting as a remote for your phone camera. Other settings allow you to enable/disable touch vibration, scanning background (to auto-reconnect in case of disconnection, which I recommend), date and time settings, language, heart rate setting to optionally define alarms for minimum and maximum bpm, and keep the display on (Long Bright mode) when the heart rate is enabled.
The heart rate monitor is the most interesting part of this fitness band, as it allows continuous tracking during sports activities. You can enable the heart by either pressing three second on the touch area, or going to the heart rate section of the app and press Start. As you can see from the screenshot on the top right above, it will show the current hear rate plus a chart for the recent activity. If you tap the touch area for three seconds again, the HRM will stop.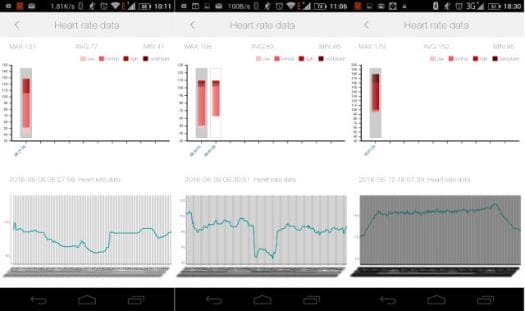 You'll then have recordings with nice looking charts are shown above. During the first two, I simply worked in the garden for about 30 minutes, and the last one was a short 2km run. Let's go through all three.
Activity 1 – I just dugged soil and pulled out some grass with hands, so the activity level was not too high, and that's shown correctly in the chart, however, you can see some times when the heart rate dropped to as low as 41 bpm, which can't be… I was old to try not to place the tracker too close from the wrist, and move it a little higher and the forearm.
Activity 2 – So I did so, and doing the same kind of work in the garden, and it started well, but there was a sudden drop for a couple of minutes to around 50 to 60 bpm, before recovery. You'll also notice two red bar, that's because the Bluetooth connection was lost, and after recovery I had two sets of data for one 30 minute activity.
Activity 3 – Two kilometer run at the stadium. I normally start a little slowly, then increase the pace steadily, until the end when I run as fast as I can, and the chart shows just that with the peak at the end followed by the cool down period when I walk and my heart rate comes down. Very good results here. The value also seem realistic with 160 bpm to 180 bpm during the run.
So overall the heart rate monitor appear to work much better than the one on other smartwatches I've tested so far, but there are still some issues for unexplained dropped, and sometimes Bluetooth disconnections, which might be normal, but it would be nice if the app could still merge the two set of data together.
I wanted to compare the data of fitness trackers to a cheststrap HRM for my reviews, and I bought one a few months ago, only to find out it required the ANT+ protocol which my phone cannot handle. The company however provides some chart comparing EP-SH09 data to the one of an Ant+ chest strap displayed in Turtle Sport open source program.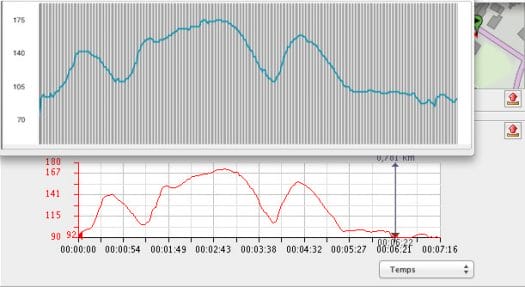 The first one shows basically the same pattern, while the second one is pretty similar, but for some reasons the chest strap one does have some spikes.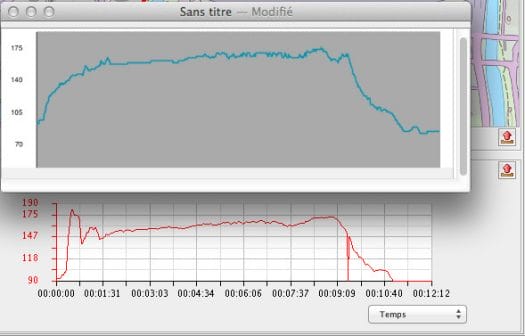 But overall it looks pretty good. They've also told me they plan to add CSV export for the data, which should be a plus for people wanting to keep track of their data over time.
A few last words about battery life. The company claims 36 hours with HRM on, and 6 days without HRM, and in my experience I found it to last 4 to 5 days on a charge. Energympro EP-SH09 is not a bad device, and actually it's been the I've tested best so far with the heart rate monitor and corresponding app, but as explained in the review above, there are still some small issues that need to be addressed.
The company has now listed the product on their website, starting at $30 with local pickup in Montreal or Taipei, $40 with shipping by China post registered airmail, and $48 with shipping by Fedex.

Jean-Luc started CNX Software in 2010 as a part-time endeavor, before quitting his job as a software engineering manager, and starting to write daily news, and reviews full time later in 2011.