V-Bridge Muses digital TV modulator boards launched on Kickstarter earlier this month, with the cheaper $200 MUSES-α board modulating video from a PC, and $600 MUSES-β turnkey solution capable of broadcasting HDMI or AV + stereo input to various digital TV standards including DVB-T/C, ATSC/QAM, DTMB, and ISDB-T/TB without the help of a computer. The company sent me the two hardware kits for evaluation and review on CNX Software, and today I'll start by showing off the hardware I received.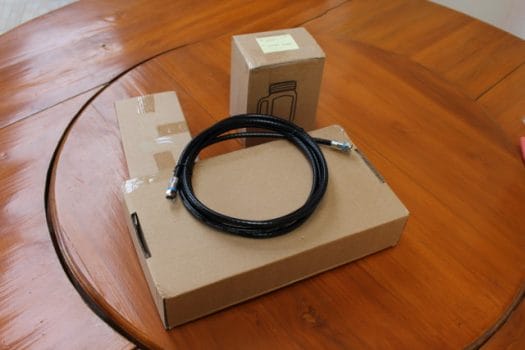 I got 3 packages and a F-female to F-female cable, which means you can connect the board directly to your TV tuner without having to rely on actual RF signals, and potential legal issues that goes with it.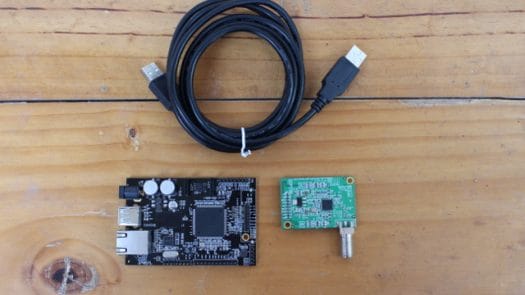 The first package I open if for the PC modulator kit that include MUSES-α board, an "RF" board, as a USB cable to connect to your computer.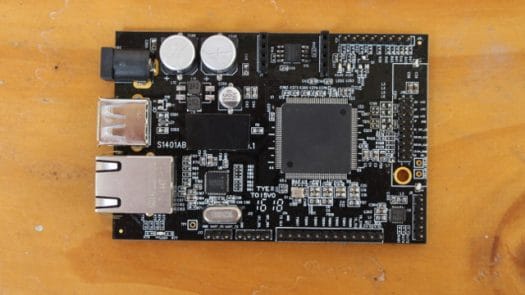 MUSES-α board features Vatek A1 chip, a USB port, an Ethernet port, a power jack, and headers for UART, I2C, TS, JTAG, RF board and GPIOs.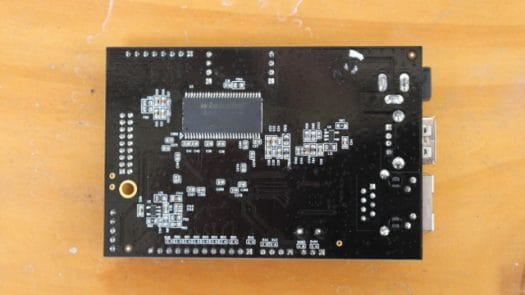 The back of the board just has a Winbond flash.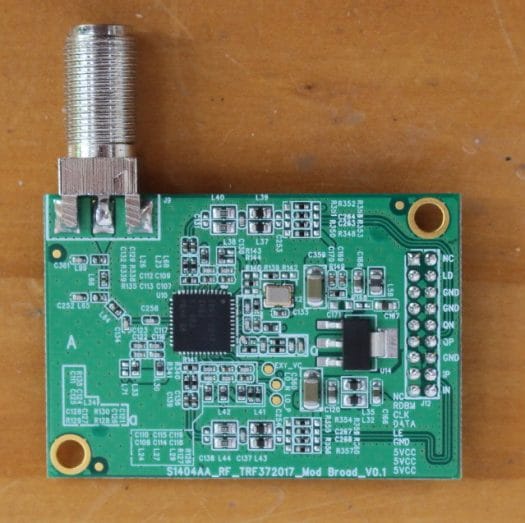 The RF board is based on Texas Instruments TRF372017 IQ modulator PLL/VCO chip, and includes an F-male connector.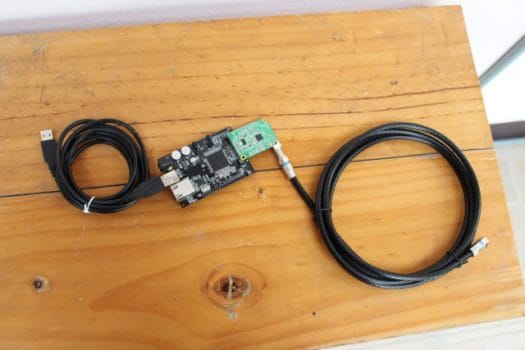 To get started you'd have to connect the USB cable, the coax cable to your TV's tuner, as well as a 5V power supply.
The next package is the STM32 + LCD control board allowing to use MUSES-β board without PC.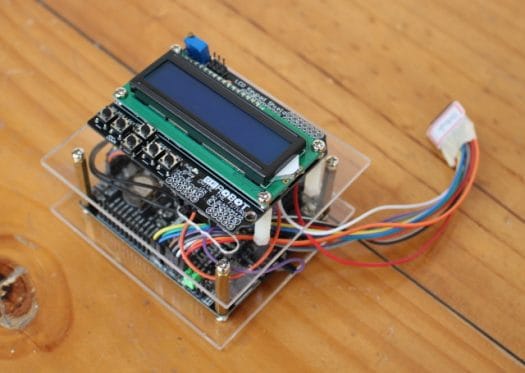 It's made of off-the-shelf parts including DF Robots LCD keypad shield for Arduino, connected to an STM32 based board via jumper cables + some glue.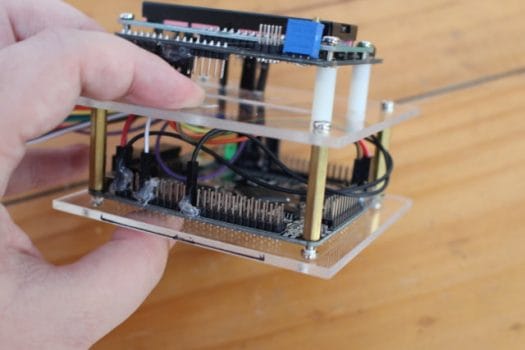 The "STM32F4xx" board is also an off-the-shelf STM32F407ZET6 ARM Cortex-M4 board found on Aliexpress for $15.50. So what you are paying for here, is not really hardware, but all the development work required for a niche product.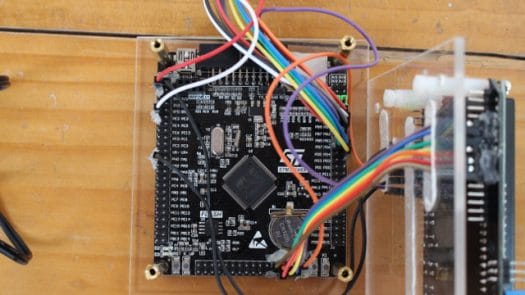 The third package includes the rest of the turnkey solution with an RF board, MUSES-β board based on Vatek B2 modulator and video encoding chip, and a video & audio input board with HDMI input, and 3 RCA connector for video composite and stereo audio input. All boards are already attached to an acrylic base, and the kit adds the top acrylic cover, some spacers and screws, and a 5V/2A power supply.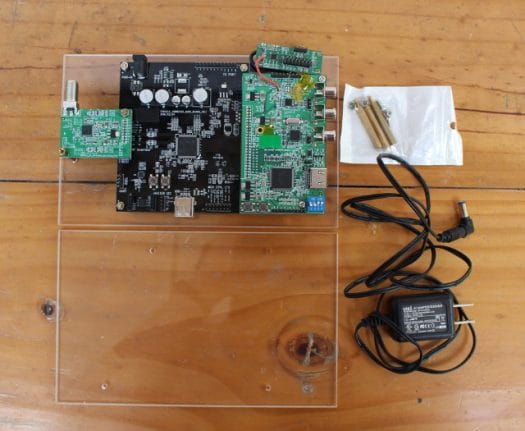 The RF board is exactly the same as the one used with MUSES-α board, and the AV input board features Explore Microelectronics EP9555E for HDMI input and Intersil TW9912 for CVBS input.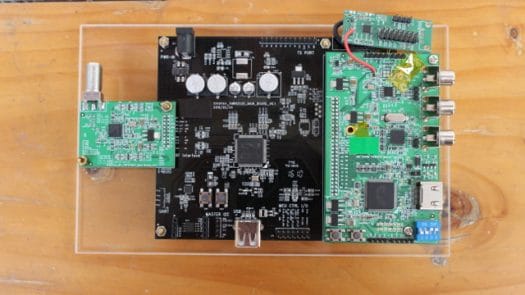 MUSES-β board comes with a USB port, a power jack, headers for the RF and AV input boards, I2C, MCU connect, and a TS port. I must have a received a prototype board, so there's also some rework that should be gone once the kit ships to backers.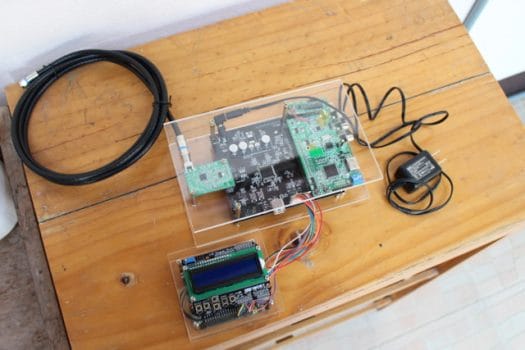 Assembly is quite straightforward:
Connect the STM32 board to the "MCU connect" header
Optionally add the top acrylic cover
Connect the 5V/2A power supply
Connect the coax cable to your TV, and add video and audio input(s) to the HDMI port or CVBS + stereo audio RCA jacks
Scan the channel on your TV, and enjoy
That's exactly what I'll try in the second part of the review, once I receive some documentation from the company.

Jean-Luc started CNX Software in 2010 as a part-time endeavor, before quitting his job as a software engineering manager, and starting to write daily news, and reviews full time later in 2011.