One surprise at CES was QNAP's entry into the developer board market with the introduction of the QBoat Sunny developer board. It's a rather odd beast to say the least and Qnap is even offering a cut-down version of its QTS OS for, simply named QTS Lite. The only thing we know about QTS Lite at this time is that it'll support "basic server functions" as well as apps from the QNAP app center, such as the Container Station which will allow you to run the QIoT Suite which will apparently help you to build IoT solutions quicker.
But let's go back to the board itself. The specs are as follows.
Processor – Intel AnyWAN GRX750 @ 2GHz (6W Dual Core Atom based)
Memory – 2GB DDR3L
Storage – 4GB eMMC, two M.2 2260/2280 SATA only slots for SSDs (RAID-1 support)
Network connectivity – 3x Gigabit Ethernet, 1x WAN 2x LAN
USB – 2x USB 3.0, 1x USB 3.0 OTG (micro USB 3.0 port), USB 2.0 DOM header
PCIe – 1x M.2 2230 for Wi-Fi/Bluetooth
Others – Audio out, mic via 3.5mm jacks, I2C, UART, SPI, SDIO, GPIO via 40-pin connector, debug console via 3.5mm jack, RTC battery, indicator LED's.
Power – 12V/3A
Size – 120x120mm
Besides the port listed on top, the board on display also had what looks like a USB-C port, but it wasn't mentioned anywhere in the specs.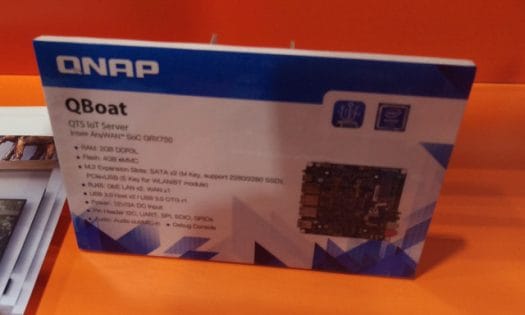 The processor choice is a very unusual one to say the least. Apparently this family of processors from Intel is normally used in things like service provider gateways, although QNAP's new TGX-150 NAS/Router combo device is based on the same processor. More details about the Intel AnyWAN GRX705 processor family can be found here.
The board seems to be targeting the DIY community rather than being offered as a platform to build commercial solutions on, which sort of makes sense, as it's unlikely that QNAP is going to want to license it's full OS to third parties.
The heatsink you see in the top picture is apparently part of the board and it covers the entire back of the board. This is also where the processor, memory and eMMC is located.
We're not sure that this will be a winner though, as it's an odd combination of hardware to say the least, and pricing will be $100 to $120 according to a QNAP's project manager.