Ncomputing RX300 is a thin client based on Raspberry Pi 3 board, allowing to run Windows operating systems on a powerful server with the Raspberry Pi 3 handling the display, audio, and keyboard/mouse inputs.
The company sent me a sample for review, and I checked out the hardware and accessories in the first part entitled "NComputing RX300 Thin Client Review – Part 1: Unboxing and Teardown", so in the post I've started the thin client, and connected it to vSpace Pro server.
Hardware Setup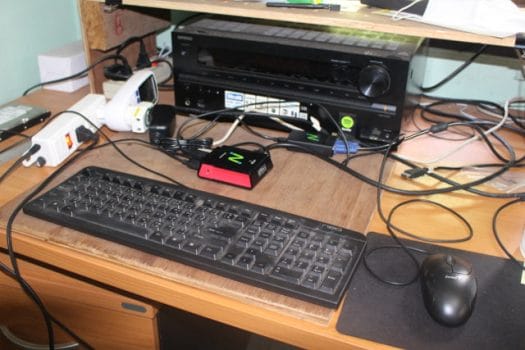 RX300 uses the same peripherals as any mini PC, so I connected USB keyboard and mouse, an Ethernet cable (WiFi is also possible), and the power adapter. You could also connect other devices, and I added a USB flash drive which, as we'll see later, will be properly recognized by the server. I was also sent a USB to VGA adapter that you can connect to the remaining USB port to add a secondary display, but it would never work with through my TV, maybe because VGA is limited to 1600×1050, and the resolution confused the adapter.
Server Options
You'll also need to setup a server, and you have two main option here:
Download vSpace Pro 10 to install and manage a self-hosted server. I did not do this in this review, because my main PC is running Ubuntu 16.04, and the program only support Windows operating systems, and server virtualization infrastructure solutions from VMWare, Citrix and Microsoft.
So instead I used a vSpace Pro server hosted in Singapore using AWS (Amazon Web Services) with a demo account prepared by the company for the review
If you're interested in the first solution, you may want to read to Quick Installation Guide to find out more.
Ncomputing RX300 and Windows Server 2016 AWS instance
Once the thin clients are installed, and the server is configured, you can start your RX300 devices. About an animated boot logo, you should soon (around 15 to 20 seconds total boot) time see vSpace Pro client interface as shown below. Please ignore the vertical lines in the photos and video below, it's just a problem with my TV.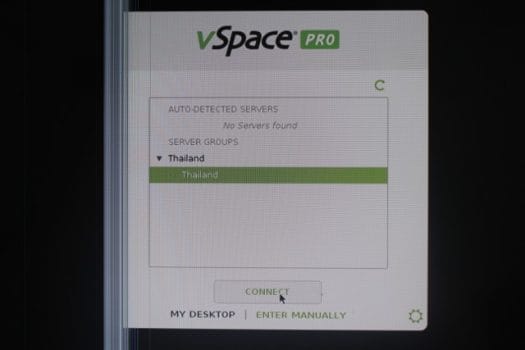 You'll see two sections with a list of auto-detected servers if you have setup any local vSpace Pro 10 machine, and/or server groups with other vSpace Pro servers. I'm located in the north of Thailand, and Thailand->Thailand was already setup, so I had nothing to do except click on Connect, and within a few short second, I was asked to login into Windows.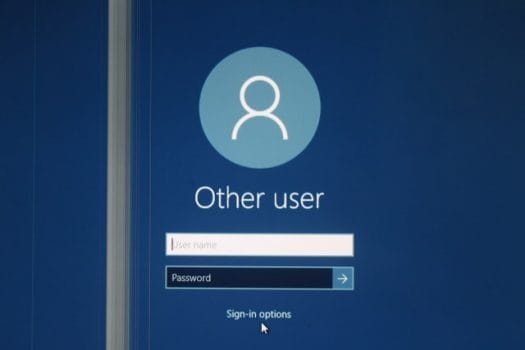 I typed the credentials provided by the demo, and I ended up in Windows right away, and could use it normally. A few times later however, I was automatically disconnected during the login process: I would type the user name and password to login, Windows desktop will appear, only go to back to vSpace Pro client interface. Trying again once or twice usually did the trick.
As soon as I entered into the server, I wanted to find out what kind of hardware the virtual machine was running on. Intel Xeon CPU E5-2676 v3 @ 2.40 GHz running Windows Server 2016 64-bit with 4 GB RAM, and a 39.9 GB Windows partition.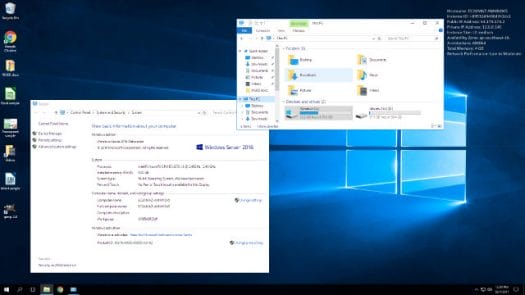 Quite a powerful machine so we should expect good performance that may be affected by the Internet connection between my ISP's modem router and the server. You'll also notice "Ubuntu 16.10" D: drive. That's my own flash drive connected to one of the USB port of the Raspberry Pi 3 board.
The company had install several programs such as Chrome and LibreOffice, as well as demo files.  I also tried to install my own program (Gimp), and I could do that, and persistent storage mean even after I disconnect the client, or reboot the server, my programs and files were still present in the system.
So I went on to use it like I would for a desktop machine in a business setting, browsing the web, and loading multiple programs.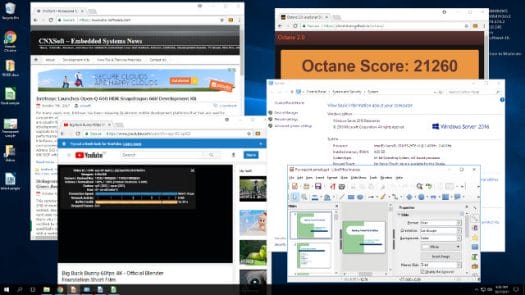 More specifically, I ran the following tests:
Launching Chrome, LibreOffice Calc (excel spreadsheet), LibreOffice Impress (powerpoint presentation), LibreOffice Writer (word doc), and Gimp in succession to demonstrate the speed to launch apps
Multi-tab browsing in Chrome and Octane 2.0 benchmarks
Playing 1080p YouTube video in embedded and full screen modes
Playing local 1080p video with VLC
Overall the performance is impressive for a remote system, and in many cases, it's hard to know we are not using a "normal" computer. The fonts may not be as sharp as on a normal PC, but it's hardly noticeable, and the screen updates while scrolling up or down web pages are slower than on my main computer. However, I did not feel either issues were a big problem, and they will likely depend on your network performance, in my case "low to moderate". It feels much better than the few times I used VNC in the past.
The first time however, YouTube video playback was very choppy, but then I saw Chrome complaining about "vCAST feature not available". vCast streaming technology is a premium feature allowing you to watch videos smoothly on thin clients. After the company enable vCAST in the server, I could streaming 1080p YouTube videos, and play local video in VLC smoothly.
You can watch the video below to have an idea of the performance, and a look at the client settings.
Once you are done, you can click on the power icon and select Disconnect to go back to vSpace Pro client user interface.
vSpace Pro client configuration options and Going back to Raspbian
If you've watched the video above, you'll know that the gear icon on the bottom right brings use to the configuration menu.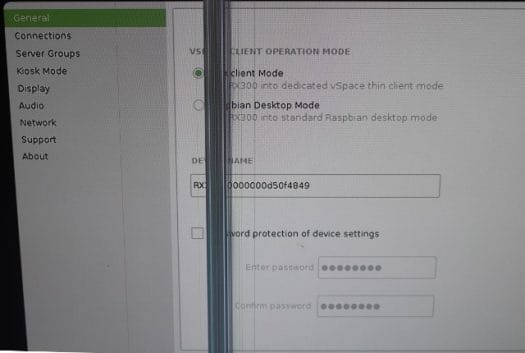 The menu has eight sub-menus:
General to select between Thin client mode and Raspbian Desktop mode
Connections to select servers manually or automatically
Server Groups to manage servers
Kiosk Mode to automatically login and/or launch a program when connecting to the vSpace server
Display to change HDMI resolution, or manage dual display setups.
Audio to select audio output and input priority

Network to configure Ethernet or WiFi

Support for firmware update option
About with some information about the thin client.
I tried the Raspbian desktop mode, and sure enough it will be into Raspbian, and you could potentially use it as a normal Raspberry Pi 3 board too.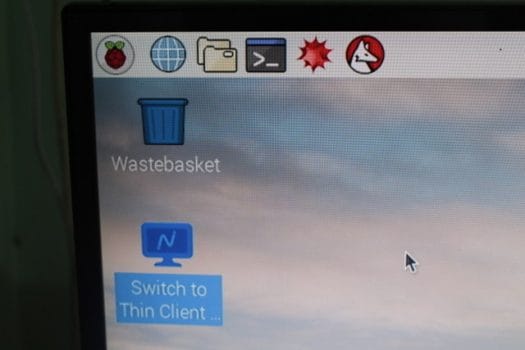 Once you've selected this mode, it will boot to Raspbian by default. If you want to use it as a thin client again, the Switch to Thin Client Mode icon will reboot RX300 to vSpace client user interface.
Recycling older Windows computer with vSpace Pro Client
If your organization owns some older Windows PCs or laptops that lack the performance or memory to run recent programs, you could download vSpace Pro client for Windows to put them to good use. Just to the the Software Downloads page, register or/and login, and select vSpace Pro Client for WIndows 7, 8.1 or 10 as needed. Linux clients are not available for download.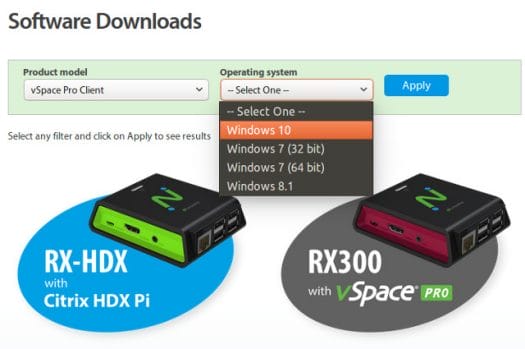 You could then have a "fleet" a thin clients mixing older hardware and NComputing RX300. You'd have to consider electricity charges while calculating your TCO, as RX300 only consumes around 3.0 to 3.4 Watts, and older hardware may consume much more than that.
The Costs
Larger organizations should probably contact the company to find out the best way to match their requirements. But if you have smaller needs, or just want to evaluate the system, you could purchase Ncomputing RX300 for $99 MSRP with a 1-year license, or $174.99 with a 3-year license. I understand vCAST streaming is included for free for 6 months, but after you'd have to pay extra for the feature. What I could not find is public pricing for the various licenses. The company however has a cost calculator allowing you to check how much you'd save with thin clients compared to having PCs, but again premium features license costs such as vCAST or dual display are not included. You'd also have to consider Windows server license requirements.

Jean-Luc started CNX Software in 2010 as a part-time endeavor, before quitting his job as a software engineering manager, and starting to write daily news, and reviews full time later in 2011.