RS-232, RS-422, and RS-485 are pretty old serial communication interfaces, and I was not even born when RS-232 was specified in 1962, but there are still commonly used today in various applications such a points-of-sales, multi-meters, industrial equipment like PLC or HMI, as well as medical devices.
Maxim Integrated shared a video – embedded at the end of this article – on social networks today explaining the fundamentals of serial transmitter devices and differences between RS-232, RS-422, RS-485, and Profibus.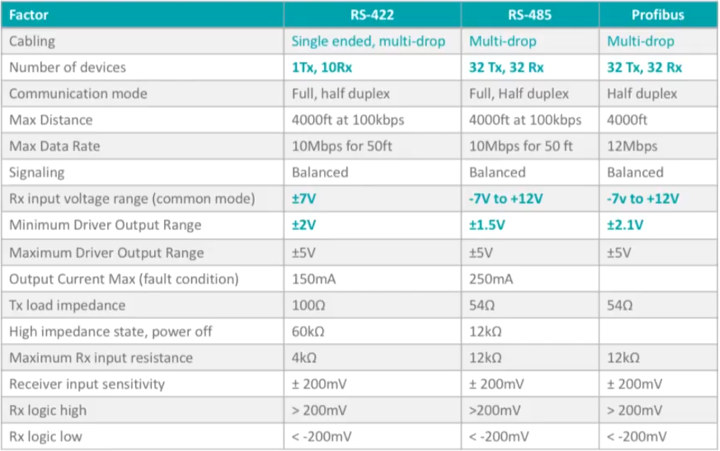 The video goes into more details with a glossary of terms, discussion of cable length and bitrate, hand-shaking, and auto-shutdown, but I'll provide a quick summary below:
RS-232 supports one transmitter and one receiver, and operate between -15 and +15V (with input tolerance of up to -/+ 25V). A logic zero is between +3 and +15V and a logic one between -15 and -3V on the receiver side
RS-422 is an improved version of RS-232 with twisted pair cable and signal balancing that still supports a single transmitter but to which you can connect up to 10 transceivers. Longer distances are also supported.
RS-485 is an evolution of RS-422 published in 1983 with support of up to 32 Tx and 32 Rx devices. Since RS-485 is a superset of RS-422, you can still use RX-485 Tx devices to control RS-422 Tx devices, but no the other way around. Signals operate between -5 to +5V (input tolerance: -7 to +12V) with a logic zero being between +200mW to +5V, and a logic one between -5V and -200mV on the receiver side.
RS-422 and RS-485 can achieve 10 Mbps bitrate with shorter cables (up to ~15 meters) and 100 Kbps with much longer cables of up to 1.2 km. Despite the 32 devices limitations, Maxim Integrated states there are chips that support up to 256 transceivers. Typical applications for RS-422/RS-485 include PLCs, industrial sensors, and building automation among others.