Most Android phones come with Google services, which is both a boon and a curse, as those services are often convenient, but they come at the loss of your privacy. For example, most people get all upset and lost if a firmware image for an SBC is shipped without Google Play Store, but yet at the same time they worry about their privacy providing all their data to a single company like Google.
There must be a better way, and that's what the e.foundation is attempting with /e/ operating system based on Android, but without any of the Google Services, and targetting your typical end-users, as opposed to geek.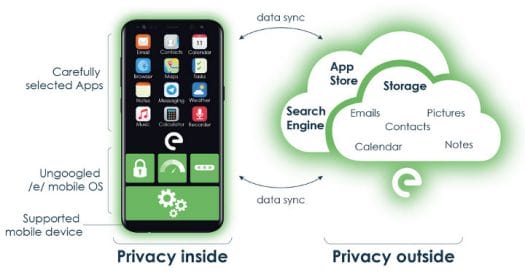 /e/ operating system aims to provide privacy both inside the phone, and via cloud services unrelated to Google. It is a fork of LineageOS 14.1 itself a fork of AOSP, and replaces Google services and apps with programs such as MicroG open source implementation of Google's proprietary Android user space apps and libraries, Signal, Telegram, a fork of K9-mail email client, and BlissLauncher. Searx is set as the default search engine in the open source Jelly web browser, but Qwant and DuckDuckGo are also offered as additional choice.
As shown in the diagram above, the company will also provide open source services for storage, accounts, calendar, emails, and so on. If you don't quite like having another third party taking care of your data, the company will also release /e/ services packaged as Docker images so that users can install the service on their own servers for self-hosting their mail, online storage, calendar, etc…
The /e/ operating system is in beta right now, and working on a fairly long list of popular phones thanks to its LineageOS roots. But obviously since the goal is to provide a Google-free Android alternative to users, asking them to flash firmware themselves is not really suitable.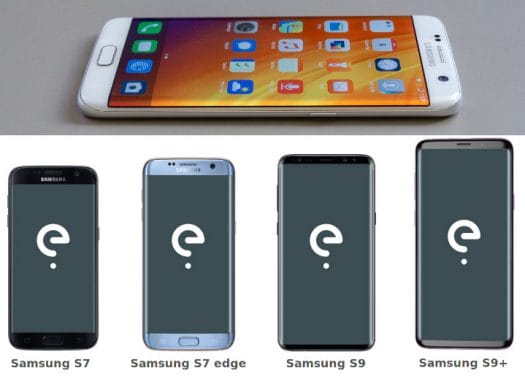 So the e.foundation had an interesting idea: providing grade A "best refurbished quality" phones running /e/ operating system. End-users get their good-as-new privacy-focused phones at a low price, and the project also helps reduce e-waste.
Four phones are planned so far: Samsung Galaxy S7 (279€), Galaxy S7 edge (299€), Galaxy S9 (499€), and Galaxy S9+ (549€). The phone are not actually for sell right now, but the company is now looking for people who have interest (no credit card or other payment details required), so that they can plan ahead for the launch planned later this year.
As a side note, if you wonder why somebody would have the idea of coming with such a search engine-friendly name for an OS, that's because of a trademark dispute. The project used to be called Eelo, a unique name, but similar to some other trademarked names, so they decided to change it to /e/, which they admit is likely to be a temporary name.
Via Liliputing and HotHardware

Jean-Luc started CNX Software in 2010 as a part-time endeavor, before quitting his job as a software engineering manager, and starting to write daily news, and reviews full time later in 2011.