Companies have already announced foldable smartphones, but another type of smartphone may soon come to retail shelves as BOE showcased rollable displays for next generation smartphones at SID Display Week 2019.
BOE, a China-based tech company, is a global leader in the semiconductor display industry. In addition they are an IoT company providing intelligent interface products. Also, they produce Interface Devices, Smart IoT Systems and Smart Medicine & Engineering Integration.
In the video, you can see two different foldable phones, one which is about 7.7 inches display but, can be folded into a 6 inches display. And another rollable smartphone, which is up to 12.9 inches, the main attraction of the day.
The 12.9 rollable smartphone, although still a prototype and not ready for the market, showed a lot of potential. With the plan to add more features to future versions, this smartphone, BOE is really heating things up.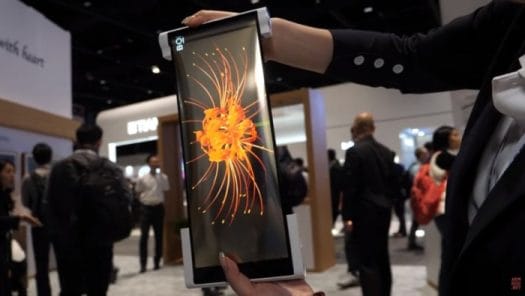 Additionally, it is good to know that the smartphone, despite not having a touch sensor yet, is really different from the rest. And BOE claims it'll add touch support in the new version.
While it seemed impossible to many when the idea of foldable and rollable smartphones came up. It is quickly becoming a reality, and the future of smartphones.
Although Samsung and Huawei has released their own foldable smartphone version, the Samsung Galaxy Fold, and the Huawei Mate X, respectively. BOE smartphone combines the look and feel of both products.
Furthermore, the video also showcases other innovative smart home devices,flexible displays, UHD displays, and, micro-displays. In addition, they showed their Smart driving experience brought by flexible display for the Internet of Vehicles (IoV).
Other cutting edge tech products BOE displayed includes;
First ever HDR notebook featuring mini-LED
15.6″ oxide display with an ultra-high refresh rate of 240Hz
55″ inkjet-printed 4K OLED display
0.39″ micro-OLED AR display
Via Liliputing and Armdevices.net

Tiwalade Joanna Okedara is a content writer, and blogger, with a passion for all things tech. She also specialises in writing SEO content, and spends most of her time researching new content marketing strategies. She loves to cook, and plan events in her spare time