If you are a fan of the Lego movie. Perhaps you have always wanted to use Lego bricks to make something innovative and techy. Then the Mini SAM M4 board is here for you, as it is a LEGO minifigure-sized development board.
Additionally, the design and layout of the board is based around the classic 1980's 'spaceman', and is made by Ben Shockley.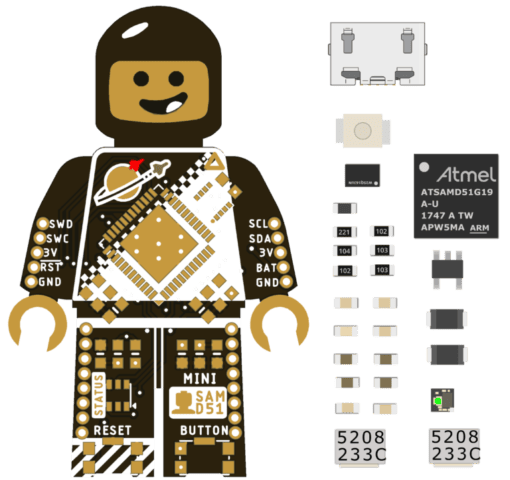 Although the board is very small, it has a lot of wonderful features. It comes with an analog reference decoupling/filtering capacitors.
Also, it has an analog to digital ferrite bead, as well as a debounce circuitry for the reset and user buttons. Furthermore, the board's software and firmware can be developed using CircuitPython or Arduino.
The development board is either based on the Microchip SAMD51G 48-Pin 32-Bit ARM – Cortex M4F MCU (Mini SAM M4), or features the Microchip SAMD21G 48-Pin 32-Bit ARM Cortex -M0+ MCU running at 48Mhz.
Features of the Mini Sam M4 Lego Board
The Board
The board  has micro USB interface for programming and power.
Around the edge are 0.050″ spaced holes with castellation

Two LED indicators: a standard "Built-In" LED and an APA102 RGB LED.

There are also two built-in buttons as well; a RESET button and a user programmable BUTTON.
Memory
Additionally the board has a 2MB Quad-SPI flash memory chip.

This will provide enough space for the CircuitPython program. Furthermore, it will also allow space for user programming.
Other Features on the Mini Sam Lego Board
 600mA 3.3V regulator.

Micro-USB circuitry which allows for case grounding and ESD protection

The recommended Analog and Digital power separation is present on the board.
In Conclusion
The Mini Sam M4 development board is sold for $40 at Tindie with SAMD51G MCU. While it is fun to use, the board has all functions working and all on-board features usable.

Tiwalade Joanna Okedara is a content writer, and blogger, with a passion for all things tech. She also specialises in writing SEO content, and spends most of her time researching new content marketing strategies. She loves to cook, and plan events in her spare time