ODROID-H2 was announced in October 2018 as the first x86 SBC from Hardkernel. The board features an Intel Celeron J4105 Gemini Lake processor, two SO-DIMM slots for memory, two SATA ports and M.2 NVMe slot for storage, two Gigabit Ethernet ports, a mix of USB 3.0 and 2.0 ports, as well as HDMI and DisplayPort video outputs.
The board went for sale the following month for $111, and the first batch of 2,000 boards was sold within 24 hours. In normal cases, this should not be a big problem, and in a few weeks, the company should have been able to produce more boards to fulfill the demand. But Intel decided to prioritize higher-end processors, and Gemini Lake SoCs' manufacturing was put on the back foot. That means Hardkernel had to wait over 6 months to get supply of the Celeron J4150 processors. In the meantime, the company slightly redesign the board, now called ODROID-H2 Rev B, and the good news is that it's up for sale again for the same $111 directly on Hardkernel website, and the board should soon be back on Ameridroid (use coupon CNXSUPPORTER10 for $10 discount) as well.
ODROID-H2 Rev B Improvements
CLK-REQ signal pull resistor is added to support a PCIe-to-SATA bridge board
12V SATA power source improvement for high power HDDs.
Add an M.2 screw for NVMe storage installation
Preinstalled the latest BIOS 1.05.
More details can be found in the schematics
ODROID-H2 Rev B Kit Unboxing
Hardkernel also offered to send an ODROID-H2 Rev B SBC for review with some accessories.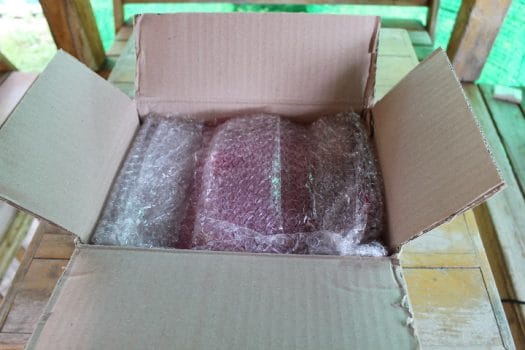 So let's see what I got as ODROID-H2 clearly did not come alone…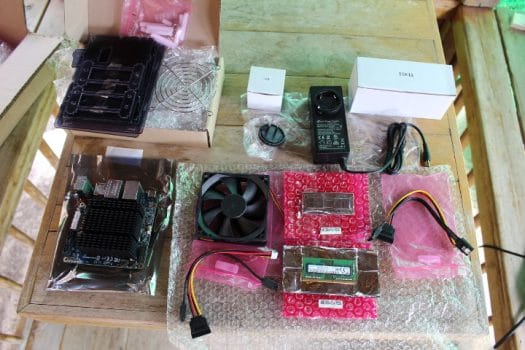 Here's the list of the items in the package:
ODROID-H2 Rev B with 32GB eMMC flash and BIOS/RTC backup battery connected to the board (note the last two need to be purchased separately if needed).
15V/4A 60Watt PSU
2x Samsung 4GB DDR4 SO-DIMM
Acrylic case type 3 for two 2.5″ drives
92x92x25mm DC Cooling Fan w/ PWM, Speed Sensor (Tacho)
2x SATA data & power cables
Let's have a look at the board itself.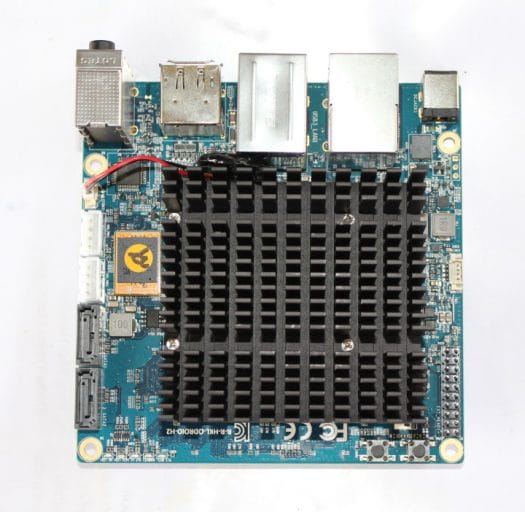 The top of the board is mostly covered by the large heatsink, but we've also got two SATA ports and associated power headers, the 32GB eMMC flash and RTC battery (both optional), as well as a 20-pin header with I2C and UART and the 4-pin PWM fan connector on the right side.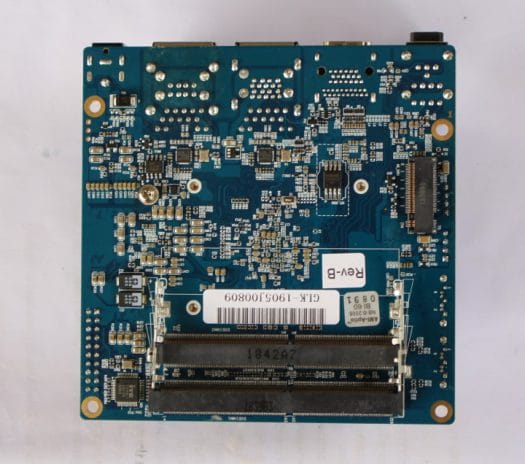 The bottom of the board comes with two SO-DIMM slots, and an M.2 socket for NVMe SSD's, which for a screw is included as part of Rev B board.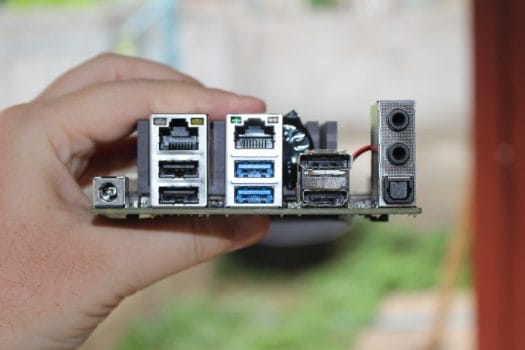 All ports are placed on a single side of the board with from left to right: the DC jack, one block with Gigabit Ethernet and two USB 2.0 ports,  another one with Gigabit Ethernet and two USB 3.0 ports, DisplayPort and HDMI 2.0 video output, and finally an audio block with Line IN, Line OUT, and S/PDIF output.
ODROID-H2 Case Type 3 Kit Assembly
The first thing you'll want to do is install the RAM stick(s) preferably two to get higher RAM bandwidth (dual-channel), as well as optionally an NVMe SSD.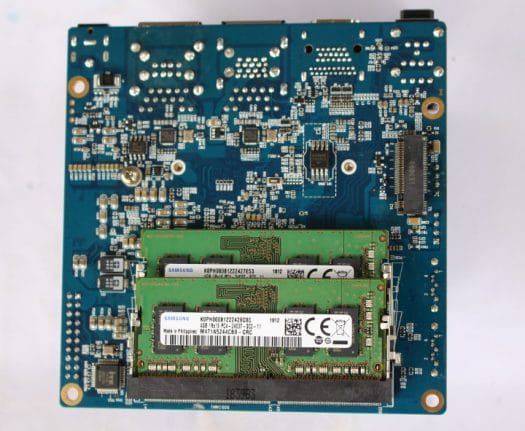 I do not own the latter, so I only install the two 4GB RAM sticks provided by the company.
Next up is the fun part with the case assembly. Hardkernel offers 4 different cases depending on whether you do not need SATA drives, or plan on using 2.5″ or 3.5″ drives. Case Type 3 is made for up to 2.5″ drives, so I took out one SSD and one hard drive I already own, and normally use for reviews. The assembly method is shown in a video further down the article, but I've also included steps with photos.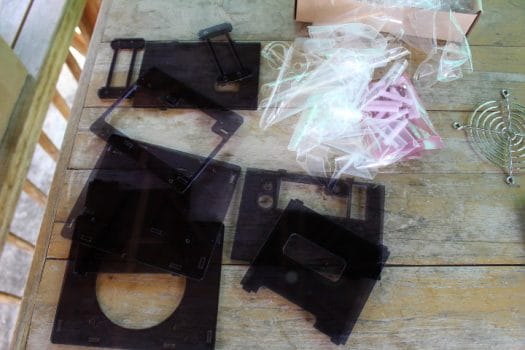 That's optional, but most people will probably start by peeling off the protective film from all plastic parts since the case will look much better that way.
Now we can screw the stainless cooling fan grill to the top cover, and start connecting the SATA drives to the brackets.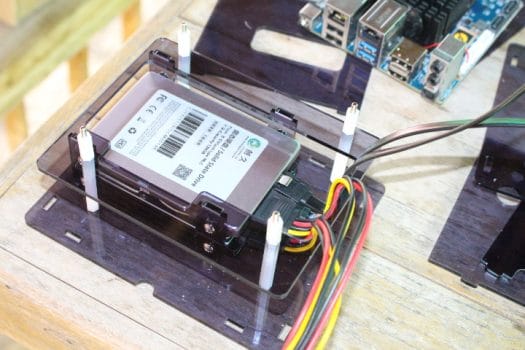 Once we have our two drives attached to the brackets, we can add four long spacers to the bottom plate securing them with screws, and insert the SATA brackets into it. Time to insert the inner bracket on top, and screw four small spacers on top, before connecting SATA data and power cables to the drives, and make sure they go through the opening in the inner brackets as shown above.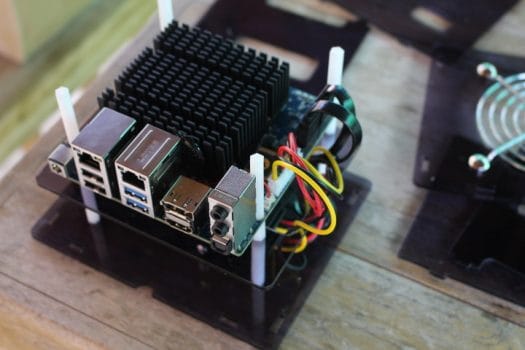 Now place the board on top, and attach it with the four remaining spacers (female to female), and connect the SATA cables to the board.
Finally, we can add the four side panels, cover everything with the top cover, and tighten the final four small screws to get a fully assembled, and good-looking ODROID-H2 Case Type 3 kit.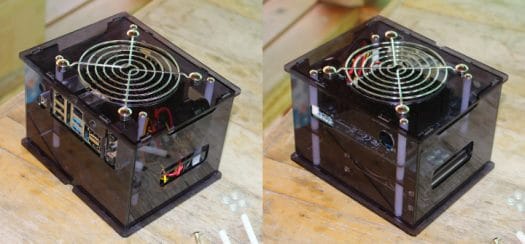 I have not used the fan, but it can be fitted on it by removing the cooling fan grill and placing the fan first, before putting the grill back on top. This would require removing the top cover first to access the nuts.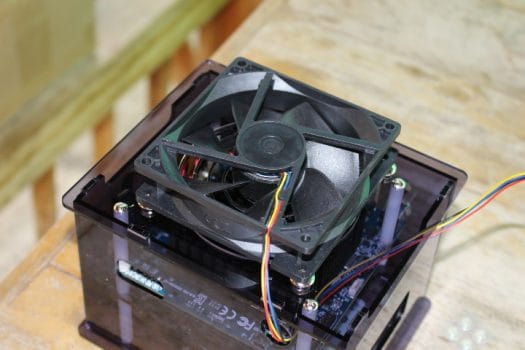 I have not done it just yet, because I would like to test the system fanless first, and because the plastic threads in the spacers do not look like they'll survive frequent "mounting/unmounting".

Price and Next Part
ODROID-H2 Rev B costs $111 plus shipping, but if you'd like the complete kit as above, you would need to add the following items:
32GB eMMC flash module – $26.90
BIOS/RTC backup battery – $2.50
ODROID-H2 Case Type 3 – $11.90
15V/4A 60Watt PSU – $9.4
2x Samsung 4GB DDR4 SO-DIMM – $44
DC Cooling Fan w/ PWM – $4
2x SATA data & power cables – $6
That's a total of $215.70 plus shipping. Note that most items are optional since you can boot the board from an SSD for example. In any case, it may be good to add the PSU since I'm not sure whether those are easily procurable.
In the next part of the review, I plan to test ODROID-H2 with the latest Ubuntu 19.04 image with Linux 5.0 kernel provided by the company. Eventually, I'll probably use the board as a simple NAS for backups, file storage, and potentially offloading downloads.
Continue reading "ODROID-H2 Review – Part 2: Ubuntu 19.04".

Jean-Luc started CNX Software in 2010 as a part-time endeavor, before quitting his job as a software engineering manager, and starting to write daily news, and reviews full time later in 2011.