There is a Java-programmable module on the block. The module is going to change the face of programming and make things easier.
The Java-on-Chip (JoC) module was designed by the Austrian manufacturer, Demmel. This module minimizes programming and development time of smart applications.
The first thing to remember is that commercially embedded systems are developed with programmable languages, and they typically employ the use of either the C language or assembly.
However, Demmel has made this new module and board specifically for Java programmers. The Java-programmable module is designed to work with the Javaino JoC reference board.
Another thing about the JoC module is that it radically shortens development times.  Furthermore, it simplifies PCB design efforts and also reduces programming effort.
Also, the Java-programmable module comes as a tiny 24 × 36-mm module. As a matter of fact, it offers a diverse selection of interface options.  Now, these options can be addressed in Java for low-level programming.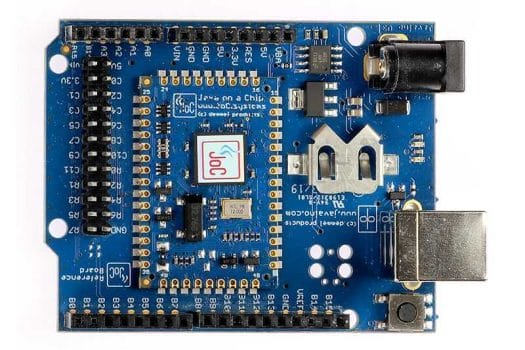 Specifications of the JoC Module
Multiple digital and analog I/Os
 USB port, 2x RS232 (TTL) ports, I2C, SPI, and PWM outputs
A/D and D/A converters.
A built-in keyboard interface which can accommodate up to 128 keys
There is also a rotary encoder interface.
Benefits of the Java-Programmable Module
With the extensive interface options of the JoC, complex low-level programming is unnecessary.
Compared to other languages, the approach and technology of Java offers security from errors.
Additionally, the JoC real-time clock with battery backup is useful for time-sensitive applications.
Final Note
The Javaino JoC Reference Board brings all of JoCs pins out to edge pins. It is however important to know that you will need to buy the board. This will make the use of the Java-Programmable module quick and easy.
Both the Java-on-Chip module and the Javaino JoC reference board are available. They can be purchased directly from Saelig for $29.95 and $59.95, respectively.
Via EEWeb. Thanks to theguyuk for the tip.

Tiwalade Joanna Okedara is a content writer, and blogger, with a passion for all things tech. She also specialises in writing SEO content, and spends most of her time researching new content marketing strategies. She loves to cook, and plan events in her spare time