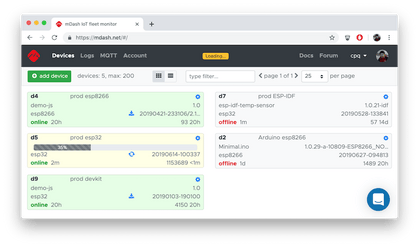 Cesanta (a company based in Dublin, Ireland) recently launched mDash – an IoT cloud platform for administration of various IoT modules.
This platform supports Espressif's modules ESP32 & ESP8266, STM32 (L4,M4) and TI CC3220, and offers a bunch of features which are known to be challenging tasks in the IoT world.
This includes OTA (Over-The-Air) firmware updates, remote configuration and administration, alerts and notifications, remote device control and file management.
This can be achieved through 3 programming platforms – Arduino IDE, ESP-IDF and through Mongoose OS. For evaluation and testing purpose mDash offers a simulator that run as a docker container.
Refer our previous post, to understand how to get started with Cesanta's Moongoose OS for ESP8266.
Basic WorkFlow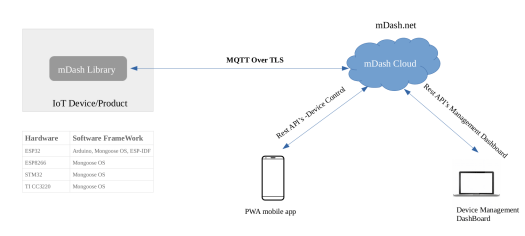 mDash Library
The company offers reference firmware/library for the defined hardware platforms. This been implements by using secure MQTT for communication, re-connection and initial provisioning with mDash cloud. You can find the library for ESP32 & ESP8266 with a few examples on Github.
Communication Protocol
The communication protocol between the mDash library (device) and the mDash Cloud been built on top of MQTT protocol, and several ways of remote device control are possible:
Device shadow
Device shadow, built on top of MQTT, mainly maintains the state of the device and custom metadata as JSON object. This will be stored at mDash Cloud, and you can easily fetch these information either via MQTT or REST API's.
RPC
RPC – Remote Procedure Call, built on top of MQTT, sends commands to device and receives replies by using JSON-RPC 2.0.

Cloud
The cloud service and solutions offered by mDash include –
Device management functionality, remote control and OTA (firmware over-the-air updates).
Secure key based management mechanism to manage the customer with registered products, remote management and usage statics
Mobile Application
Cesanta also provides a reference PWA (Progressive Web Application) mobile application, where the user can do the provisioning and establish control over the devices quickly and easily.
mDash Features
OTA (Over-The-Air) Firmware Update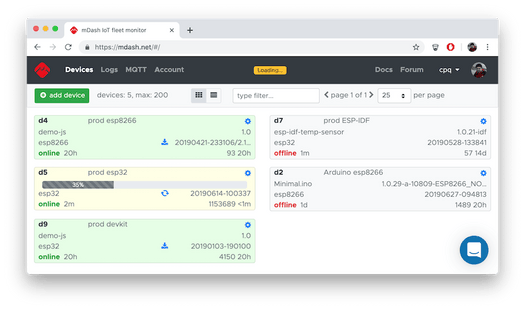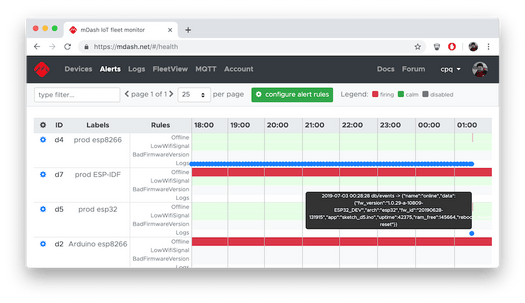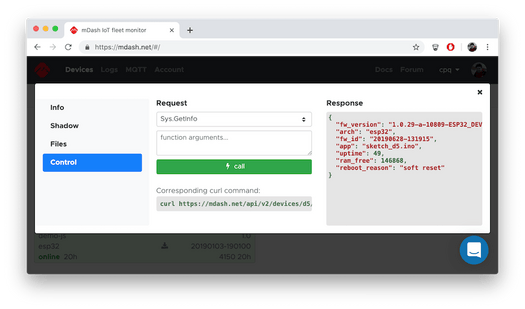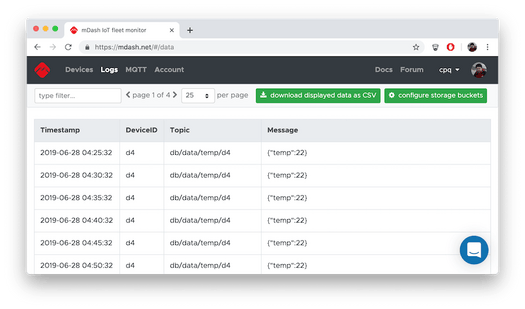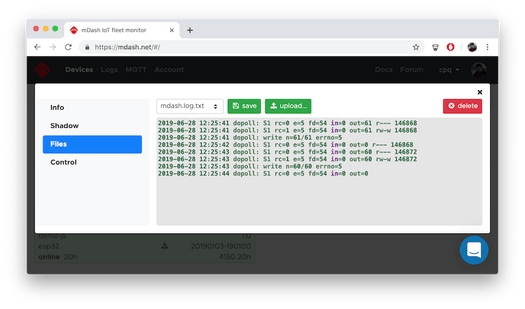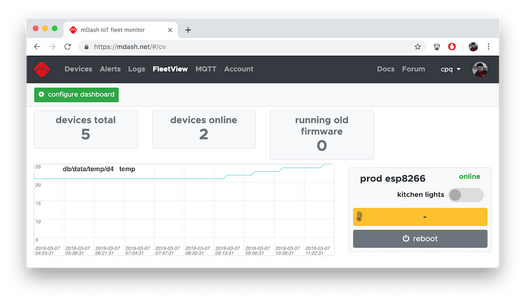 Summary
While comparing to the cloud based IoT management features offered by big-giants cloud platform, mDash is having its own advantages because of the simplicity, easy to use and configure. So if anyone wants to develop IoT product with maximum 8KB of message size and not planning to deploy more than 50,000 units, Cesanta's Cloud platform should be an alternative option to consider.
References

An Entrepreneur, an Opensource Enthusiast  and Researcher in the domain of Embedded Systems, Wireless and IoT – Has over 16+ years of experience in managing and contributing enterprise Research Projects, in Embedded Systems, Software Technologies, Product Conceptualizations and development, Telecommunication, Media and Entertainment and Consumer Electronics.