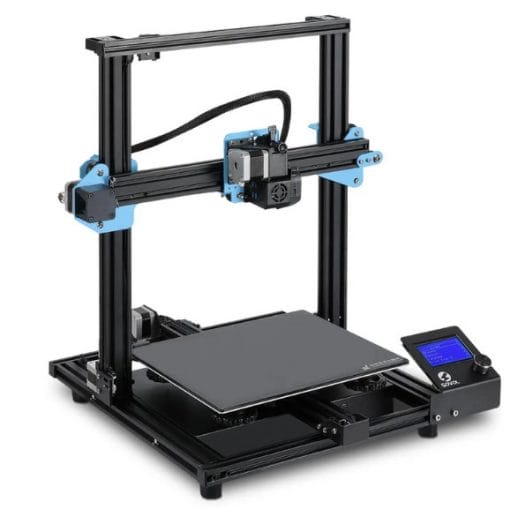 Howdy, Karl here. Let's do this backward today and give final thoughts first …I like the SV01 3D printer. With a print volume of 280x240x300mm, it's a good size printer. I think I could get several more centimeters in height if I relocated the filament sensor. I have had it for several months and have printed with it quite a bit and had a really good experience. It is a keeper. By that I mean I have reviewed quite a few printers and I don't have enough space to keep them all. I find the less desirable ones good homes with friends and family. BTW I plan on doing a follow up soon for all the past articles. Just a few highlights per past article. I think it would be interesting. It is hard to truly review some products in a short amount of time. Back to the SV01…IMO, likes heavily outweigh the dislikes. Out of the box it did very well and no modifications are necessary. I admit there is nothing too exciting about this printer other than the direct drive but I do prefer that style. It's also a looker. I really like the way it looks with the blue anodized aluminum and I the industrial look of extruded aluminum.
Likes
Direct Drive…IMO they print better than Bowden style (with one caveat)
The frame is super rigid
All in one design(no separate box)
Dual Z
Baby Stepping out of the box
Anycubic type of glass bed. (Depending on the print you may or may not need to use some sort of glue)
Prints like a boss
Dislikes
Build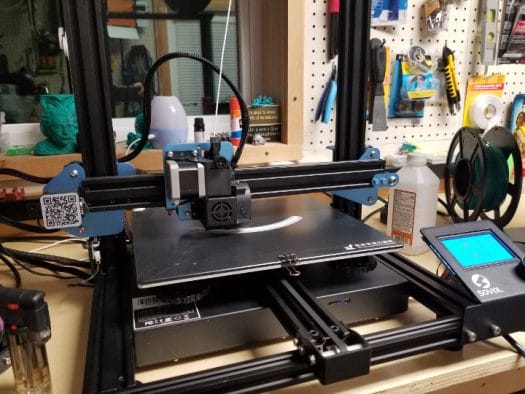 The SV01 comes mostly preassembled. It's a design that has a proven track record with extruded aluminum making up the majority of the frame with wheels rolling on them for linear motion. It's not my favorite. I prefer linear rods/rails but wheels on extruded aluminum work well. The 3D printers that I have used with linear rods print just slightly better in my opinion. When you are running wheels over extruded aluminum there are just too many variables. Wheels, bearings, and the aluminum itself all have to have pretty tight tolerances. With linear rods, you only have bearings and a rod. I have not used rails but they have to be better with the price they have. Please don't take this the wrong way. I am nitpicking.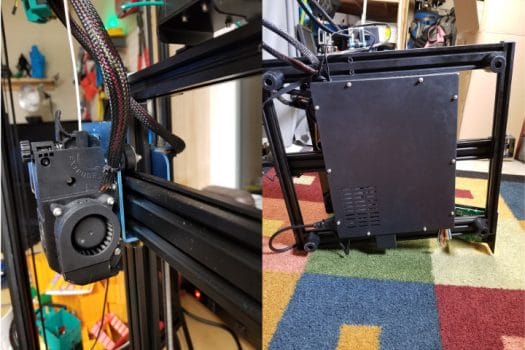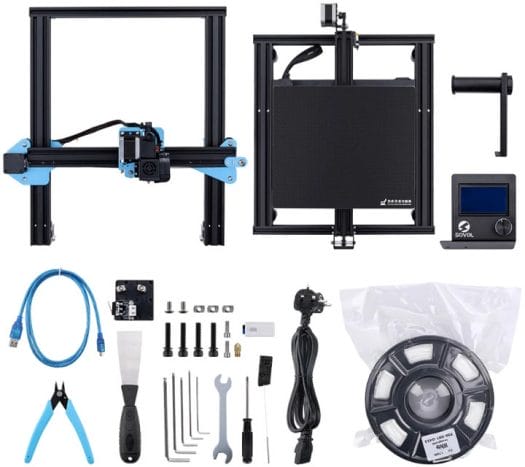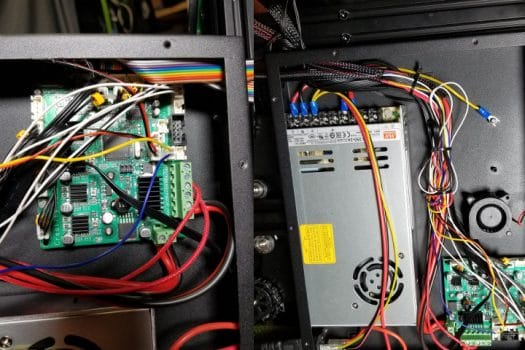 After the bulk of the assembly, I tightened all the belts and eccentric nuts on the wheels then leveled the bed. After dialing in the bed and a few prints I have not touched it since other than a few baby steps adjustments.
The board is a Creality board with soldered stepper drivers. I wish it had better drivers or even replaceable ones. I plan on installing a Bigtreetech SKR 1.3 to fix the noise issue and get rid of the salmon skin.

The machine I received came pretested. Sovol says they test all printers at the factory which is good. The factory forgot the SD card in the machine with about a dozen test prints on it for several machines. Creality may even OEM for Sovol.
3D Print Samples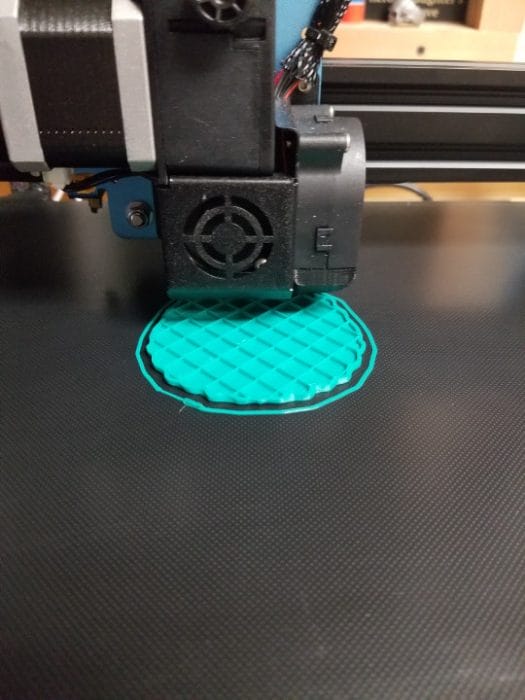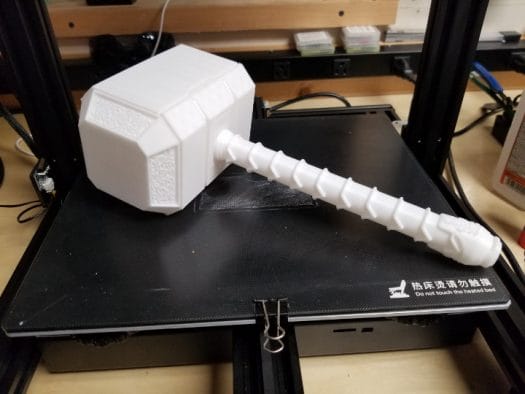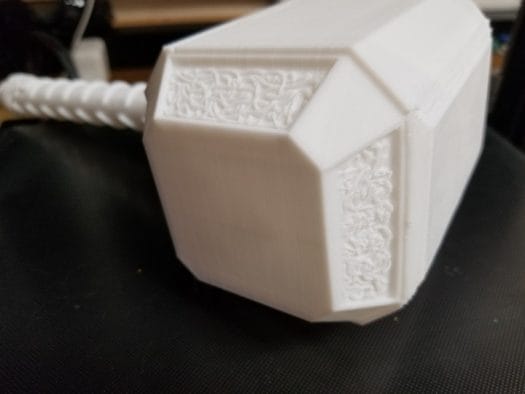 Thor Hammer printed 1 piece (cheated some used cura setting called make printable) This print made me realize I could have printed larger. I thought I maxed it out but had several centimeters left in Z height.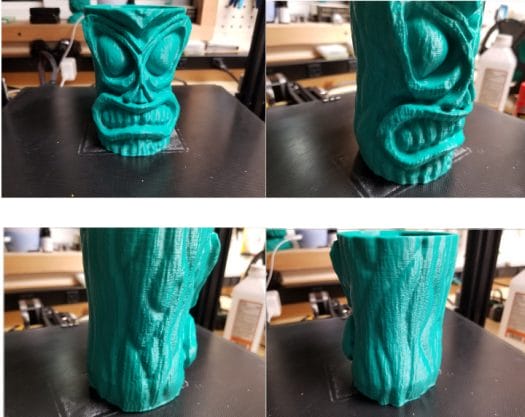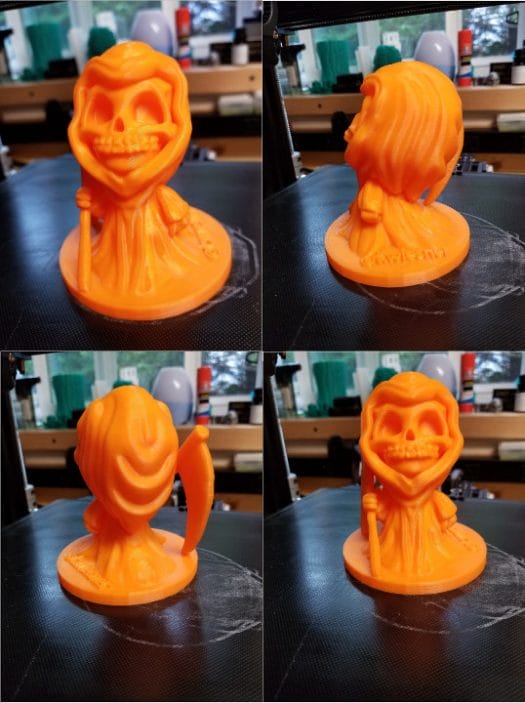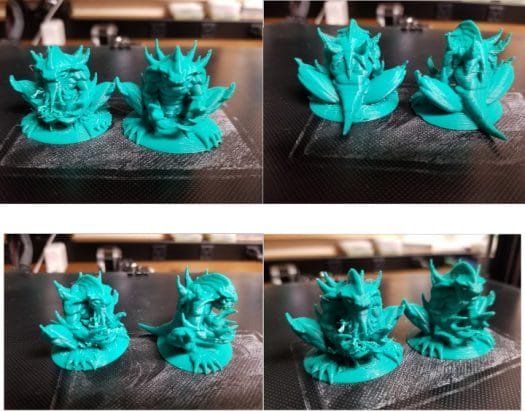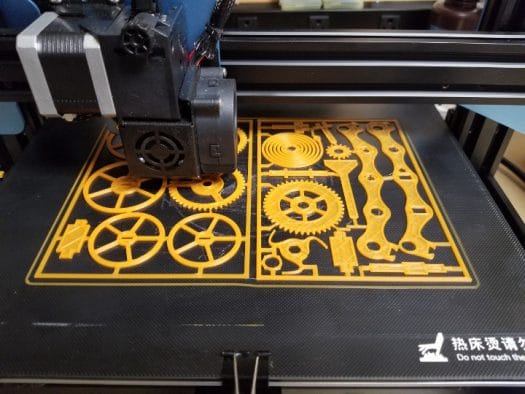 I can't believe I never printed this before. Super fun little toy. I did make one mod. I printed some wheels out of some flexible PLA to give grip. The wheels would just spin without. Only a little bit of trimming because of elephants foot. I wanted to make sure it didn't come loose on the first layer so used baby stepping to bring it down just slightly.

I had some crud on my nozzle. Came off on the lithophane.
I was wrapping up testing when CHEP on YouTube did a review of the SV01 and had some issues printing with TPU. I had only printed with flexible PLA with just a minor jam the first time I loaded the printer. I thought I didn't load it right. After reloading it printed fine after that. Turns out that a piece of PTFE tube is missing on at least mine and his in the hotend assembly. I sent a note to Sovol and they said that it should have been installed. Sovol stated that 20mm needs to be installed but I found 19mm worked for me and was nice and snug. It took about 15 minutes to install. It gets inserted in the black piece with the wedge next to the extruder gear. It's an odd design. Why they didn't just make the injected molded piece the right size blows my mind.
Final Thoughts part 2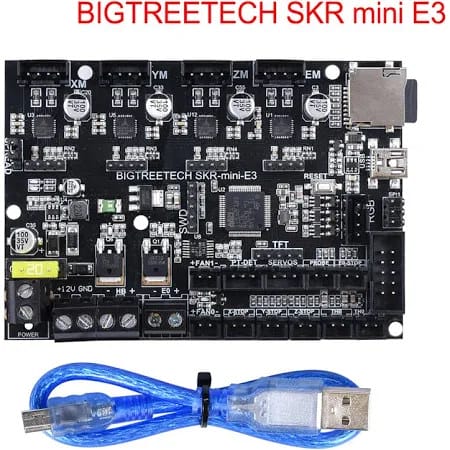 I am going to be installing an SKR 1.3. It is because I have it on hand already. A better upgrade may be the SKR Mini E3. It's about $30 and should be a drop-in replacement and everything should line up including the SD card. It may be a complete drop-in with firmware already installed but I don't know. I would be prepared to configure and flash Marlin.

I stated that I like direct-drive printers better with one caveat. That caveat is that you have to have the spool of filament spinning freely with the least amount of drag. While printing if there is any resistance the nozzle will ever so slightly move while the head is moving. A proper filament holder is a must. If you can incorporate bearings and keep the shaft in the center of the reel of filament the better off you are. I have a few that I use. One is a free-standing one I cobbled together and the other is mounted to my pegboard. I found that these paint rollers with a thick nap are perfect. I cut it in half and was able to make 2 out of one roller. I buy the cheapest filament I can on Amazon so I get spools with different size holes and the nap is squishy enough to accommodate all and easy to take on and off.
I use Cura as my slicer with 1.75mm retraction at 10mm/s 200c with 100% fan for PLA. I was getting just slight wisps of stringing that easily went away with a torch lighter.
I would like to thank Sovol for sending over the 3D printer at no cost to review. You can find the printer for between $250 and $300 around the web on sites like Amazon or Aliexpress.

Karl is a technology enthusiast that contributes reviews of TV boxes, 3D printers, and other gadgets for makers.