PrinCube the smallest, color-inkjet printer on the market.
PrinCube is a portable handheld color ink-jet printer that is palm-sized, wirelessly controlled by a smartphone, and easy to set up. The IndieGoGo campaign has exploded to more than $2,000,000.00 USD and featured on a number of tech sites. 
Article Intent
For clarity and function of the PrinCube abilities, there needs to be a careful examination of the facts that surround wireless, handheld, color inkjet, printer, that can print on any surface.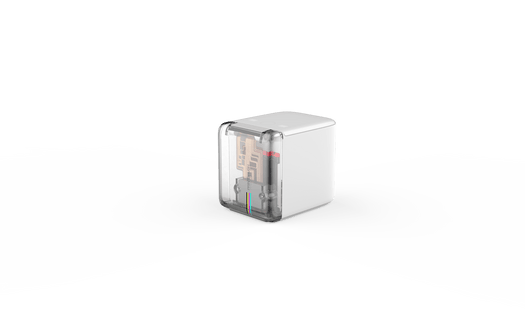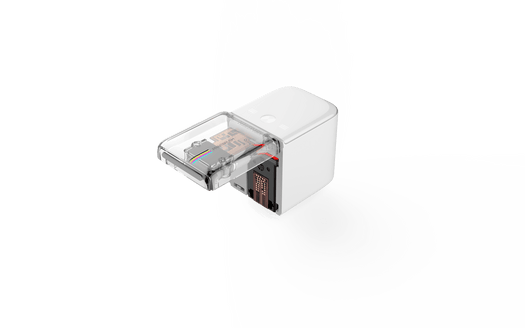 Other Handheld, Smartphone, Color-Inkjet Printers
There is another product, similar to PrinCube, PrintBrush, which is also a handheld wireless color inkjet printer, connected to a smartphone. It should be noted that while PrinCube is a very popular campaign, PrintBrush, which came out earlier than PrinCube, has very similar claims.  It is worth looking over the websites for both printers
Here are the campaigns
PrintBrush XDR- Colors Everywhere on Kickstarter
PrinCube The Worlds Smallest Mobile Color Printer on Indiegogo
The Basics of PrinCube
PrinCube claims to be more versatile and much cheaper than other handheld color inkjet printers, due to the fact that PrinCube uses a Lattice iCE40UL FPGA as well as an Ingenic CPU, which are cheaper parts than used on competitive products.
The company has reported that the PrinCube is the smallest, yet most functional of those emerging handheld smartphone color-inkjet printers.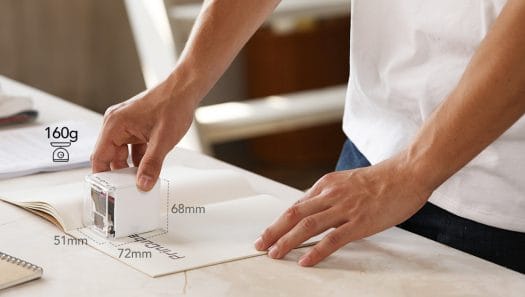 Versatile Printing
The PrinCube is aimed at the imprint market, can be used on a variety of surfaces, including paper, wood, metal (longer drying time), plastic, glass, and can be used on almost any type of surface where the printer can fit. It can even print on the skin, in a temporary tattoo scenario.
Shipping and Fulfillment
At this time the PrinCube is slated to ship in November, for all units (according to the IndieGoGo webpage timeline) with production and shipping being in stages, for standard ink units first, then permanent ink units later in November.
Print Area Maximum And Alignment
The maximum print height is 14.29mm or 0.5625 inches. There is no explanation of how that might be adjusted, but the app for the smartphone or computer could adjust the height. There doesn't seem to be any orientating ability, so aligning to the type of material, like an imprint, would be performed by physically moving the device. (Also maybe a feature of the app.)
Battery For PrinCube
The battery lasts for about 6 hours of continuous printing but doesn't seem to use low-power features. Charging takes about 2 hours for a full charge. The battery is a 900 mAh, no other information was given.
Pricing For PrinCube
The units cost $109.00 each – and can be bought in promotional packages for teams and small groups. Ink cartridges are extra – (one cartridge is included with the original purchase package) and cost $29.00 for standard ink (washes off) and 39.00 for Permanent Ink (withstands washing).
Ink Information
PrinCube uses a solvent-based ink, (standard) and dye-based ink (permanent).  Both types of ink come in single housing tricolor cartridges.  They do not say if that ink is a new hybrid or a combination of other inks that could be used on many surfaces.
A Note On Ink Types
It should be noted ink-jet printers can print on metal, but the image quality lacks the same resolution that is usually found on images printed on paper, wood, or plastic.
Finding Information On Ink Types
Ink types vary greatly according to the application – especially industrial, commercial or materials other than paper. There are a number of good websites on what factors go into making the appropriate ink for a given material.
Some of the specifications and features of the PrinCube are found in the photos accompanying the campaign description.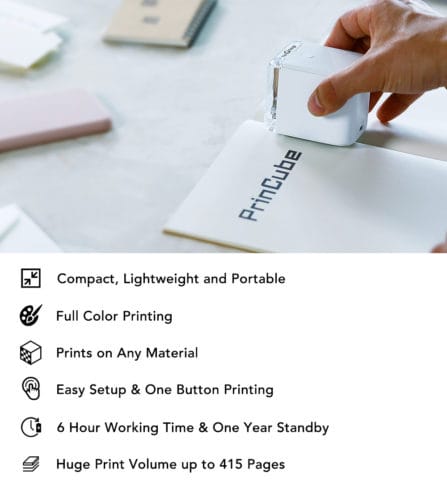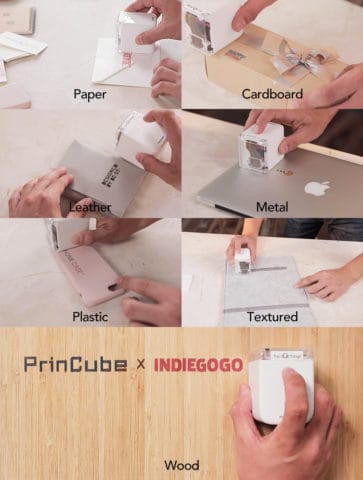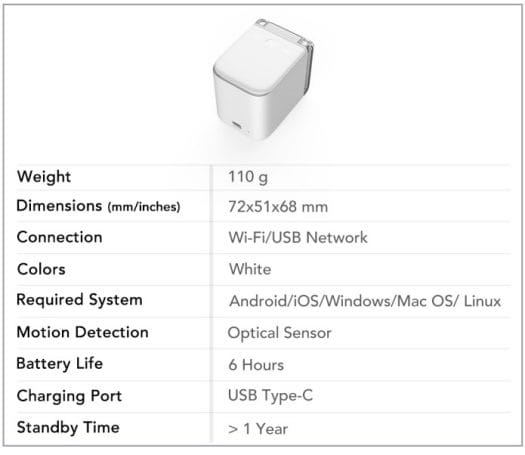 Questions and Observations 
There are some questions that don't seem to be answered that might be overlooked in favor of the versatility and flexibility of printing materials and ease of use.
There doesn't seem to be any in-depth specifications. With a campaign underway, it would be thought that the specifications are all in place and ready to go. That prototyping is almost finished and now would be final testing of a model slated for production. This is reported as being the stage the company is now at, but no specifications have been delivered.
Standards for application language
Standards for connectivity
Standards for each operating system, as this seems to be different for each OS that works with the printer.
Standards for power
The print head alignment mechanism – also this may be important for the type of print surface being utilized.
Printer Buffer Capacity (this is not just memory)
Which Ingenic Processor is being used.
There doesn't seem to be any thought given to how, a standard print would remain straight, curved, or tilted, in relation to itself. In an average print environment, the printer is held to a standard for output depending on the size of the machine. Even a freeform imprint has a jig for different size items or different types of materials. It is difficult for a handheld device to be orientated. Such devices as smartphones offer their relational makeup for any consumer who may be interested in how the device orientates itself.
The PrinCube has stated it has an instructional guide for how to use a ruler with the printer, for the printing of Excel spreadsheets. This is labeled Advanced Printing.
The size of this device and it's relative newness to the printing world would mean there are hurdles in design and execution at production. The components of a wireless, color-ready printer, that is small enough to hold in  the palm of the hand, means there are parts that have never been manufactured before – to match the claims – of being able to print almost any size (Excel spreadsheets, and the standard larger print types) and print on any surface. The mechanical parts that could perform these complex functions do not seem to be present. The ink cartridge seems to fill the housing substantially.
While there is probably a way to produce a device that meets all the standards of wireless connectivity, image and data transfer, and translation through memory buffer to a printhead, the likelihood of that happening at a minimum price point is not very high.
There is always new tech on the market, and new inventions and development everywhere, but it takes money. While all the parts could be available in mass, with a price reduction for high volume, the manufacturing process must be tooled, by a very capable factory.  Any one mechanism, moving part, electronic part, that needs to be custom made, and the need is discovered during manufacture, could cost hundreds per unit cost.
As a show of good faith, a reliable source should be given a sample and allowed to test this device at length, to offset such a high backing volume. An IndieGoGo campaign over $2 million dollars for such a new technology, although sounding great, should be approached carefully.

Stephen started writing about technology after publishing sci-fi short stories. His first White-Paper, written in 2008, was well received and inspired him to continue writing about technology. Today he writes in the technology space full time, covering a multitude of topics. During the time he wrote part-time he edited hundreds of titles for large publishers, in science and technology. He lives in Staten Island, with his wife and children.