Digilent Announces SYZYGY high-speed SBCs
Digilent has announced two new SBCs that are ultra-high-speed and built to be more modular than its other boards. The company, which has a great deal of experience in Pmod lower speed FPGA standards has now entered the open-source, SYZYGY high-speed standards with its Eclypse Z7 and the Genesys ZU development SBCs.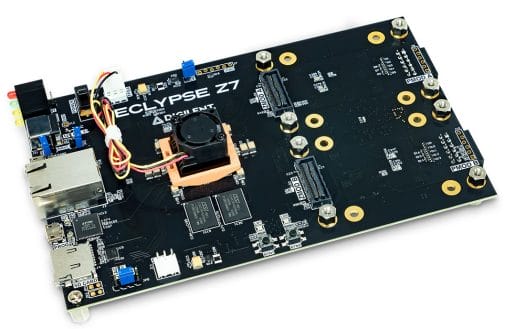 Background on the Digilent Zybo FPGA SoC SBC

We reported on the Zybo development board FPGA SoC from Digilent and that seems to have lead to the latest format for the Eclypse Z7.
Zmod
There is also a release planned for the new Zmod modules, built to work with both the Eclypse Z7 and the Genesys ZU as SYZYGY compliant expansion modules.
Opal Kelly and Zmod expansion
The Zmods are Opal Kelly module standard, called SYZYGY, first seen in the Opal Kelly SYZYGY Brain-1 SBC. The standard was developed to jump the gap between Pmod and the more developed VITA 57.1 FMC (FPGA Mezzanine Card) Standard. SYZYGY-compliant modules support higher overall speeds than the Pmod platform, although both the Eclypse Z7 and Genesys ZU support Pmod as well.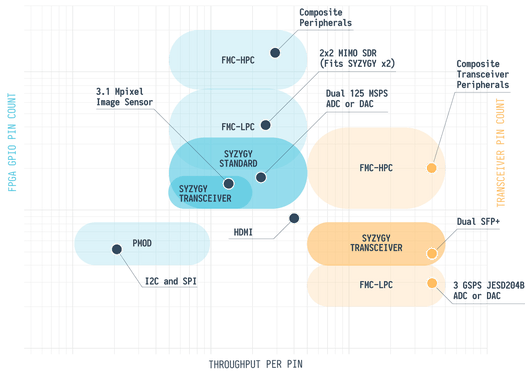 Eclypse 27
Eclypse Z7 supports Linux on Zynq 7020 SoC. The FPGA SoC is designed for streamlining workflow and design flow acceleration. The platform is a Xilinx Zynq-7000 PSoC in an ARM architecture for a Cortex-A9 processor. Expansion is designed through Zmods, through open-source SYZYGY compliant expansion modules. The Digilent Zmod ADC 1410 and the Zmod DAC 1411 are modules designed to work with the Eclypse Z7.
Project Types
The Eclypse Z7 is designed for prototyping and development of projects in such diverse areas as software-defined radio, ultrasound, medical technology and anything a maker can develop in instrumentation applications.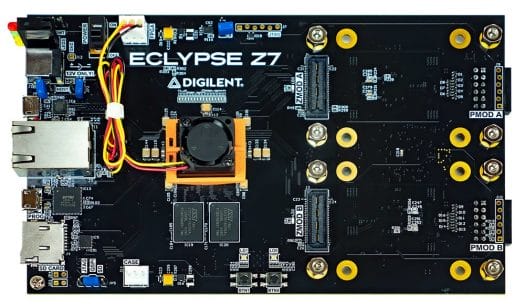 Features:
Zynq 7020 SoC

667 MHz dual-core ARM Cortex-A9 processor
13,300 logic slices

1GB DDR3L with 32-bit bus @ 1866 MHz
2x SYZYGY standard interface connectors for Zmod expansion

Standard supports data rates of up to 500 MHz

2x Pmod connectors for Pmod expansion
Micro USB port for USBUART and JTAG programming
JTAG programming header
Programming mode select jumper: JTAG, QSPI, SD
Ethernet connector with 10/100/1000 Ethernet PHY

MAC address loaded into QSPI flash during manufacturing

Micro USB connector for user USB Host/Device/OTG
MicroSD card slot
Power jack – 12V, up to 5A
2x user RGB LEDs
125 MHz oscillator connected to Zynq PL for PL-only designs
2x user buttons
Genesys ZU
The Genesys ZU is a development SBC designed as a standalone Zynq Ultrascale+ MPSoC. The intent is to allow the Genesys ZU to provide the ideal entry point for both a cost-effective solution and a powerful multimedia and networking interface.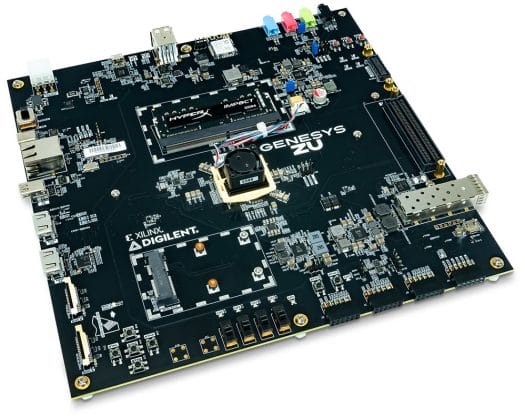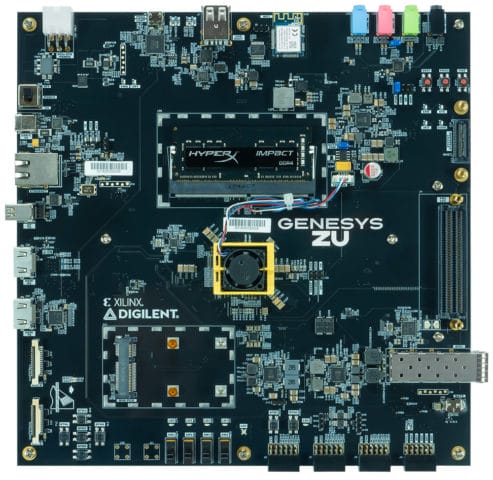 Inputs
The multiple camera inputs support 4K video. There is 1G/10G Ethernet with a high-memory bandwidth structured in a heavily Linux-based platform. Although there is less information in general on the Genesys ZU there will be two models with the specifications listed below.
Features:
256 Mbit QSPI Flash memory on-board
USB FTDI interface for programming and debugging
MicroSD card interface, supporting SDR104 mode
Board status and diagnostics using and onboard platform MCU
Models
The Genesys ZU will be available in two variants with different UltraScale+ MPSoC options and additional features for even more flexibility.
| | | |
| --- | --- | --- |
| | XCZU3EG | XCZU5EV |
| Application Processor | Quad-core ARM Cortex-A53 MPCore up to 1.5 GHz | Quad-core ARM Cortex-A53 MPCore up to 1.5GHz |
| Real-time Processor | Dual-core ARM Cortex-R5 MPCore up to 600 MHZ | Dual-core ARM Cortex-R5 MPCore up to 600 MHZ |
| Graphics Processor | Mali-400 MP2 | Mali-400 MP2 |
| Video Codec | | H.264/H.265 |
| Programmable Logic | 103K-143K System Logic Cells | 192K-504K System Logic Cells |
Pricing
The pricing will be announced sometime in November for the Ecplyse Z7 and in mid-December for the Genesys ZU, along with the new Zmod ADC and DAC modules.
Further Reseach
The LinuxGizmos article on the Eclypse Z7 and Genesys ZU also contains information that was used in this article.
The product pages for the Eclypse Z7 and the Genesys ZU development boards can also be helpful in outlining the wide variety of development uses and out of the box ability of each board. The wiki for Eclypse Z7 provides more technical details including the schematics and resources to get started with the board.

Stephen started writing about technology after publishing sci-fi short stories. His first White-Paper, written in 2008, was well received and inspired him to continue writing about technology. Today he writes in the technology space full time, covering a multitude of topics. During the time he wrote part-time he edited hundreds of titles for large publishers, in science and technology. He lives in Staten Island, with his wife and children.