Announced in 2017, Gyrflacon LightSpeeur 2801 AI Accelerator could deliver 2.8 TOPS at 0.3 Watts of power. It's now found in Orange Pi AI Stick Lite computer stick selling for around $20.
Since then the company released 2802 chip for IoT applications, and earlier this year, the company introduced Gyrfalcon 2803 yielding up to 16.8TOPS @ 700 mW for "advanced edge" applications, and they've now announced Lightspeeur 5801 chip delivering 2.8 TOPS at 224 mW of power, or 12.6 TOPS/W.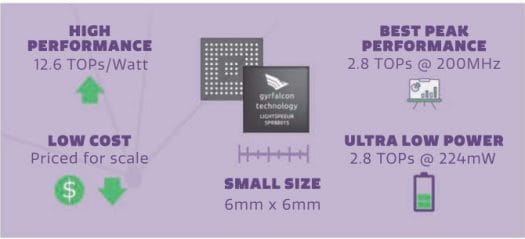 That does not seem much of any improvement of Lightspeeur 2801 since peak performance is the same, and power only slightly lower, but let's check out more details to find out if there's more to it.
Key features:
Based on the Gyrfalcon Matrix Processing Engine
Performance – Up to 12.6 TOPs/Watt, peak: 2.8 TOPS @ 200 MHz
Power Consumption – 224 mW @ 2.8 TOPs
Latency – < 4 ms
Package – 6×6 mm
An important point is that Lightspeeur 5801 has four times the image input size when compared to the Lightspeeur 2801, meaning higher resolution images are supported which should lead to increased accuracy.
The new chip also supports a 50-200 MHz clock range, which should allow application developers to lower power consumption. Lightspeeur 5801 can provide results with less than 4 milliseconds of latency, a key selling point for edge AI processing over cloud AI processing.
The chips support Tensorflow, PyTorch and Caffe frameworks, VGG16, ResNet
MobileNet v1, and other similar models. Target applications including image recognition, object detection & tracking, natural language processing, natural language understanding, business intelligence, facial recognition and visual analysis for consumer electronics, smart home & office, smart city, and industrial solutions.
In order to get started quickly or evaluate the platform, the company provides 5801 Plai Plug hardware development kit for $39.99. If you'd like to purchase one however, you'd need to register on GTI's DevPortal and provide details about your project(s). If approved, you'll be able to purchase a kit and access tools to build and deploy your AI applications. Specifically, AI models can be trained with a Model Development Kit, and applications can be developed with a Software Development Kit (SDK) available for Linux 64-bit x86, Microsoft Windows, Android OS, and also ARMv7 and ARMv8 instruction sets.
Lightspeeur 5801 already has a design win, as it is integrated into LG Q70 mid-range smartphone to provide premium imaging and video features that are more usually found in premium smartphones.
More details about Lightspeeur 5801 may be found on the product page.

Jean-Luc started CNX Software in 2010 as a part-time endeavor, before quitting his job as a software engineering manager, and starting to write daily news, and reviews full time later in 2011.