VersaLogic Owl VL-EPU-4012 Embedded System Computer
In October 2019 we reported on the VersaLogic Harrier computer that was slightly bigger than a credit card. Just announced by the company is a new embedded computer system is being developed, the Owl.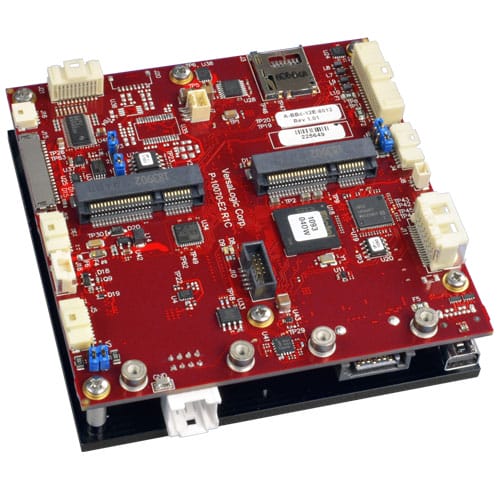 Basics of the VersaLogic Owl
The intended uses are again industry and military-grade applications. The system uses ECC memory and the Embedded Processing Unit (EPU) format. The processing unit is an Intel Atom E39xx Platform, 5th Gen Apollo Lake processor with dual or quad-core options.
Strength and Resilience
The ECC memory is fixed to the board and can be up to 8 GB in size. This reduces the damage that can be caused by vibration and shock, making the system tough and resilient.
Available Ports and Security
Hardware-based security is through a TDM 2.0 chip. There are onboard power conditioning, mini-PCIe expansion sockets, analog inputs, standard USB 3.0 and 4x 2.0 host ports and Ethernet I/O ports.
Form Factor of the Owl
The size is comparable to other small form factor models in the VersaLogic family of embedded systems computers. This board measures 95 x 95 x 27 mm (3.74 x 3.74 x 1.08″) and weighs just 200 grams.
Production Lifecycle and Industrial Environments
The temperature range is -40ºC to +85ºC capturing the industrial operation ranges for uses in many applications. The Owl is designed for a 10+ year production life cycle.
Custom Attributes
VersaLogic is making the Owl available to have modifications in off-the-shelf customization options such as labeling, conformal coating, revision locks, and customized testing and screening.
Versalogic Owl Specifications
General

Board Size
95 x 95 x 27 mm (3.74 x 3.74 x 1.08″)
COM Express Compact form factor
Weight
200 grams (7.05 oz.)
Processor
Intel Atom E39xx platform. 2 MB L2 cache. Intel 64-bit instructions, Virtualization Technology (VT), AES New Instructions, Secure Key, and Execute Disable Bit.
Battery
Connection for 3.0V RTC backup battery
Power Requirements (@ +12V) †

| | | | | |
| --- | --- | --- | --- | --- |
| Model | Idle | Typical | Max. | S3 |
| EPU-4012-EAP-02X-08 | 5.2 W | 6.0 W | 6.8 W | 1.2 W |
| EPU-4012-EDP-08X-32 | 7.9 W | 9.4 W | 10.8 W | 1.2 W |

Input Voltage
8V–30V DC
Input Protection
Over-voltage protection. Self-resetting when input falls to a safe level.
Reverse voltage input protection to -30V.
RF noise filtering.
Transient voltage protection (inductive kickback/lightning).
System Reset & Hardware Monitors
Voltage rail monitoring. Watchdog timer with a programmable timeout. Push-button sleep, reset, and power.
Regulatory Compliance
RoHS (2011/65/EU)

Environmental

Thermal Management
Bolt-on heat plate standard (included). Optional heat sink, fan, heat pipe, and other thermal accessories available.
Operating Temperature ◊

| | | | |
| --- | --- | --- | --- |
| Model | Heat Plate** | Heat Sink | Heat Sink + Fan |
| All Models | -40° to +85°C | -40° to +85°C | -40° to +85°C |

Ranges shown assume 90% CPU utilization. For detailed thermal information, refer to the VL-EPU-4012 Reference Manual.
** Heat plate must be kept below 90°C

Airflow Requirements
0.5 linear m/s typical. Refer to the VL-EPU-4012 Reference Manual for detailed airflow requirements.
Storage Temperature
-40°C to +85°C.
Altitude

| | |
| --- | --- |
| Operating | To 4,570m (15,000 ft.) |
| Storage | To 12,000m. (40,000 ft) |

Thermal Shock
5°C/min. over operating temperature
Humidity
Less than 95%, noncondensing
Vibration, Sinusoidal Sweep
MIL-STD-202H method MIL-STD-202-204, Condition A: 2g
Vibration, Random
MIL-STD-202H method MIL-STD-202-214, Condition A: 5.35g rms
Mechanical Shock
MIL-STD-202H method MIL-STD-202-213, Condition G: 20g half-sine

Security

TPM
Trusted Platform Module 2.0 device

Memory

System RAM
2 GB or 8 GB of soldered-on ECC DDR3L SDRAM. 1,866 MT/s.

Video

General
Integrated high-performance video. Intel HD Graphics 505 with 18 Execution Units and Turbo Boost. Supports DirectX 12, OpenGL 4.3, Quick Sync Video, Clear Video HD Technology, Clear Video Technology, VP8, VP9, MPEG2, H.264, H.265, and VC1.
VRAM
Up to 2 GB shared DRAM
DisplayPort Interface
Mini DisplayPort++ output. 24-bit. Up to 4096 x 2160 @ 60 Hz.

Supports DisplayPort and HDMI signaling (Video and Audio outputs).

OEM Flat Panel Interface
Single-channel LVDS interface. 18/24-bit. Up to 1024 x 768 (60 Hz). Backlight control signals.

Mass Storage

Rotating Drive
One SATA (revision 3.0) port. Latching connector.
Flash / SSD
On-board eMMC MLC Flash drive. 8 or 32 GB.
One microSD socket.
Mini PCIe socket with mSATA support.

Network Interface

Ethernet
Two AutoDetect 10BaseT/100BaseTX/1000BaseT ports. Latching connector. One port with network boot option.

Device I/O

USB
One USB 3.0 / 2.0 port and four USB 2.0 host ports.
COM Interface
Four RS-232/422/485 selectable. 16C550 compatible. RS-232 115 Kbps – RS-422/485 460 Kbps max.
Digital I/O
Eight TTL I/O Lines 3.3V. Independently configurable.
I2C
Single I2C interface
Counter / Timers
Three 8254 compatible Programmable Interval Timers (PITs).

Mini PCIe Card Socket

General
Supports Wi-Fi modems, GPS receivers, MIL-STD-1553, Ethernet channels, non-volatile flash data storage, and other plug-in modules.
Socket #1
Full size. USB, SATA, and PCIe signaling. Autodetect mSATA support.
Socket #2
Full size. PCIe and USB 2.0 signaling.

Software

BIOS
Phoenix SecureCore Technology
UEFI BIOS with OEM enhancements. Field reprogrammable.
Sleep Mode
ACPI 3.0. Supports S3 suspend state.
Operating Systems
Compatible with most x86 operating systems including Windows, Windows Embedded, Linux, and VxWorks.
VersaAPI Support
Library of API calls for reading and controlling on-board devices. Visual Studio and C/C++ software development interfaces. Supported on Windows and Linux.
Pricing and Availability
Owl computers are scheduled to ship in the first quarter of 2020. No posted price, or price range at this time. There are opportunities for pre-production options through the sales link on the Owl (VL-EPU-4012) product page and the press release.

Stephen started writing about technology after publishing sci-fi short stories. His first White-Paper, written in 2008, was well received and inspired him to continue writing about technology. Today he writes in the technology space full time, covering a multitude of topics. During the time he wrote part-time he edited hundreds of titles for large publishers, in science and technology. He lives in Staten Island, with his wife and children.