The Face ID Unlock Technology in a Smartwatch

Kospet, the maker of smartwatches, has developed the Kospet Prime SE, a smartwatch phone with Face Unlock/Face ID technology. The watch is sleek and not overly large or heavy, and come equipped with two cameras for face ID.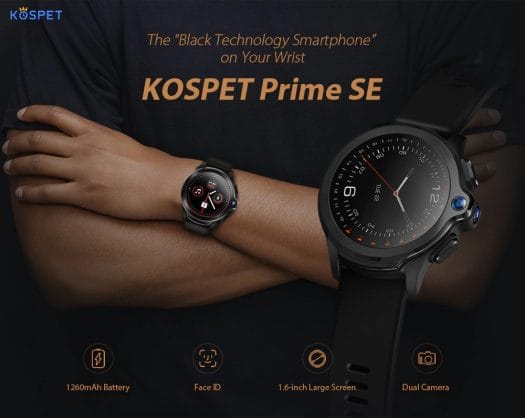 Runs Android 7.1.1, Supports iOS 9.0+ and Android 5.1+
The Kospet Prime runs Android with support for Google apps and documents. The watch carries a 1.6-inch touch screen face. There is support for a 4G Nano SIM card that allows the watch to make calls based on the owners, (or someone's) phone number and can sync to smartphones running Apple iOS 9 and later or Android 5.1 or greater.
Dual Cameras
There are dual cameras for Face ID accuracy, at 2.0 mp + 8.0 mp and also allows video calls at any time. The Face ID / Face Unlock technology is said to the first-ever in a smartwatch.
1260mAh Battery and Substantial RAM and ROM
The battery can charge up to 1,260mAh, and has a normal use time of 72 hours, before needing a charge. The RAM is 1GB and the ROM is 16GB, which is substantial for a small device that carries many features.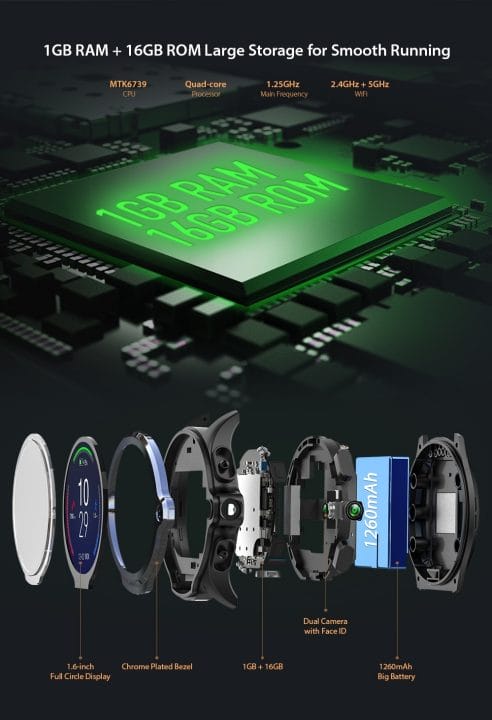 Features in a Nutshell
CPU 64-Bit

Quad-Core

Mediatek

MT6739 Arm Cortex-A53 CPU @ 1.25GHz

1,260 mAh polymer battery
Face ID – unlocking algorithm extracts 1068 facial features in order to unlock your smartwatch.
Dual cameras

2.0MP front camera
8.0MP side camera

1.6″ full-round touch screen IPS display with 400 x 400 resolution
Dual 4G global frequency band – 4G TDD LTE and FDD LTE networks support, compatible with WCDMA, GSM. Nano micro SIM card; voice calls through the VoLTE function.
Android 7.1.1 OS
9 sports modes: Data gathering for exercise
GPS + GLONASS + A-GPS: independent GPS precise positioning and navigation system. Real-time mapping
Other Specifications
General
Brand: Kospet
Model: Prime SE
Type: Watch Phone
Materials: Metal, Silicone
OS: Android 7.1.1
Cores: 1.25GHz
RAM: 1GB
ROM: 16GB
Compatible OS: Android,
SIM Card Compatibility – iOS, Android
Network
Wireless Connectivity: 4G, Bluetooth, GPS
WIFI: 802.11a/b/g/n wireless internet
Network type: FDD-LTE+WCDMA+GSM
Display
IPS: Yes
Screen resolution: 400 x 400
Connectivity
SIM Card Slot: Nano SIM Slot
USB Slot: Yes
Package Contents
Smartwatch Phone: 1
Screen Protector: 1
Charging Dock: 1
USB Cable: 1
English Manual: 1
Dimensions and Weight
Weight: 0.0860 kg
Dimensions (L x W x H): 2.74 x 5.08 x 1.75 cm / 1.08 x 2 x 0.69 inches
The Kospet Prime SE is the latest international offering and is at pre-order for $99.99. GearBest also has the Kospet Prime (not SE) listed for $145.99, with 3GB RAM, 32GB flash, and Face ID.
Timeframe – delivery of the Kospet Prime December 31, 2019. Kospet Prime SE Jan 02, 2020. Free shipping just about everywhere.

Stephen started writing about technology after publishing sci-fi short stories. His first White-Paper, written in 2008, was well received and inspired him to continue writing about technology. Today he writes in the technology space full time, covering a multitude of topics. During the time he wrote part-time he edited hundreds of titles for large publishers, in science and technology. He lives in Staten Island, with his wife and children.