OpenWrt is a popular Linux operating system targeting embedded devices, usually routers (but not only), and serves as a complete replacement for the vendor-supplied firmware on supported devices.
The developers released OpenWrt 19.07 on January 6, to succeed OpenWrt 18.06 the previous stable release. The new version brings various improvements including WPA3 support, client-side rendering of the LuCI web interface for faster rendering or a lower-load on the router, and introduces the ath79 target for MIPS routers with device tree support.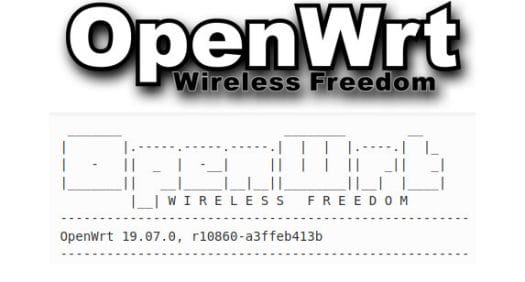 While WPA3 WiFi security is part of OpenWrt 19.07, it is not enabled by default because the necessary packages hostapd-openssl (access point),  wpa-supplicant-openssl (station support only) and wpad-openssl (AP + station) take a fair amount of space, and won't fit on devices with 8MB flash or less. Another reason for not enabling WPA3 is that many existing client devices will never support WPA3, and some client devices that support WPA2 will not connect to an access point configured with WPA2+WPA3 mixed mode.
LuCI web interface should render faster on OpenWrt 19.07 in cases where the client is more powerful than the router (most of the cases), as the client will not render the LuCI using JavaScript, instead of the previous way where the router would interpret Lua code for rendering. A known issue is that some LuCI apps have still not been adapted and if you suffer from crashes you should install the luci-compat package.
OpenWrt 19.07 introduces initial support for the new ath79 target, the device tree based successor of the popular ar71xx target used in MIPS routers. Both targets are still built in the latest OpenWrt version, but developers recommend to switch to the ath79 target since future releases of OpenWrt will drop support for the ar71xx target. You can follow the guide to upgrade from ar71xx to ath79 to do so.
Other changes include:
Updated toolchain – musl libc 1.1.24, uClibc-ng 1.0.31, glibc 2.27, gcc 7.5.0, binutils 2.31.1
Linux 4.14.162 for all targets with flow offloading bugfixes
Network userland:

hostapd 2.9, dnsmasq 2.80, dropbear 2019.78
Fixes in network and wireless configuration handling
Bugfixes in DHCPv6 client and server

System userland:

busybox 1.30.1
Sysupgrade support for backup and upgrade capability checks
Contains urngd, non-physical true random number generator daemon based on timing jitter
Bugfixes in the process manager, system message bus, embedded web server and the configuration management library

Platform and Driver Support

Dropped adm5120, adm8668, ar7, au1000, ixp4xx, mcs814x, omap24xx, ppc40x, ppc44x and xburst target
Updates and new device support across all targets

Security fixes for LuCI web interface
It should also be noted that OpenWrt 19.07 will be the last version of the operating system to support devices with 32MB RAM and 4MB storage since they currently only offer limited functionality, and developers recommend devices with at least 16MB storage, and 64MB RAM, with 128MB RAM or more preferred.
Check out the detailed changelog for a thorough list of changes.

Jean-Luc started CNX Software in 2010 as a part-time endeavor, before quitting his job as a software engineering manager, and starting to write daily news, and reviews full time later in 2011.