Vimai V-Powerbuds Pro Multi-function Sport Earbuds
Vimai's V-Powerbuds Pro TWS (True Wireless Stereo) earbuds are multi-function wireless earbuds. In the past, we had reported on the Misfit Specter Bluetooth earbuds that could track fitness input, such as steps, calories, and sleep duration. V-Powerbuds Pro also tracks heart rate, oxygen, and respiration, and supports online & offline voice control.
The Component Basics
The V-Powerbud Pro are TWS earbuds and have a built-in pulse oximeter to capture heart rate and oxygen levels right from within the ear. The hook design holds the earbuds tightly in place, within the ear, to get an accurate measurement independent of the effects of light. Other types of fitness tracking devices like those located on the wrist, can be affected by light.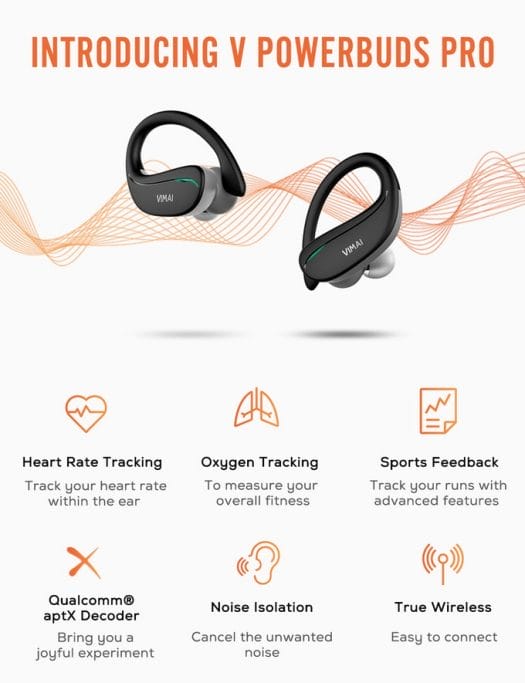 The Difference From Other Sport Earbuds
Although the uses during exercise aspect of this wearable are probably more likely to be a selling point, the voice control features make the V-Powerbuds Pro an attractive alternative to other earbuds.
Voice Acquisition
The earbuds use a DSP for the wakeup work and recognize commands. Two Pulse Density Modulation (PDM) microphones, one for voice acquisition and one for noise reduction, working through the DSP front-end, allow the earbuds to wake up to voice commands even in noisy environments.
Features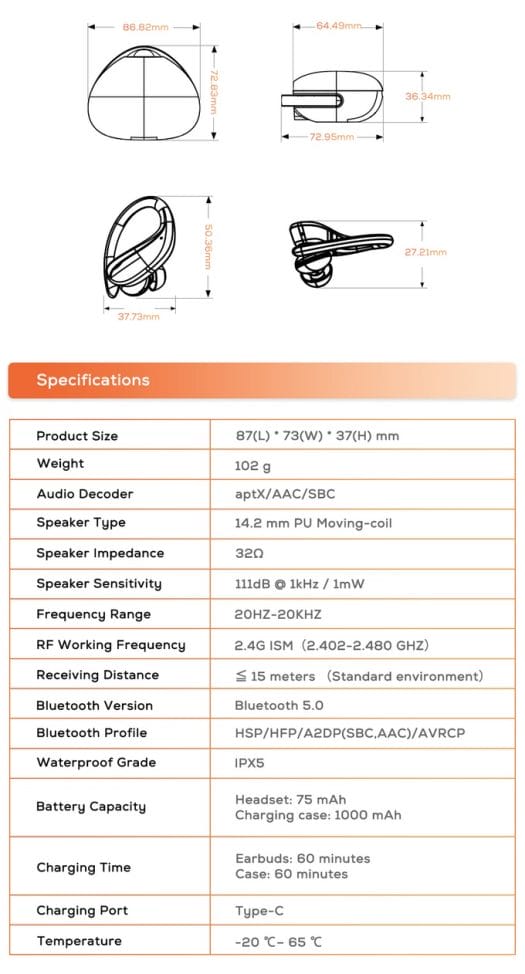 Challenges
One of the challenges that may or may not be realized, after production is the size of the units. Ear sizes differ significantly and like fingerprints, ears are unique to the individual. This could cause a twofold problem, one with the larger overall size of the component section of the earbud. The other problem could be found in the non-adjustable ear hook, which could affect how well the physical monitoring data from the inner ear is gathered.
There are options for different size ear caps, for small, medium and large ears which should somewhat mitigate the issue. The overall construction seems more likely to be akin to other earbuds, so there may be no issues. This is just an observation from a distance, not a fact. If the Kickstarter campaign is any indication, the earbuds are very carefully designed and prototyped.
Price and Shipping
The Kickstarter campaign has all the different reward levels, with prices starting at the Super Early Bird of $89.00. Shipment is set for May 2020.

Stephen started writing about technology after publishing sci-fi short stories. His first White-Paper, written in 2008, was well received and inspired him to continue writing about technology. Today he writes in the technology space full time, covering a multitude of topics. During the time he wrote part-time he edited hundreds of titles for large publishers, in science and technology. He lives in Staten Island, with his wife and children.