Galerdo Beker Pro
Galerdo is a simple to use, swimmers attendant, that holds tight to the head and collects data. It offers interactive audio, AI advice underwater and even plays music through bone-conduction. We previously reported on fitness and swimming tracker Makibes F69 IP68 Smartwatch but it lacked audio support.
Feature Awards for Galerdo
Galerdo won the CES 2020 Innovation Award for Swim Tracker, AI Voice Assistant and Handset Free features.
Previous and Present Devices
Galerdo Inc has a previous bone-conduction audio device that offered music underwater to swimmers, without the need for a headband or earbuds. The latest device simply called Galerdo adds AI data collection and spoken advice as the user is swimming, in real-time.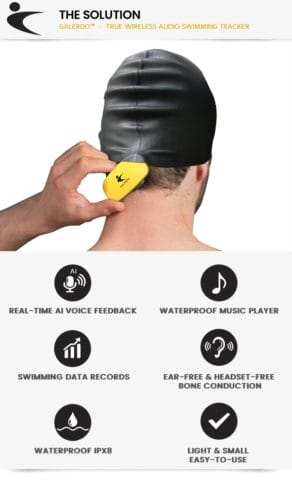 Quick Run Down on Bone-Conduction
The AI technology that is used in the Galerdo is further enhanced by the bone-conduction transfer of sound and is a technology industry that is growing rapidly.
It would not be remiss to mention that sound reception in the human ear is accomplished by two very small bones. Bone Conduction is the process of sound transmission by bypassing the ear canal and transferring the sound through the bone of the skull. The process allows for lower frequency sounds to be better transmitted than higher frequency sounds.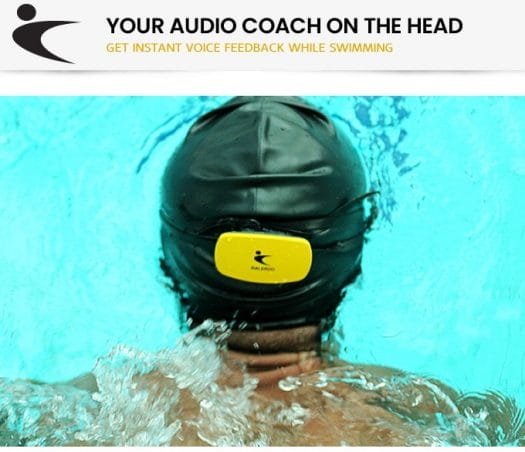 Galerdo Basics
Galerdo is a small, waterproof device, with a slightly curved profile. The unit fits snuggly to the head, keeping the device tightly held to the back of the head. This allows the Galerdo to be fitted beneath a swim cap, touching the skull, so the swimmer is not hampered nor is speed reduced by a bulky headset.
Data Collection
Galerdo tracks swimming stroke by stroke and the data is compiled and stored for easy retrieval through a mobile device. The system also allows for real-time audio advice from the AI analyzation of current and past data. Galerdo's AI is based on algorithms rather than GPS data. This way to track strokes reduces the overall size, and weight and allows the device to be autonomous.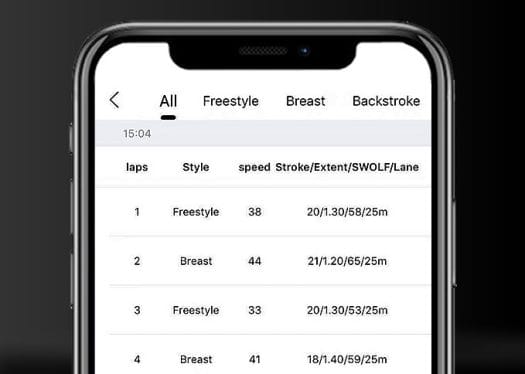 Limitations
The tracking capabilities can only be used in a square or rectangular swimming pool, of 17m – 50m and not in open water or a pool of any other shape. The music function works in all swimming environments. Note the tracker works up to 3 meter deep only.
Specifications and App
The connectivity of the device is through Bluetooth, to iOS or Android smartphones. The app and software are free and easy setup. The data from the Galerdo is collected in the device and transferred in real-time to the smartphone.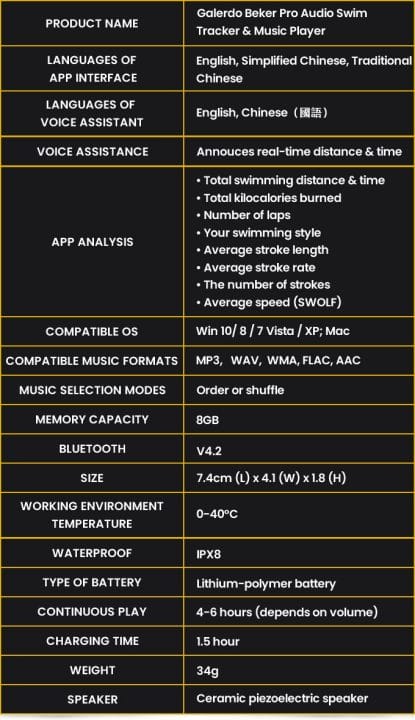 After working out the data collected can be accessed for a comprehensive reporting by month, date and week.
Data Reporting in These Areas
Total swimming distance & time
Total kilocalories burned
Number of laps
Your swimming style
Average stroke length
Average stroke rate
The number of strokes
Average speed (SWOLF)
Smart Functions
The company reports that along with real-time AI tracking the Galerdo knows when the user is swimming or resting, allowing more accurate data reporting.
Music Upload To Device
Music must be downloaded to the tracker from a desktop or laptop through a USB cable. The device does not support music updates via Bluetooth. Supported file types include MP3, WAV, WMA, AAC, and FLAC.
Pricing
Galerdo can be ordered for $99.00 for a single unit, through the early bird pledge option for the stretch campaign. The pledge amount increases to offer more assistance to the company. There is also a 2, 3, and 4 unit option, available.
Fulfillment
There has already been a successful campaign for the Galerdo, this new campaign is a stretch campaign which is intended to allow even more options to be available at the same price points. Mass production is scheduled to start in December 2019 and fulfillment is scheduled for April 2020.
Kickstarter
More information, as well as pledge and pricing options, can be found on the Kickstarter campaign page or the device website.

Stephen started writing about technology after publishing sci-fi short stories. His first White-Paper, written in 2008, was well received and inspired him to continue writing about technology. Today he writes in the technology space full time, covering a multitude of topics. During the time he wrote part-time he edited hundreds of titles for large publishers, in science and technology. He lives in Staten Island, with his wife and children.