Semtech, a leader in LoRa and RF technology, is continuing its support for the LoRa ecosystem with the launch of a LoRa Smart Home transceiver called the LLCC68. The device is designed for deploying existing and new LPWAN technologies for smart homes, community, and consumer applications.
The LoRa Smart Home (LLCC68) is like every other sub-GHz LoRa RF transceiver but mostly targeted to indoor and medium outdoor applications. The device is hardware compatible with the SX126x series like the: SX1261, SX1262, and SX1268. The LLCC68 transceiver is optimized for battery-powered applications with multi-year life expectancy. It consumes as little as 600nA of sleep current, 4.6 mA of active receive current and can transmit at +22 dBm thanks to highly efficient integrated power amplifiers.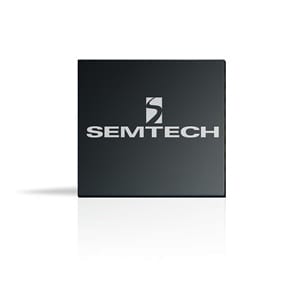 According to SemTech,
The new LoRa® Smart Home device offers a unique opportunity to accelerate the consumer adoption of smart home connected solutions. As an end-to-end solution, or as a complement to Wi-Fi, LoRa Smart Home broadens smart home solutions by enabling connectivity for low cost and battery-powered endpoints both indoors and outdoors.
LLCC68 transceiver supports (G)FSK modulation for legacy cases and LoRa modulation for low power LAN use cases. It is compatible with existing LoRaWAN-based networks and expected to work with proprietary protocols. It has frequency coverage from 150 MHz to 960 MHz supporting all major sub-GHz ISM bands around the world.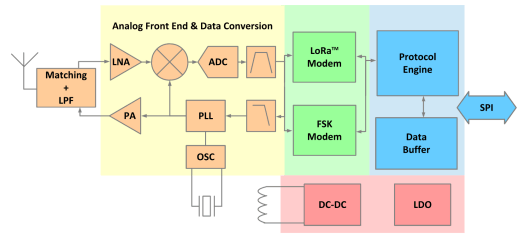 Features of LLCC68:
LoRa and FSK Modem
151 dB maximum link budget (LLCC68)
+22 dBm or +15 dBm high-efficiency PA
Low RX current of 4.6 mA
Integrated DC-DC converter and LDO
Programmable bit rate from 1.76 kbps up to 62.5 kbps LoRa and 300 kbps FSK
High sensitivity: down to –129 dBm
88 dB blocking immunity at 1 MHz offset
Co-channel rejection of 19 dB in LoRa mode
FSK, GFSK, MSK, GMSK and LoRa modulation
Built-in bit synchronizer for clock recovery
Automatic Channel Activity Detection (CAD) with ultra-fast AFC
Data rates for LoRaWAN include SF7 to SF9 at 125kHz, SF7 to SF10 at 250kHz, and SF7 to SF11 at 500kHz.
With the Things Network Conference coming up on Jan 30 – 31, a gathering of LoRaWAN and IoT Experts from around the world, Semtech might be using the opportunity to showcase the LoRa Smart Home to the vast audience at the conference.
No pricing information is available at this point for the LLCC68 transceiver, but pricing should be similar to the SX1262. More information is available on the product page, announcement page, as well as in the product datasheet.

I enjoy writing about the latest news in the areas of embedded systems with a special focus on AI on edge, fog computing, and IoT. When not writing, I am working on some cool embedded projects or data science projects. Got a tip, freebies, launch, idea, gig, bear, hackathon (I love those), or leak? Contact me.