Semtech Improves LoRa Efficiency and Range, Reduces Footprint with SX1261, SX1262, and SX1268 LoRa Chips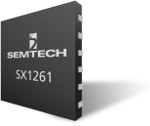 LoRa is one of the most popular LPWAN technology deployed around the world with chips made by Semtech, as it allow long range, low power communication at low bitrate, and is especially useful for asset tracking, smart parking, and all sort of remote monitoring of persons (e.g. elderly fall for seniors) or assets (e.g. leak detection). Depending on your applications, i.e. data size and update frequency, a coin cell battery can last up to 10 years
The company has now introduced the second generation LoRa technology with three new RF chips that are 45% smaller, reduce power consumption by 50% (4.5 mA) , and extend range by 20%. The new chips also offers a high-power transmit option (+22 dBm), supports FSK modulation for migration to LoRaWAN from legacy protocols, and includes a new spreading factor for dense networks.
Full list of new features listed by the company:
50% less power in receive mode
20% more extended range
+22 dBm transmit power
A 45% reduction in size: 4mm by 4mm
Global continuous frequency coverage: 150-960MHz
Simplified user interface with implementation of commands (10 lines of code needed to transmit or received a packet)
New spreading factor of SF5 to support dense networks
Protocol compatible with existing deployed LoRaWAN networks
The three new devices – SX1261 (+15dBm), SX1262 (+22dBm), and SX1268 (+22dBm, China frequency bands) – are currently sampling to select customers and partners, and will be in full production later in March 2018. Development kits are also expected at that time.