PX-HER0 ARM Cortex Development Board and Ecosystem
Piconomix is offering an embedded Arm Cortex-M0 development board that is aimed at the education, beginner maker, and enthusiast crowd. The PX-HER0 is a development board with an ecosystem of sourcing materials for learning the entire ARM structure through an open-source C library and full documentation.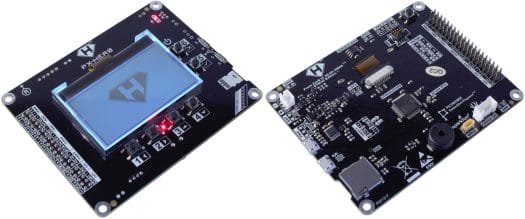 The Basics of the Board
The PX-HER0 is a low-power board, running an STM32 MCU with an Arm Cortex-M0 core. There is an LCD Display, that is viewable even in direct sunlight, and the entire package is lightweight and very functional.
Mass Storage
To activate the bootloader, a double-tap of the RESET button, and the mass storage drive HERO-BOOT appears in the host computer. Drag and Drop are active and the UF2 file can be dragged right to the drive.
The Ecosystem
The ecosystem for the PX-HER0 is backed by an extensive C Library and documentation on GitHub Piconomix repo. There is an Arduino tutorial for the HER0 board explaining how to use it with the Arduino Core STM32 library.
The documentation found on FwLib page at Piconomix.com includes:
Getting Started Guide
Bootloader Page
Board Specific Examples
STM32CubeIDE Getting Started Guide
Arduino Support
ARM and STM32 Getting Started Guide
Tutorials STM32
CLI Explorer App
Specifications
MCU – STMicro STM32L072RB ultra-low-power ARM Cortex-M0+ with 128k FLASH, 20k SRAM, 6k EEPROM
External Storage – Adesto AT25SF041 4 Mbit serial flash memory, spring-loaded push-push MicroSD card slot
Serial communication: Rock-solid FTDI FT230XS USB-serial bridge
Low-power 128 x 64 monochrome graphic LCD with LED backlight
User LED and battery charger LED
Piezo buzzer, 6 user buttons, Reset button
Peripheral connectors:

PWR (3.6 V – 5 V )
4x – ADC
1x – DAC
8x – GPIO / 4x- PWM
2x – UART
3x – I²C  (single I²C bus)
Sparkfun Qwiic / STEMMA QT I²C connector
Seeed Grove I²C
SPI

Power:

Li-Po battery charger
A zero-burden voltage monitoring circuit
TI LM3670 step-down DC-DC regulator

Dimensions:

Board – 100 x 80 mm (3.94 x 3.15″)
Display active pixel area – 48.6 x 24.9 mm (1.91 x 0.98″) / 54.6 mm (2.15″) diagonal
The system can be applied to areas such as 
Practical embedded engineering course for students and professionals
Low-power foundation for IoT sensors
Long-term data logger
Environmental monitoring for citizen scientists
Control panel
Test fixture
The Campaign and Pricing
The Crowd Supply campaign is running and pricing is up as well as some delivery timeline information. Single Board $42.00 – Single Board with ST-LINK-V3MINI – debugger – $56.00
Shipping July 23, 2020 – Funding ends April 2020

Stephen started writing about technology after publishing sci-fi short stories. His first White-Paper, written in 2008, was well received and inspired him to continue writing about technology. Today he writes in the technology space full time, covering a multitude of topics. During the time he wrote part-time he edited hundreds of titles for large publishers, in science and technology. He lives in Staten Island, with his wife and children.