The Adidas GMR (pronounced Gamer)
The new Adidas GMR tracking insole is connected to EA Sports FIFA Mobile for smartphone access and data gathering and uses Google's Jacquard technology for touch-sensitive clothing.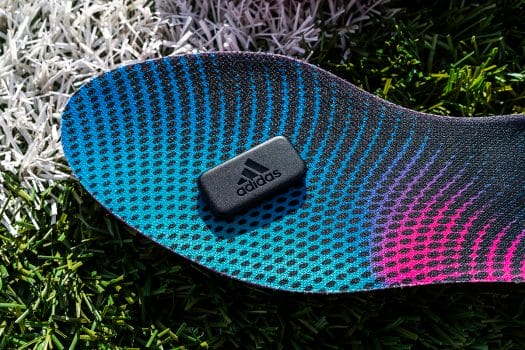 Past Shoes for Movement Tracking
An athletic shoe that tracks steps was reported on in by CNX Software in the past, in the Xiaomi 90 Minutes Ultra Smart Running Shoe article.
A Little About Project Jacquard
Jacquard Technology which had been focused on touch-sensitive clothing is where a small device is woven into the item, like in the Levi Trucker Jacket. The tag tracks physical attributes and movements.
Jacquard Technology was introduced by Google in 2015 and has been focused on expanding into other areas besides clothing. The tag is accessed through Bluetooth and can record a variety of motion, impact, and other physical aspects of life. The relay in the tag helps the app record the data and sort it in multiple ways.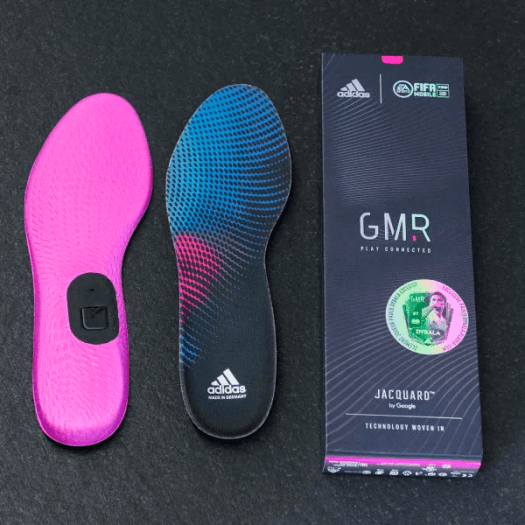 Simple To Use
The Adidas GMR tag, once paired with a smartphone, is placed in the insole, then of course into the shoe, where it can record steps, shots, and help increase a user's OVR (Overall Rating).
Works on OVR
The EA Sports FIFA Mobile App can calculate the user's OVR based on the OVR of 20 teams, and compare that with a baseline result, helping to accurately and realistically calculate an OVR.
A Little Controversy
In the Wired article on the Adidas GMR, the limitations of the system are mostly focused on the need to use the EA Sports FIFA Mobile Game to run the system. While this does boost EA Sports FIFA Mobile Game usage, the technology gets a significant boost and Google can help other companies and organizations move into this technology.
Google algorithms leverage the built-in gyroscope and accelerometer to compute metrics. Everything, including OVR, is calculated in the FIFA Mobile Game App, which is proprietary. EA Sports FIFA Mobile App supports Android and iOS smartphones.
Pricing & Further Information
In the USA, pricing is $40.00 USD plus shipping, the insole and tag come together and are included in the total price. The sizes range from 4 – 13.5 and are all open to purchase on the product page at the time of this report. A Liliputing article was one of the sources for this article.

Stephen started writing about technology after publishing sci-fi short stories. His first White-Paper, written in 2008, was well received and inspired him to continue writing about technology. Today he writes in the technology space full time, covering a multitude of topics. During the time he wrote part-time he edited hundreds of titles for large publishers, in science and technology. He lives in Staten Island, with his wife and children.