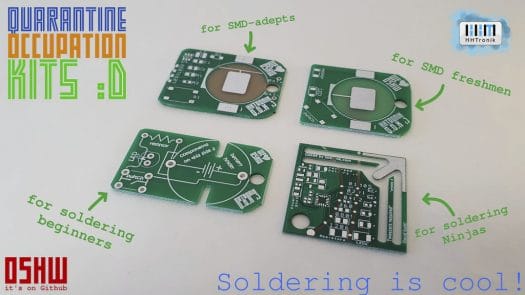 I've heard some of you are forced to stay at home for some reason… HHTronik has decided to design what they call "Quarantine Occupation Kits" which are actually open-source hardware soldering kits of varying complexity.
Five soldering kits are available:
I learn soldering TH (Super Easy) – Ten solder joints with one LED, one resistor, one switch and a CR2032 coin cell holder using through-hole components. The end results is a flashlight board

I learn soldering SMD (Easy) – Same as above but with SMD (surface mount) components, and a more compact PCB.

I learn soldering Boost Edition (Moderate) – More complex board with a bigger variety of parts and footprints including some slightly smaller and unusual parts (side view white LEDs, SOT23-6, SOT23-3, and 0805 passives). The assembled board is a step up" or "boost" converter taking 3V from the battery and bring it up to 6V to light up the LEDs.

I.CAN.SOLDER SMD Challenge (Hard) – Some components of the board are pre-soldered, but you'll still have to solder resistors and LEDs whose size varies between 3.20×1.6mm (easy) to 0.4×0.2mm (good luck!). The final board blinks LEDs, and since it comes with an STM8 MCU it can also be reprogrammed.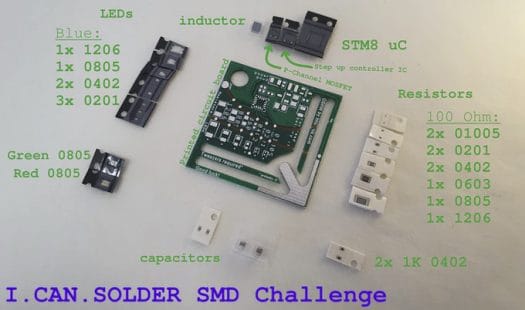 I.CAN.SOLDER SMD PITA (Really hard, previous experience with soldering needed) – Same as above without the pre-soldered components so you'll also have to solder an SC-70 MOSFET, a few more passives (0805, 0402), an SMD inductor, a SOT23-3 boost converter IC, a few LEDs, and the hardest part is a UFQFPN-20 packaged STM8 microcontroller.
All four boards require a soldering iron and some solders, but while it's possible to solder the first two boards with the cheapest soldering iron you can find, you'll need to have better equipment for the other boards. Some tweezers will also be needed for all SMD components, a multimeter is a good addition to make sure there aren't any short-circuits, and some boards will need solder flux as well.
HHTronik launched the project on Kickstarter with a 2,000 Euros target. Rewards range from 3 Euros for the first two kits, up to 11 Euros for the I.CAN.SOLDER SMD kits. There are also variants with tweezers and an ST-Link programmer and bundles with multiple boards and accessories. Shipping does add 5 Euros to 15 Euros, and you may be out of quarantine by the time you receive your reward since shipping is scheduled for sometimes in May.
Here in Thailand, kids would still be able to play with those as the government pushed back the new school semester from the end of April to July, and in any case, it's never too early to prepare for the (potential) second wave of the COVID-19 pandemic and associated lockdowns…
All kits are open-source and available on Github, so you could also try to get them manufactured by yourself if you can't wait and want to try something new. Soldering practice kits have been around for a while, and you may be able to find some locally as well including on Amazon US.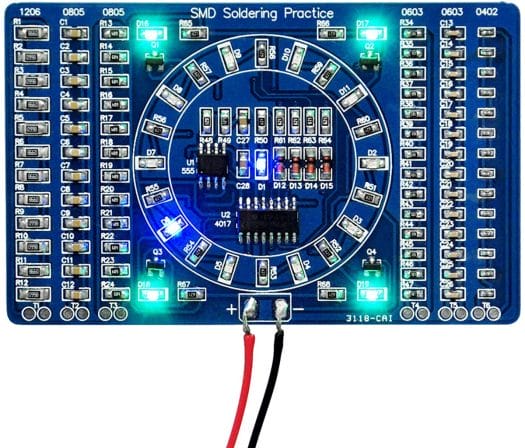 Jean-Luc started CNX Software in 2010 as a part-time endeavor, before quitting his job as a software engineering manager, and starting to write daily news, and reviews full time later in 2011.