A few months ago, I tested Qoitech Otii Arc power meter & DAQ system designed for developers of IoT devices, and fount out it would be incredibly useful to developers of battery-operated devices since it shows voltage and current graphs synchronized with the serial output making it easy to see where software might be optimized. The system can also capture analog and digital signals from the DUT and emulate batteries with user-defined characteristics.
But this weekend, I've come across a very similar solution with ZS1100A IoT power meter that also happens to be compatible with Sigrok open-source signal analysis software, and the corresponding Pulseview GUI.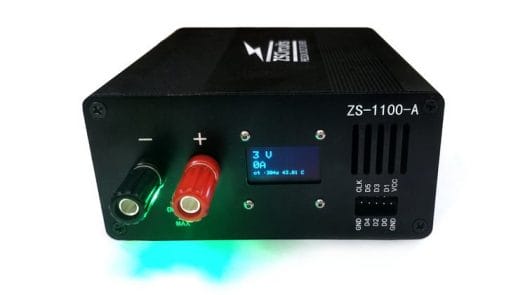 ZS1100A IoT power meter specifications:
Measurements

Output Voltage Range – 0 to 6 V programmable in 10 mV steps with +/- 5mV accuracy,
Current Measurement Range – -0.5 A to 1.5 A (linear range) with < 0.1 μA resolution, accuracy of 1% of measured value ± 0.2 μA
Max Output Current

1 A constant current @ Vout = 5.0 V
Up to 2A with 10% duty

Load Regulation – <0.1% at 0 to 1.5 A
Measurement Bandwidth – 300 KHz
Step Response – 2 μS
Current Sampling Rate – 1 MHz
Sampling Jitter – 10 ps (RMS jitter)
Voltage Sampling Rate – Once in every 20 ms
Digital Capture – 6 bits at 1 MSPS
Maximum Capture Length – Limited by free space on PC/host storage device
Error Rate – < 1e-12, i.e. less than one sample error in 24 hours

Host Interface – USB 2.0 Type-B port
10-pin 2.54mm pitch I/O header with

6x digital inputs

Function as a logic analyzer capturing at 1 MHz
Voltage range of 1.8 to 5 V
Input impedance of 10 pF || 100 kΩ
4x have 100 kΩ pull-down resistors
2x have 100 kΩ pull-up resistors to VCC

2x GND, 1x VCC
1x CLK output at 1 MHz, 3.3 V, driving a load of 30 pF || 100 kΩ

Display – OLED display showing voltage, current, status, etc.
Misc – Electromagnetic Shielding, ESD Protection, Thermal Protection
Power Supply

12-15V DC input up to 5A via 5.5/2.1mm DC jack
15V/3A power supply included
Consumption of < 2 W

Dimensions: ~ 16 x 11 x 5 cm
Weight: ~420 g
Temperature Range – 15-40°C
Humidity < 90% RH
Standard Conformance: CE, FCC, RoHS
ZS1100A work s with the free IOT Power Profiler waveform analysis tool available for Windows-only as of now, and Mac and Linux versions planned with the release of version 3.x.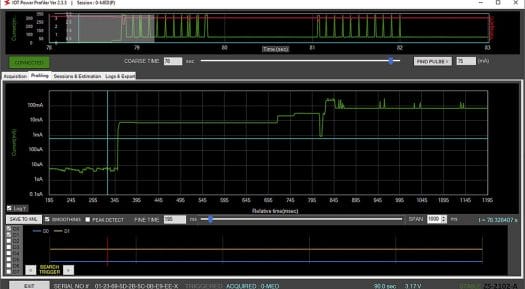 Data can also be exported to Sigrok (command line)/PulseView (GUI) working in Windows, Linux, and Mac OS for UART, SPI, I²C protocol analysis, as well as XML. 24 hours of data capture is said to take around 10 GB thanks to compression. Support is provided on Angler Circuits forum.
The company – ZSCircuits Electronic Systems – also provided a table comparing ZS1100A to Otii Arc and JouleScope used for the same type of applications.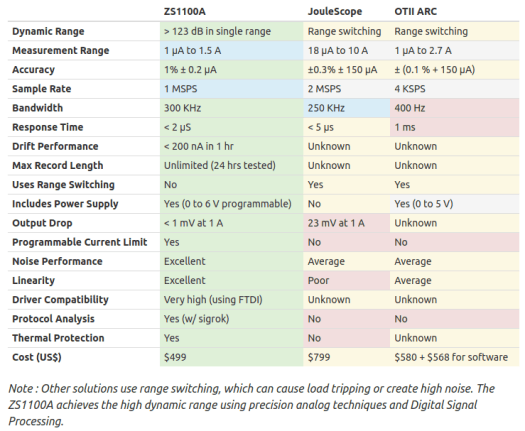 Don't pay too much attention to the color, as the company did not highlight rows where competitors have an edge, such as a wider measurement range (made possible with range switching…), a higher sampling rate for JouleScope, etc… Some items like noise performance and linearity are not clearly documented either. It should also be noted that Otii Arc does not necessarily need the extra $568 for software if you use the basic version of Otii program. You only need to pay extra for advanced features like battery emulation and scripting.
ZS1100A IoT power meter has just launched on Crowd Supply with a $16,200 funding target and offered for $499 with a power supply, two banana-to-alligator clip cables, eight jumper wires for the front-facing I/O, a USB cable, a flash drive with software, and a quick start guide. Shipping is free to the US, and $30 to the rest of the world, and backers should expect their rewards(s) to ship in mid-October 2020. If you live in India, contacting the company directly may be a better option since they are based in Bangalore, and you'd avoid potential customs issues.

Jean-Luc started CNX Software in 2010 as a part-time endeavor, before quitting his job as a software engineering manager, and starting to write daily news, and reviews full time later in 2011.