We've already covered counterfeit components with a method to detect STM32 fakes, and several years ago, FTDI decided to take action by bricking clones of their USB to serial chips, although they've fairly quickly reversed course following the backlash.
But Chris Petrich decided to look at another type of component: Maxim Integrated DS18B20 temperature sensor often found in waterproof temperature probes. His team bought over 1000 waterproof probes or bare chips from more than 70 different vendors on eBay, AliExpress, and online stores in 2019, and found the vast majority to be fake, counterfeit, or clones.
So if you have such sensor not quite working as expected, you likely bought a clone as some of the counterfeit sensors do not work in parasitic power mode, have a high noise level, a temperature offset outside the advertised ±0.5 °C band, do not contain an EEPROM, have bugs and unspecified failure rates.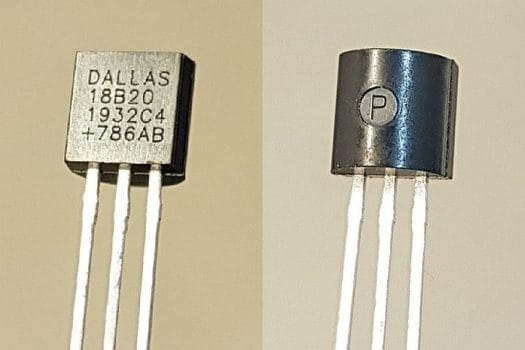 One way to find whether you have such fake DS18B20 sensor is to check the external design, and for example, the top mark of original Maxim chips is lasered rather than printed, and the first two rows should read DALLAS 18B20, which refers to Dallas Semiconductor (the company was bought by Maxim Integrated in 2001), etc..
Another simple is to check the ROM code. If it does not follow the pattern 28-xx-xx-xx-xx-00-00-xx then the DS18B20 sensor is a clone. Alternatively, you could run one or two Arduino sketches to test DS18B20 sensors:
discover_fake_DS18B20.ino performs some safe tests and indicates if they show deviations from authentic DS18B20. Not designed to work with parasitic power.
classify_fake_DS18B20.ino is a minimal implementation matching a sensor to a specific family based on the response to undocumented function codes. Use at your own risk, since sending undocumented function codes to a DS18B20 sensor may render it permanently useless.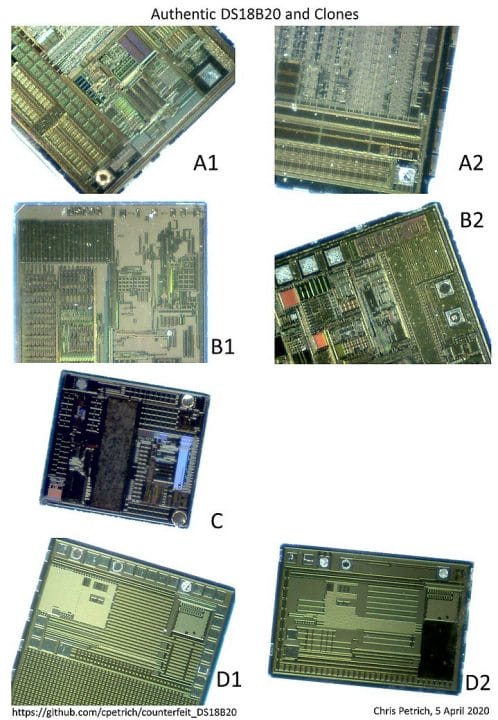 You'll find both sketches and a detailed explanation about DS18B20 authentic and fake families on Github. Some of the clones include UMW or GXCAS 18B20 which works mostly to specs, 7Q-Tek QT18B20 with a -0.5 °C temperature offset at 0°C, as well as nameless parts referred to as "Noisy Rubbish with Supercap" or "Noisy Rubbish" which the latter available from a large number of vendors.
So how do you avoid purchasing a fake DB18B20 sensor or probe? Avoid eBay and Aliexpress like the plague, and purchase parts directly from Maxim Integrated, or via approved distributors namely Digikey, Farnell, Mouser, or RS Components.
Via Hacker News

Jean-Luc started CNX Software in 2010 as a part-time endeavor, before quitting his job as a software engineering manager, and starting to write daily news, and reviews full time later in 2011.