Real-time Kinematic (RTK) relative positioning technique allows for 1-3cm positioning accuracy with data derived from satellite-based positioning systems such as GPS, BeiDou, GLONASS, Galileo, and NavIC.
We've previously covered Skytraq PX1122R RTK GNSS module as well as SBG Systems Ellipse-D industrial-grade inertial navigation system featuring the technology, and now Spain-based ArduSimple has announced the simpleRTK2B-SBC single board computer that aims to "simplify the development of centimeter-level positioning solutions supporting real-time kinematics (RTK)" via up to three u‑blox ZED-F9P RTK GNSS receivers.
simpleRTK2B-SBC board features & specifications:
MCU – STMicro STM32F7 Cortex-M7 microcontroller
GNSS Positioning

184-channel u-blox ZED-F9P engine
Configuration options

2x ZED-F9P for position + heading
3x ZED-F9P for position + full attitude (roll, pitch, yaw)

Navigation rate up to 20Hz
Position accuracy down to 1 centimeter
GPS: L1 & L2; GLONASS: L1OF & L2OF; Galileo: E1 & E5b; BeiDou: B2I & B2I; QZSS and SBAS
Up to 4 integrated SMA for various RF options
Configuration flexibility – standalone, standalone with NTRIP corrections, base-rover, base-multi rover, RTK moving base
Supports NMEA, UBX, and RTCM communication protocols, but any other protocol can be added

Storage – Optional SD card for storage
Optional XBee wireless connectivity

LTE modem with external SIM or integrated eSIM
868/900 MHz UHF radio
Used with built-in NTRIP caster/server/client

Interfaces – Dual RS232, Ethernet, CANBUS, USB & up to 8x configurable I/O (GPIO/PWM)
Optional serial port over Bluetooth 2.0
Sensor – Optional IMU and temperature sensor
Power Supply – 7-30V or 5V via USB
Dimensions – 115 x 85 mm with 4 mounting holes
Temperature range – -40 +85°C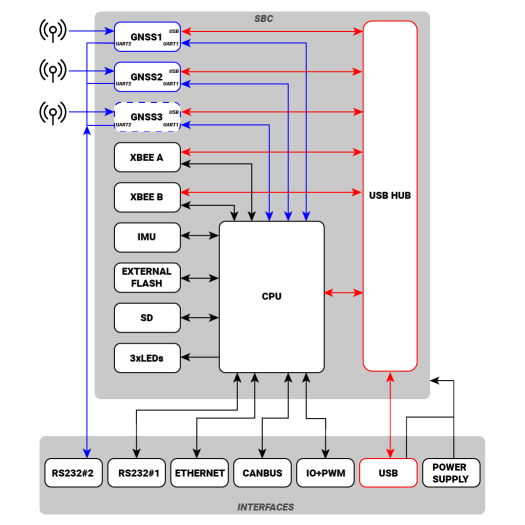 The company can provide a "ready-made software", but you can also design your own solution through a Micropython API, or program directly the STM32F7 MCU with C/C++. You'll find additional details on the documentation website.
The board can be configured to operate in:
Standalone mode – Dual-band GNSS receiver with meter accuracy
Base – rover configuration to get <2cm accuracy with a maximum range of 35km using two simpleRTK2B configured as base station and rover.
Base – multiple rovers configuration to get <1cm accuracy with a maximum range of 35km from the base station using multiple rovers
RTK moving base configuration to get <1cm accuracy and a complete Attitude and Heading Reference system with a maximum range of 35km from the base station. This requires one board configured as a base station, and two/three simpleRTK2B as rovers mounted on a drone, car, ship…
Standalone with VRS/SSR corrections to get <4cm accuracy without range limitations (subject to mobile network coverage) using a single simpleRTK2B-SBC with a 4G or satellite module configured as a standalone GNSS RTK receiver combined with SSR corrections to get centimeter-level accuracy.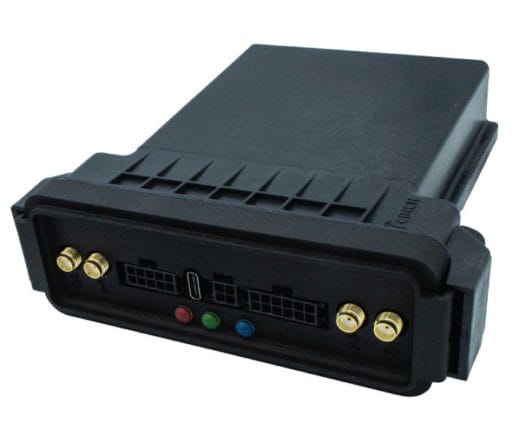 ArduSimple also offers waterproof and non-waterproof enclosures such as the one above.
While it's possible to purchase a standard GNSS module for around $5-$6, RTK GNSS hardware is usually much more expensive, and let's say simpleRTK2B-SBC does not disappoint here with a dual ZED-F9P development kit going for 1,440 Euros, and the triple module version for 2,200 Euros on ArduSimple store. The enclosure above adds 92 Euros. You'll also find the development kits on Aliexpress for about the same prices.
It should be noted the company also offers the simpleRTK2B board (note the name is without "SBC") with a single ZED-F9P module for 172,00 Euros. A possible explanation for the price difference may be found in an earlier comment from Xalius:
Beyond the raw material cost, what makes those IMUs expensive is the factory alignment and calibration of the different sensor coordinate systems and the creation of the various correction matrices so you can have properly referenced output. You usuall have to do this static, dynamic and over vibration/temperature ranges which usually takes hours per sensor assembly. This usually pushes the prices of those IMUs into the several 100 to 1000s dollar range.
Each module must be calibrated separately, and it's quite possible the process becomes exponentially more complex as the number of modules and sensors increases.

Jean-Luc started CNX Software in 2010 as a part-time endeavor, before quitting his job as a software engineering manager, and starting to write daily news, and reviews full time later in 2011.