Microsoft announced Windows 11 with new system requirements that include having hardware with a TPM 2.0 chip. Yesterday, we noted that could be an issue, as not all computers, laptops, and tablets may come with a Trusted Platform Module (TPM), especially if version 2.0 is required.
Microsoft explains it's for a good reason, name improved security, but the requirement has already had an impact on the market, even though Windows 11 is not officially available just yet, as TPM 2.0 modules have quadrupled in price according to a Tweet from Shen Ye, senior director, global head of hardware products for HTC.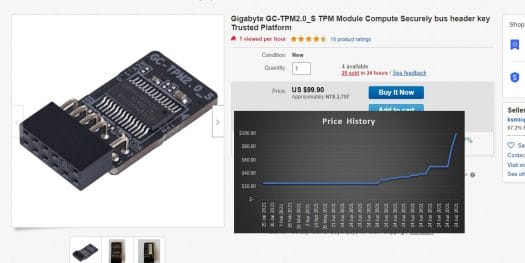 Note that while the bottom scale shows dates, it only shows dates when the price changes and the price was indeed $24.90 before Microsoft's announcement, and gradually went up to $99.90 within 12 hours. At the time of writing, that module is out of stock on Amazon.
Shen further notes that most desktop motherboards support TPM only as a purchasable accessory, so that explains it. If your system does not come with a TPM, or it's not enabled in the BIOS (see further below), Windows 11 will refuse to install.
And it does not matter how powerful your system is. If Microsoft says "your system does not meet the minimum requirements", despite your system featuring an Intel Core i9 with 64GB RAM, and NVIDIA graphics, the lack of TPM support is most probably the culprit.
But that does not necessarily mean your system lacks a TPM, and instead, it could just be disabled in the BIOS. David Westen, Microsoft director of OS security, explains:
Almost every CPU in the last 5-7 years has a TPM. For Intel its called the "Intel PTT" which you set to enabled. For AMD it would be "AMD PSP fTPM". TPMs have been required for OEM certification since at least 2015 and was announced in 2013.
The good news is that you may not need to purchase a TPM 2.0 module, and just enable the settings in the BIOS. That's provided you don't have a crippled BIOS… My ACER laptop currently running Ubuntu 20.04 on AMD Ryzen 7 2700U does not seem to have a TPM or it's not enabled (based on "dmesg | grep -i tpm" output), and unsurprisingly, it has no such "fTPM" option in the minimal BIOS provided by ACER.
Some reports TPM 2.0 is a "soft requirement", and the hard requirements will be TPM 1.2. But I could not find an official statement from Microsoft website, with the only info on Microsoft Answers about TPM 1.2 support being:
Win 11 is still in ongoing development and months away yet so wait and see when it's officially released.
So let's wait and see…
Via XDA Developers.

Jean-Luc started CNX Software in 2010 as a part-time endeavor, before quitting his job as a software engineering manager, and starting to write daily news, and reviews full time later in 2011.