I've just mentioned Silabs CP2104 USB to UART chip price had increased, and indicated WCH CH9102F chip could be used as an alternative instead in a post about LILYGO T-Display boards.
I had never heard about CH9102 chips before (CH9102F and CH9102X), so I decided to investigate a bit more by checking out both CH9102 and CP2104 datasheets.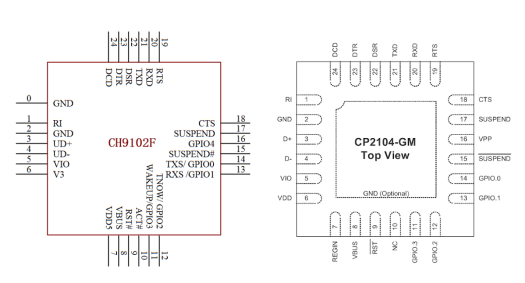 The good news is that CH9102F and CP2104 have basically both the same pinout albeit with some small differences that may or may not matter depending on the application, and come in a 4x4mm 24-QFN package (4x4mm) meaning if you run out of CP2104 chips, CH9102F can be used as an alternative, and should be a drop-in replacement.
CH9102X is pretty similar to CH9102F but offered in a 5x5mm 28-QFN package with extra GPIOs. Back to the main contenders… According to LILYGO, one of the differences between CH9102F and CP2104 is the former is limited to 4 Mbps while the latter supports up to 12 Mbps data transfers.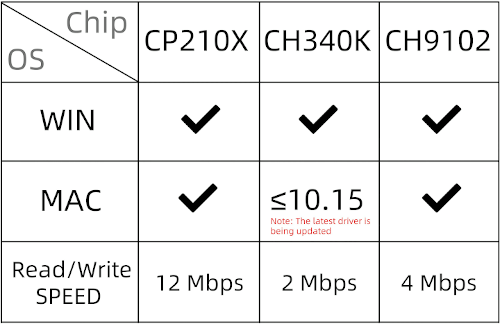 I got the information from the table above on T-Display ESP32 Aliexpress page, but the datasheets have a bit more context:
CP2104

"USB Specification 2.0 compliant; full-speed (12 Mbps)"
UART – "Baud rates: 300 bps to 2 Mbits"

CH9102 – "Hardware full duplex serial UART interface, integrated transmit-receive buffer, supports communication baud rate varies from 50bps to 4Mbps."
So CH9102 might actually support higher bitrates. This may not matter much for ESP boards as the maximum baud rate I've seen was 1,500,000 bps with utilities such as esptool. Both Windows and Mac OS support CH9102, and the chip probably works in Linux out of the box, but if not WCH "VCP" driver is also available.
Since the decision to provide an alternative was the lower cost, let's check CP2104 pricing info on LCSC…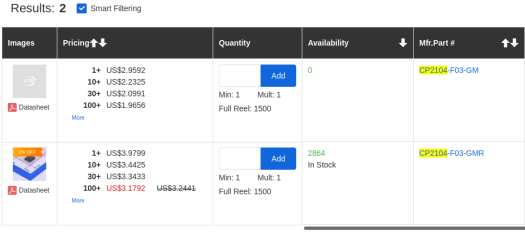 The price is close to $4 per unit which does seem on the high side for a chip that is often found in $5 to $10 boards…
CH9102F is listed in LCSC, but shown as "Discountinued" in LSCS, which probably just means there's no stock. Octopart has never heard of that chip apparently, so instead, I went to 1688.com…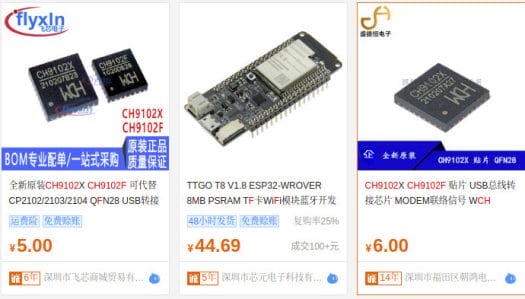 Several vendors offer CH9102 parts for between 5 and 6 CNY, or about 78 to 93 US cents. That's a noticeable difference. I wanted to check CP2104 price on 1688, but I was out of "search allowance", and asked to create an account and log in…
It's a good thing to have CH9102F as a second source, even if your hardware is not cost-sensitive, just in case CP2104 stock runs out…

Jean-Luc started CNX Software in 2010 as a part-time endeavor, before quitting his job as a software engineering manager, and starting to write daily news, and reviews full time later in 2011.