TDP (Thermal Design Power) metric has been used for years to help manufacturers design appropriate cooling solutions for Intel/AMD processors and give an idea of their power consumption. But I did not immediately catch up that TDP was gone from the recent Alder Lake IoT processors announcement, and Intel is now using PBP (Processor Base Power) instead, while somehow cTDP (configurable TDP) down/up numbers are still provided.
Beyond the announcement, if we look into the Intel Ark database, older processors still show TDP, while it's completely gone for new processors with the specs instead listing Processor Base Power (PBP), and for the ones with Turbo mode "Maximum Turbo Power" (MTP) is also included.

But what do those mean exactly? Intel "explains":
TDP definition:
Thermal Design Power (TDP) represents the average power, in watts, the processor dissipates when operating at Base Frequency with all cores active under an Intel-defined, high-complexity workload. Refer to Datasheet for thermal solution requirements.
PBP definition:
The time-averaged power dissipation that the processor is validated to not exceed during manufacturing while executing an Intel-specified high complexity workload at Base Frequency and at the junction temperature as specified in the Datasheet for the SKU segment and configuration.
MTP definition:
The maximum sustained (>1s) power dissipation of the processor as limited by current and/or temperature controls. Instantaneous power may exceed Maximum Turbo Power for short durations (<=10ms). Note: Maximum Turbo Power is configurable by system vendor and can be system specific.
I wrote "explains" in quotes because Intel does not provide any information about the "high-complexity workload", so we are left to guess. In the past, a processor was just comprised of the CPU cores, but those are now SOCs with GPU for 2D/3D graphics and hardware video acceleration, as well as AI or other accelerators. So it may be important to know if the workload makes any use of those. I initially thought TDP and PBP looked similar enough to me except the junction temperature was specified. But tkaiser commented that "all cores" was removed from the PBP definition, and this suggests Intel might be using the other IP blocks as well, also noting that TDP has become meaningless to estimate the power consumption of a processor as explained in an ExtremeTech article.
Let's check out Alder Lake processors datasheet to find out if we can find additional information.

Nearly every mention of "Processor Base Power" is followed with "a.k.a TDP", so from Intel's perspective, both are the same. What we still don't get is a clear explanation of how the numbers are calculated, so Intel must consider this confidential information.
If we look into the second part of the Alder Lake datasheet, this is even more clear, as somebody at Intel decided to rename a bunch of terms…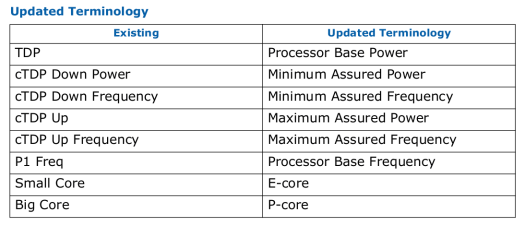 cTDP Down power is now minimum assured power, cTDP Up power is maximum assured power, Small Core has become "E-Core" (Efficient), and Big Core is P-Core (Performance). I think the reason for the change from "Thermal Design Power" to "Processor Base Power" is to offer a way to differentiate with the new "Maximum Turbo Power" metric since the former relies on the base frequency and the latter on the turbo frequency. So unless new information comes up, I'd consider TDP and PBP to represent the same metric.

Jean-Luc started CNX Software in 2010 as a part-time endeavor, before quitting his job as a software engineering manager, and starting to write daily news, and reviews full time later in 2011.