I've just come across a few USB boards that take advantage of the Raspberry Pi Zero (W) test pads to add one or more USB Type-A ports to the board without soldering.
The first one is "Catda Raspberry Pi zero WH USB expansion board" which I found on Banggood for $9.99.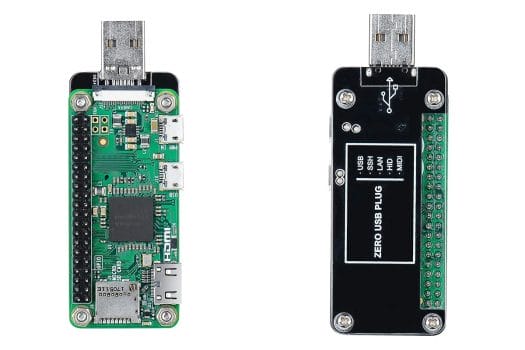 It's a kit that ships with a USB Zero plug expansion module, an acrylic "isolation protection cover", an acrylic transparent light diffraction protection cover plus M2.5 screws and nuts for mounting it to the Raspberry Pi Zero WH board, but it should work any Raspberry Pi Zero including the new Raspberry Pi Zero 2 W board since it relies on pogo pin to connect the four test pads for USB data and power, and those are in the same position for all Pi Zero boards.
You can then plug it into a laptop or computer to power the board and, for instance, access it as a USB gadget as explained on Adafruit. That's why we see MIDI, HID, LAN, SSH, and USB written on the black cover. For example, an Ethernet USB gadget could be configured so that it exposes an IP address and the board accessed through SSH.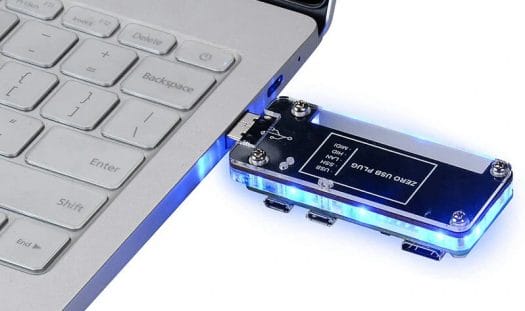 It looks pretty neat, but if you'd just like to use the USB board without the pretty acrylic covers, the "Waveshare Pi Zero USB adapter" will be a cheaper option available for $2.5 on Aliexpress, and other shops. There are also other models based on the same principle.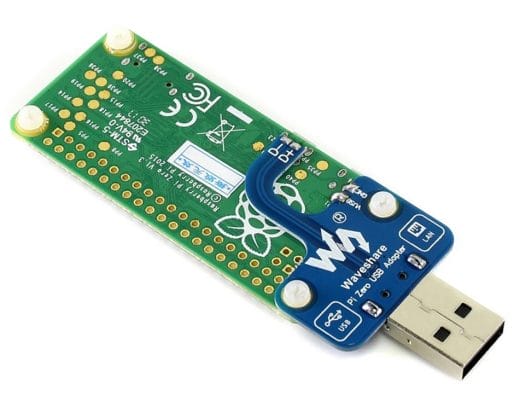 I can see some complaints on Aliexpress, as I think some users thought the Raspberry Pi Zero (W) would come with the adapter. But all those sellers only include the adapter and not any Raspberry Pi board with the latter only used to show how the USB adapter board is connected.
If one USB port is good, what about four? That's what the "Raspberry Pi Zero USB Hub Powermanage" does for about $10.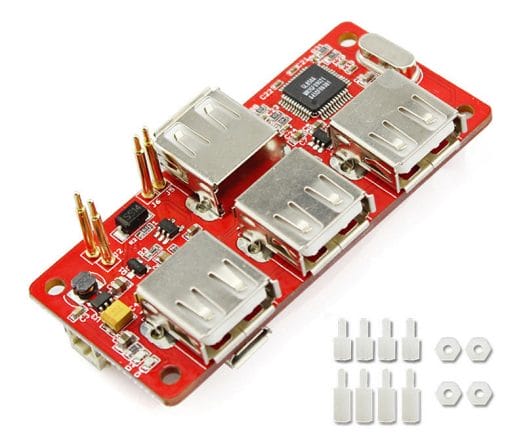 It's still using the same four test pads and pogo pings, but the application is different since it's a 4-port USB hub, and power is available through a micro USD or a battery via a 2-pin connector. It's still not using the 40-pin header, and only relies on the pogo pins for connecting to the Raspberry Pi Zero. The board allows users to connect peripherals without having to use USB dock.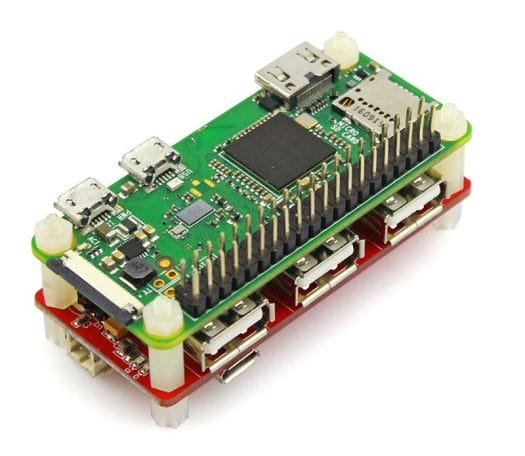 It's not the first time we write about this type of hardware, as there was a crowdfunding campaign for the similar Hubpixel 4-port Hub for Pi Zero as far back as 2016. As far as I understand, all board presented today also work with Raspberry Pi Zero 2 W since only the USB and power pins are used. But the location of many other test pads is different on Raspberry Pi Zero W and Zero 2 W.

Besides the 5V, GND, and USD DN/DP pads, other test pads give access to USB OTG, 1.8V, TV output, SD card signals, as well as Bluetooth and WiFi power status, as shown in the official documentation.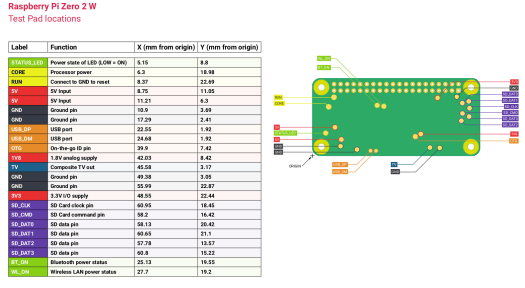 There are through holes to connect the AV port on Raspberry Pi Zero, but a pad labeled "TV" has shown up in Raspberry Pi Zero 2 W, so the connection is different. The MicroSD card test points have moved around, but I'm not sure who would use those other than testing since a MicroSD card slot is already present on the board.

Jean-Luc started CNX Software in 2010 as a part-time endeavor, before quitting his job as a software engineering manager, and starting to write daily news, and reviews full time later in 2011.