Is RISC-X next? Bao Yungang, a professor and scientist at the Chinese Academy of Sciences and the secretary-general of the China RISC-V Alliance, has suggested RISC-V related standard specifications can be bifurcated into a new RISC-X standard independently developed in China for the "Belt and Road" countries.
[Update July 9, 2022: The title has been updated, as Bao Yungang only answered a hypothetical question, and the screenshot below from a slack (maybe internal) shows SCMP may have misunderstood his meaning, and China would have no need to fork RISC-V based on how licensing works.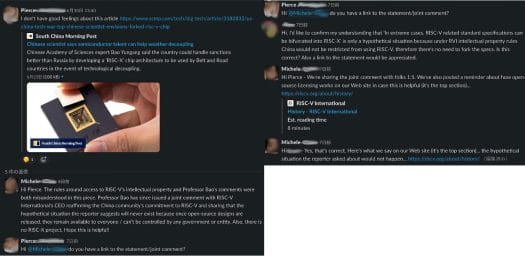 I've also been given the link to Bao Yungang's Zhuhi account, and there's no mention of "RISC-X". I've left the rest of the post unchanged for reference and general discussion about the topic]
The world has become more complicated with new sanctions imposed nearly every week, and those include not only primary sanctions but also secondary sanctions where non-sanctioned countries engaged in business or partnership with sanctioned countries may be penalized too. This has been around for years, for example, I had to sign a document in 2019 saying I would not be doing business with North Korea or Iran, or go bear riding with Putin during my summer holidays (or something to that effect) when I opened a business bank account in Hong Kong or it would be terminated without notice.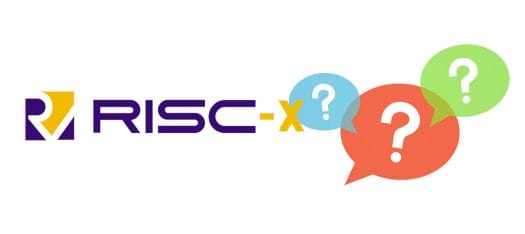 But everything has gotten more worse in 2022, and China is notably worried about semiconductors supplies, especially processors. While Intel, AMD, and even Arm-based processors would be obvious targets of sanctions, you'd think RISC-V open architecture and the ecosystem around it may be safe from sanctions. But Bao Yungang, which SCMP describes as a top Chinese scientist, mentions the following at a Q&A session on Zhihu social network (SCMP did not provide the link to the Q&A, IMHO a frequent failure of larger news organizations):
In extreme cases, RISC-V related standard specifications can be bifurcated into RISC-X, and China is fully capable of advancing the evolution of the RISC-X standard independently and building an ecosystem together with Belt and Road countries.
He further explains that while RISC-X products may not be able to enter the United States and other Western countries, in a way similar to Huawei products, but products based on the new open-source architecture could still be to the 6.6 billion people in developing countries.
It does not look like any serious work has been done on RISC-X, and I understand it was just offered as a possibility. So I'd still view RISC-X as unlikely at this stage for a range of reasons. The RISC-V Alliance is based in Switzerland, which historically has been neutral (although this has changed a bit recently), and a significant number of its premier members are Chinese companies such as Alibaba Cloud and Huawei. Then the core RISC-V architecture and a large part of the ecosystem are open-source, so it would be close to impossible to prevent China or other countries from accessing the technology, barring governments deciding to make open-source chip design illegal…
The problem could be in customizations as a lot of RISC-V development is done in the dark in that respect. For instance, SiFive started by offering open-source RISC-V cores, but their customers did not really care about open-source designs, and now most of the SiFive cores are closed source, while Imagination Technologies boasted about its "innovative and patent protected technologies" when introducing its Catapult RISC-V CPU cores.
Of course, the CPU architecture is only a small part of getting the chip to market, and the US already bans China from acquiring equipment for the more advanced nodes, but now it seems they are also trying to prevent China from manufacturing chips with older nodes by pushing ASML to also restrict sales of older equipment. Anyway, let's hope cooler heads will prevail, and people can focus on advancing technology instead.

Jean-Luc started CNX Software in 2010 as a part-time endeavor, before quitting his job as a software engineering manager, and starting to write daily news, and reviews full time later in 2011.