Ukama is an open-source hardware solution enabling users to create their own private 4G LTE cellular data networking with a range of up to 1km, and compatible with the "Citizens Broadband Radio Service" (CBRS) radio band for private networks.
The company provides both indoor and outdoor hardware based on a "TRX Module" powered by a Marvell Fusion CNF7130 4G LTE baseband processor, as well as the firmware and software to manage the network. All you need is a power source, for example, the mains or a solar panel, and an optional broadband connection if you do need to connect to the Internet.
Ukama hardware
Two nodes are offered with the Ukama Home Node (indoor) and the Tower Node (outdoor) which can optionally be coupled with an amplifier unit for an expanded range.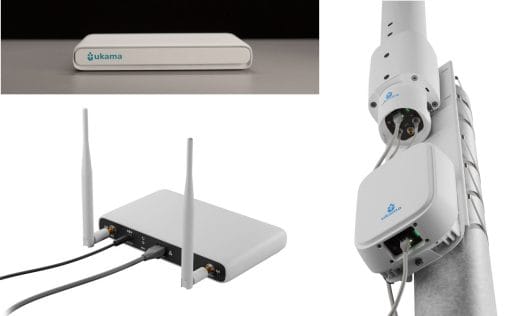 Home Node key features:
LTE bands: CBRS only
Concurrently active devices – Up to 8x
RF Configuration – 2×2 MIMO with 100 mW at each of two external SMA antenna ports
Ethernet port for broadband connection
Power consumption – Less than 30 W via 12V/3A DC and passive cooling
Dimensions – 20.8 x 12.2 x 3.3 cm
Weight – 1.36 kg
The Ukama Home Node is just as easy to use as a WiFi router but relies on 4G LTE instead.
Tower Node key features:
Additional Intel quad-core processor @ 1.9 GHz
LTE bands: all
Concurrently active devices – Up to 128x
RF Configuration – 2×2 MIMO possible with two Ukama Amplifier Units
Ethernet port for broadband connection
Power consumption – Less than 45W via active PoE+ and passive cooling
Dimensions – 21.3 x 15.5 x 7.6 cm
Weight – A little over 2kg
IP rating – IP65
Temperature range – -40°C to +55°C operating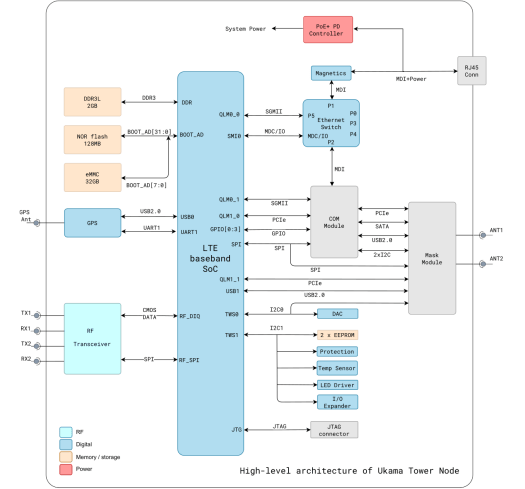 Ukama Amplifier Unit is a 4G/5G signal booster designed for outdoor operation, and boosting the signal from one of the LTE bands (1, 2, 3, 4, 30, 38, 40, 41, 42, 43, 48 (CBRS), 49). It is powered by active PoE, consumes less than 20W, and delivers 30 dBm (1W) output at the antenna port. Two Amplifier Units would typically be connected to one Tower node.
Both the Home and Tower nodes are based on the Ukama TRX module with the following highlights:
LTE baseband SoC – Marvell (previously Cavium) Fusion CNF7130 4G LTE baseband processor designed for "outdoor microcell base stations, indoor host-neutral cells, and public safety networks" (See PDF product brief for more details)
LTE bands: all, with carrier-grade LTE stack
RF Configuration – none, the user needs to handle that part
Power consumption – Less than 25 W via two-pin connector
Dimensions – 11.7 x 11.4 x 3 cm
Weight – 680 grams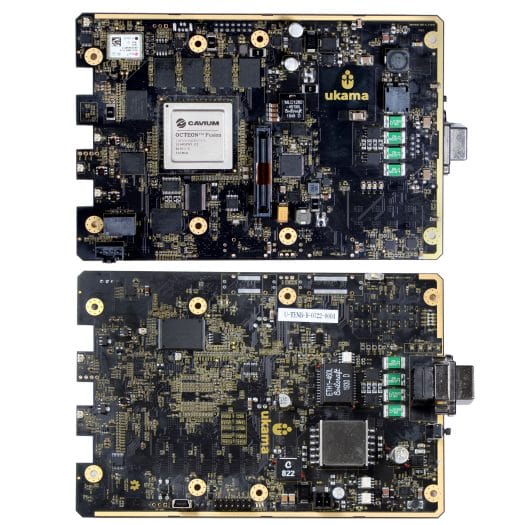 Finally, there's also the "Ukama Mini PCIe Expansion Module" that adds two Mini PCIe slots to the Ukama Tower Node.
Ukama software
The hardware above (nodes, amplifier, and TRX module) runs UkamaOS Linux distribution described as a "Cloud-native and micro-services OS for Nodes". The OS includes a carrier-grade LTE stack (closed binary) for both home and tower nodes, an embedded and distributed 4G/LTE core, and open interfaces via REST APIs.
Ukama's cloud management services will be offered in two variants: a community version which will always be free, and an enterprise version is planned in the future. The cloud dashboard enables the management of subscribers and SIMs, reports metrics, supports Billing with data plans and a payment gateway, roaming configuration, and more.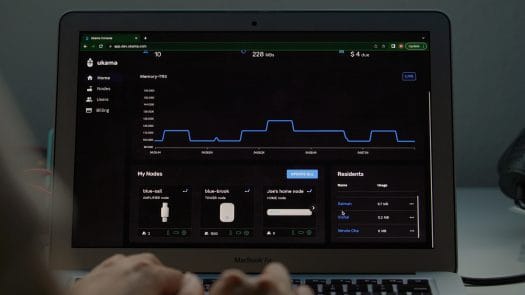 That means you could become your own small network operator as Ukama provides a billing mechanism. The data is free, unless you bill for it, on your own cellular data network, and you can enable roaming on your Ukama SIM or eSIM when outside of the range of your networking. Roaming pricing varies from $2 to $24 per GB depending on the country. For instance that would be $4.5 per GB in Thailand, which would not be that attractive since I pay around $26 per year for up to 60GB per month. The good news is that most phones support two SIM cards so it is always possible to use the cheapest one depending on the situation.
Ukama might be interesting for some IoT applications with free cellular data for all IoT nodes within the range of the Ukama Tower node, albeit limited to 128 devices. There's no information that I could find about the bandwidth for the solutions, although we know the Octeon LTE baseband processor supports 600/300 Mbps 4G LTE downlink/uplink. It would probably not matter for sensor nodes, but if you were to connect 100+ 4G LTE security cameras to your private cellular data network, you'd need to run the numbers first…
You'll find hardware design files as well as software resources on GitHub.
Pricing and availability
Ukama Inc. has launched the Ukama solution on Crowd Supply with a symbolic $1 funding target. Rewards start at $499 for the TRX module, $599 for the Home Node, and $799 for the Tower Node. A pledge of $549 is asked for the Amplifier Unit, and you'll also need eSIM or SIM cards priced at $5 and $10 each unless you purchase a pack of 100 for $149. Shipping is free to the US and $18 to the rest of the world. You'll also need patience and trust the company, as rewards are only scheduled to ship by mid-September 2023.

Jean-Luc started CNX Software in 2010 as a part-time endeavor, before quitting his job as a software engineering manager, and starting to write daily news, and reviews full time later in 2011.