Until now, I had only heard about Beken Bluetooth audio chips, but I've just been informed the company is also making WiFi chips such as the BK7256 that are notably found in some Tuya Smart Home modules.
Beken offers both RISC-V and Arm WiFi and Bluetooth chips with features summarized as follows:
BK7235 single-core RISC-V MCU up to 320 MHz with 2.4 GHz WiFi 6 802.11ax and Bluetooth 5.2 LE, 4MB flash, 512KB SRAM, optional 4MB PSRAM
BK7236 dual-core Arm MCU up to 120 to 240 MHh with 2.4 GHz WiFi 6 802.11ax and Bluetooth 5.3 dual mode, 4MB flash, 512KB SRAM, optional 4MB PSRAM
BK7237 dual-core RISC-V MCU up to 320 MHz with 2.4 GHz WiFi 6 802.11ax and Bluetooth 5.2 dual mode, 4 or 8MB flash, 512KB SRAM, optional 4MB PSRAM
BK7256 dual-core RISC-V MCU up to 320 MHz with 2.4 GHz WiFi 6 802.11ax and Bluetooth 5.2 dual mode, 4MB flash, 512KB SRAM, 8MB PSRAM, JPEG encoder
Let's look into the KB7256 specifically, and see what software support and development kits are available for the Beken WiFi chips.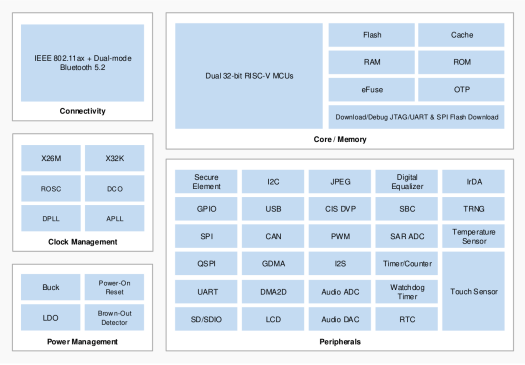 Beken BK7256 specifications:
CPU – Dual-core 32-bit RISC-V MCU at up to 320 MHz with FPU, MPU, 32KB I/D TCM, 64 I-cache, and 16KB D-cache per core; EEMBC CoreMark score: 1 core at 320 MHz: 3.57 CoreMark/MHz
System Memory – 512 KB shared SRAM, 8 MB SiP PSRAM
Storage – 4 MB SiP flash, 64 KB ROM, 32 bytes eFuse, 8 Kbit OTP
Video – JPEG hardware encoder/decoder
Wi-Fi

IEEE 802.11b/g/n/ax 1×1 compliant
20/40 MHz channel bandwidth for 2.4 GHz
DL MU-MIMO and UL OFDMA support
Individual Target Wake Time (iTWT)
TX and RX low-density parity check (LDPC) support for extended range
WPA/WPA2/WPA3-Personal support security
Working mode: STA, AP, Direct, concurrent AP + STA
Integrated BT/WLAN coexistence (PTA)
TX power up to +18 dBm
RX sensitivity -99 dBm

Bluetooth

Dual-mode Bluetooth 5.2 compliant
Supports Basic Rate (BR), Enhanced Data Rate (EDR) 2 Mbps and 3 Mbps, Low Energy (LE) 1 Mbps, 2 Mbps, and long range (125 kbps and 500 kbps)
Advertising extensions
Bluetooth direction finding: Angle of Arrival (AoA) and Angle of Departure (AoD), plus antenna array with up to sixteen antennas for precise indoor positioning

Peripherals

1x SD/SDIO
Display – LCD interface (16-bit parallel RGB and I8080)
Camera – 8-bit CIS DVP camera interface
Audio – 1x I2S, 1x audio ADC, 1x audio DAC, four-band digital hardware equalizer, SBC decoder accelerator, microphone input amplifier, speakers amplifier
USB – 1x full-speed USB OTG (FS)
Up to 48 GPIOs
2x SPI, 1x QSPI, 2x I2C
3x UART: 1 with hardware flow control, 1 with flash download support
1x CAN controller with CAN FD
Up to 12x 32-bit PWM
Up to 8-channel 13-bit SAR ADC
Up to 16x touch sensors
1x temperature sensor
1x IrDA
DMA – 1xgeneral-purpose DMA controller (GDMA) with 6 channels, 1x DMA2D controller
Timers

6x 32-bit general-purpose timer/counter
2x watchdog timer
1x real-time counter (RTC)

Security

Isolated secure element and hardware cryptography
Secure boot
Unique ID and secure storage
Secure update and anti-rollback
Lifecycle management such as secure debug
Flash encryption
Cryptographic hardware acceleration

Crypto accelerator: DES, AES-128/192/256, ChaCha20-128/256, SM4-128
Public key accelerator: ECDSA-P256/P384, RSA-2048/3072, SM2
Hash: SHA-224/256, SHA-384/512, HMAC, Poly1305, SM3-512
True Random Number Generator (TRNG)

Clock Management

External oscillator: 26 MHz crystal oscillator (X26M), 32.768 kHz crystal oscillator (X32K)
Internal oscillator: 32 kHz ring oscillator (ROSC), 26 ~ 240 MHz digitally controlled oscillator (DCO)
320/480MHz PLL (DPLL)
Audio PLL (APLL)

Power Management

2.7 to 5.0 V VBAT supply
On-chip power-on reset (POR) and brown-out detector (BOD)
Embedded buck (DC-DC) converter and LDO regulators

Power consumption:

Active mode RX: 63 mA
Active mode TX: 250 mA
Low voltage standby mode: 150 μA
Deep sleep mode: 15 μA
Shutdown mode: 2.0 μA

Package – 8x8mm QFN68 package
Temperature Range – -40°C to +125°C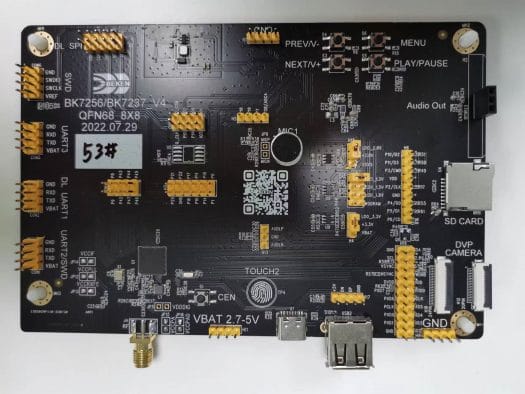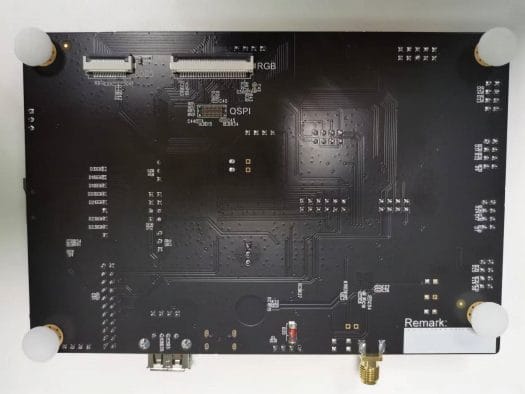 Beken provides development boards for each of their BK72XX microcontrollers and fairly detailed documentation in Chinese and English (some sections are not translated yet) where you'll find the datasheets for the chip, instructions to get started, an API reference, and sample code for video, audio, Bluetooth, a doorbell, and command line usage. All new Beken chips (BK7235, BK7236, BK7237, BK7256) are supported by the Armino development framework hosted on GitHub. The framework currently works for FreeRTOS and LiteOS, and the company is also working on getting it ported to RT-Thread and AliOS.
Applications for the BK7256 include smart speakers, low power cameras, motor control, and Smart Home appliances. The chip is also found in one upcoming "Wi-Fi and Bluetooth Low Energy Combo Core Board" from Tuya. I could not find any BK7256 boards or modules on Aliexpress, and the official board might need to be sourced directly from Beken at this time.
Thanks to Rogan for the tip.

Jean-Luc started CNX Software in 2010 as a part-time endeavor, before quitting his job as a software engineering manager, and starting to write daily news, and reviews full time later in 2011.