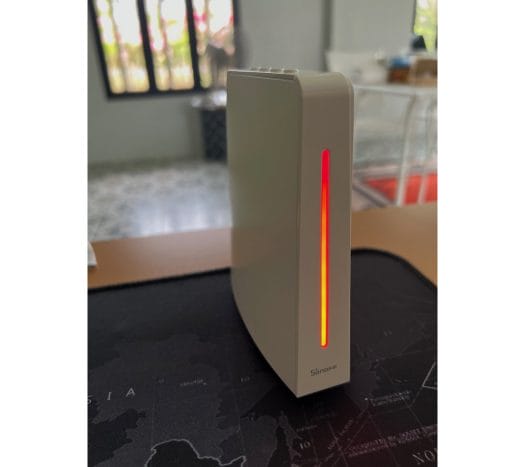 ITEAD has sent us a Sonoff iHost Smart Home Hub for review, and this device seems to be what many SONOFF fans have been waiting for, especially in terms of local control. meaning it can work without an Internet connection. SONOFF is known for its durable devices and good interoperability, but they are still catching up with other companies in terms of local control. Finally, the iHost Smart Home Hub fills the gap.
In addition to local control, it also comes with privacy features as data stay local. SONOFF plans to expand its ecosystem by including devices from other brands compliant with standards such as Zigbee 3.0. Furthermore, the iHost Smart Home Hub is more like a platform than just a product, as it has add-ons to add more capability over time. In the future, it can be expanded to support the new "Matter" standard, similar to Home Assistant. The software can also be updated later via Docker containers. This is the first model, and all features have not been developed just yet, but Sonoff has provided a roadmap and timeline for users to see upcoming features.
SONOFF iHost Unboxing
We'll find the iHost white console instead the package along with a USB-C cable with no power adapter, an RJ45 cable for LAN connection, a reset pin, and as always, a quick manual for setup.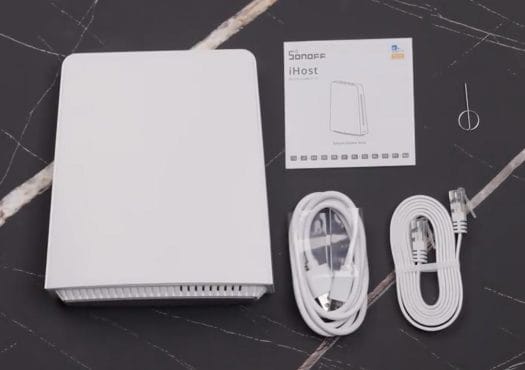 Looking at the back and top of the console, there are various ports, function buttons, and LEDs.
The function buttons include Power On/Off, Security arm/disarm, Sound, and Pairing
USB-C port for power supply (5V/2A)
RJ45 port for 100Mbit LAN
USB-A 2.0 port
MicroSD card slot
The LED lights on the front show different statuses such as red (abnormal) and blue (normal)
Reset hole
The speaker and microphone cannot be seen from the outside.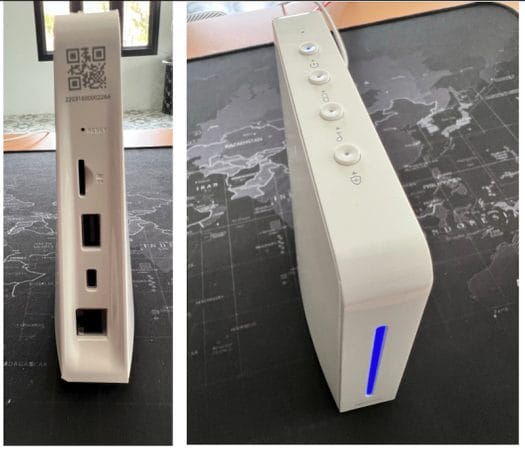 On the day of the review, the USB-A port was not used for any purpose, but we believe it is for the future to connect additional devices. The microphone can be used for voice commands, and we need to sit close to the console. The speaker is located at the bottom, it's for security functions such as sounding an alarm in the automation when we have set it up as a trigger. We can set the arm/disarm function from the button on top or from the software. As for the microSD card, it is mainly used as a storage space for installing software add-ons such as eWeLink Smart Home (cloud integration), Node-Red, and Homebridge. This is a good idea because the onboard eMMC only has 8GB of storage, which we will discuss later. The microSD card can have a capacity of up to 256GB.
Inside the iHost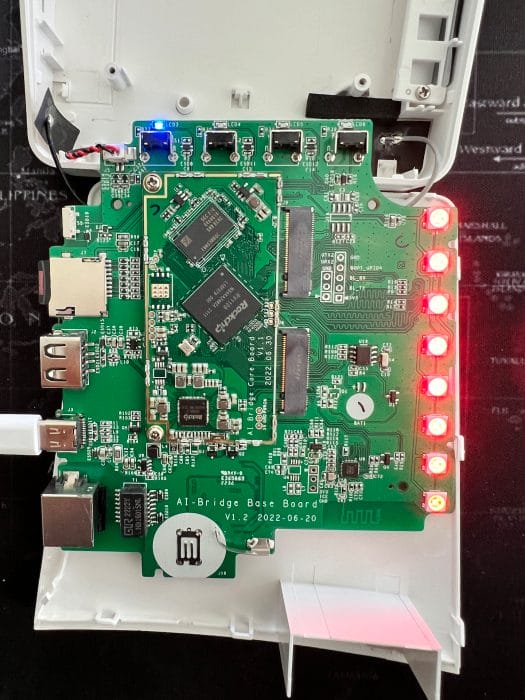 The iHost is powered by a Rockchip RV1109 dual-core processor for the 2GB RAM model and the Rockchip RV1126 quad-core CPU for the 4GB RAM model respectively, which are CPUs based on Arm architecture produced on 28nm technology. All CPU, memory units, and storage devices are on the same SoC. Both processors have an NPU (Neural Processing Unit), which is useful for AI processing. It will be interesting to see how SONOFF will leverage these AI capabilities in their Smart Home products in the future.
SONOFF iHost specifications
The SONOFF iHost is sold in two versions: 2 cores/2GB RAM/1.2 TOPS and 4 cores/4GB RAM/2 TOPS (trillion operations per second). Both have the same WiFi, Zigbee, BLE, and memory card support for future add-ons. There is also a USB-A port for expansion in the future. It seems like the Raspberry Pi 4's little brother, but with lower specs in terms of general processing speed, and at a more affordable price point. iHost can add capabilities later through add-ons that consume more CPU and RAM, therefore, we think that if you're going to buy one, choose the highest spec to accommodate for future upgrades because the price is not significantly different.
Model: AIbridge
Versions: RV1109 DDR4 2GB, RV1126 DDR4 4GB
Zigbee 3.0 Module: Silicon Labs EFR32MG21 SoC
Wi-Fi Module – 2.4GHz Wi-Fi and BLE RTL8723 wireless module
Network Interface: RJ45
Storage Methods: USB and SD card (max. 256 GB)
Power Supply: 5V 2A
Power Interface Type: USB Type-C
Material: ABS
Color: White
Dimensions – 135 x 120 x 41 mm

Features
The main feature of iHost is that it serves as a local hub for SONOFF devices and other brands, which stores data locally to ensure privacy and better security than cloud services. When iHost was first launched, it could work with SONOFF's Zigbee devices such as a door sensor, a motion sensor, ZBCurtain smart curtain, and some other Zigbee devices from other brands that comply with the Zigbee Alliance's standards. You can check the list of Zigbee devices that work with iHost on their website.
Control Sonoff devices that are set up via eWeLink (Cloud) and use LAN Control for local communication, you need to install an add-on called eWeLink SmartHome. You can also check the list of Wi-Fi devices that work with iHost to make sure yours is/are supported.
All-in-One protocol support, at the moment, Zigbee and WiFi (SONOFF brand). In the future, iHost will support various protocols such as BLE and Matter without the need to purchase additional hardware parts. iHost can be enhanced with additional capabilities, such as integration with Node-Red and HomeBridge for Apple devices.
Local automation can be achieved through Smart Scene, which is separate from the Cloud Smart Scene. This means that the database is completely separated, and the company clearly states that all data will be stored locally, including device information and scenes. Even if the internet is down, the iHost will still function properly, unlike eWeLink, which relies on cloud services and internet connectivity for device control.
How it Works
People who have used eWeLink cloud-based service before may need some time to get familiar with iHost, as it is designed for local control, which separates it from the eWeLink cloud environment. Previously, we managed SONOFF devices through the eWeLink mobile app, which goes through the cloud. Now, we manage it through iHost, which must go through the web-based interface. However, we can still connect iHost to the original eWeLink by installing the eWeLink SmartHome add-on, which allows iHost to control Sonoff WIFI devices that support LAN Control. We asked Sonoff if there was a native app that could be used with iHost like we used to use eWeLink. The answer is that iHost uses a web-based and eWeLink use a native mobile app (with the exception of eWeLink Web).
Another thing we asked Sonoff is how to access iHost from outside the home to control the devices. The answer we received is that port mapping is necessary at the router to reach iHost, and to use the browser to access iHost Cast or iHost Console. SONOFF will provide FAQs and steps for this process later.
SONOFF iHost Setup
There are a number of steps to go through. We have followed the installation & setup steps below.
Plug in the LAN cable to the local network and plug in the power cord via USB-C. Wait for less than a minute, a pop-up setup menu will appear, or we can type http://iHost.local in the browser in the same LAN. Then, the setup page will appear where we can configure the timezone, password, etc… Watch this video for more details.
The next step is to add Zigbee devices by pressing the + button. Follow this other video.
Format the microSD card to install the Add-ons in the next step.
If you are already using eWeLink and want to control some WIFi devices with iHost, request permission from the eWeLink app to access SONOFF WiFi devices. The steps are

Install the Add-on – eWeLink Smart Home
Sync the account from eWeLink, then the list of WiFi devices that iHost works with will appear on the GUI.
Select the device for iHost to control. This process is like having two management software for the same device, both eWeLink (from Cloud) and iHost (within LAN) running. After this Sync, this device will be available on the GUI and ready to receive commands as shown below.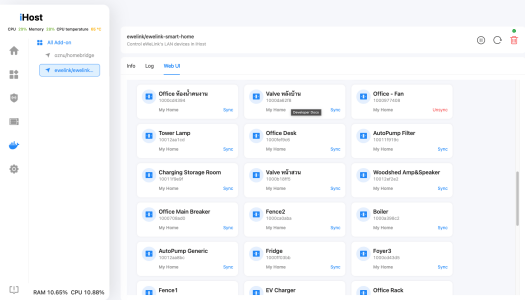 Create Smart Scenes as desired. The principle is similar to creating it in eWeLink.
Create eWelink CAST by customizing the screen for specific tasks. See examples of how to do it in the next topic.
Install other Add-ons as desired. See an example of adding Homebridge Add-ons in the next topic
Based on our experience, setting up the iHost Smart Home Hub is not too difficult because SONOFF has videos, an online manual, and a FAQ. The steps above are a cheat sheet that, if you follow, setup will be faster. However, if you are familiar with eWeLink, you may need to be patient to learn as the approach is different.
eWeLink CAST
eWelink CAST is something new that is worth mentioning. That's because most of us are used to with eWeLink app on Android/iOS to manage SONOFF devices, with the exception of eWeLink Web approach that is available in the Advanced subscription plan. In short, CAST is an approach to customize the Dashboard that we want to see and use in iHost. From the image below, when we create a CAST, we have to select the devices and scenes that we want to add to the screen, such as the CNX screen, which displays devices such as motion sensors and FAN switches (using S31 smart plug). For example, you can create a CAST base for a device in the living room.
After creating the CAST, we can point the browser to http://iHost.local/CAST and see the devices and scenes we created as shown in the image below on our mobile device. You can also set a pin to lock/unlock each CAST to have better security. You don't need to launch the browser and type the URL, instead, you can create an app shortcut link to the above URL which will be more convenient like a native app on mobile phones.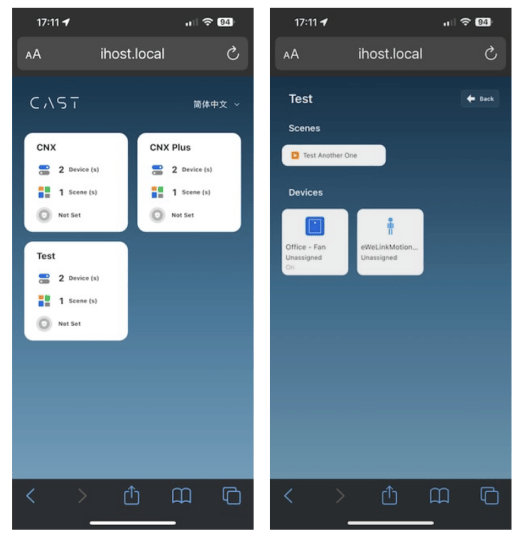 We think it's a great idea that we can design our own user interface. In terms of responsiveness, it seems to be faster, but we haven't tested it with a lot of devices yet. The UI seems to be more modern than the traditional eWeLink app, which we have been using for years. As mentioned earlier, if we want to access the CAST screen from outside the LAN, we need to do port mapping on the router and set up DDNS. We hope that SONOFF will have an easier way to do this in the future.
Add-ons for the SONOFF iHost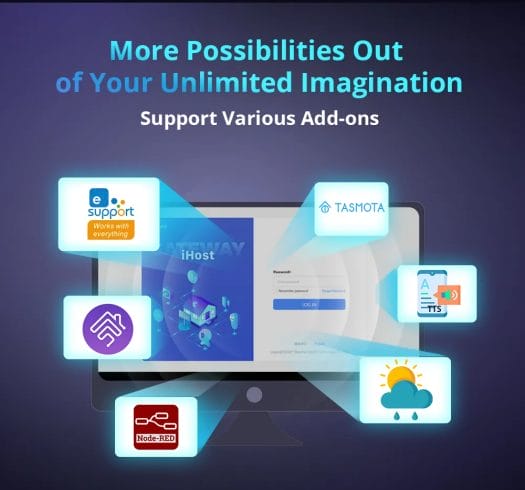 It's worth mentioning this feature as well as it is the most exciting thing for us because it's not common to see Off-The-Shelf hardware with additional add-ons. It allows us to imagine even further what interesting things will come next. Currently, Node-Red and HomeBridge can be used, and in the near future, iHost can also manage IoT devices that use Tasmota open-source firmware based on the roadmap we've seen. We expect to see features that use AI capabilities, such as cameras, which SONOFF also sells, and Matter support will also come latter this year.
We've tried HomeBridge, which is an add-on that allows iOS devices to control devices under iHost. We followed this online user guide and first installed the HomeBridge add-on. Then we installed the Homebridge Plug-in, which is the eWeLink Cube Plugin, and retrieved the access token. Next, we selected the devices in iHost that we wanted Homebridge to see. After that, we went to Apple Homekit and added the devices, which required authentication. We then saw the Sonoff devices in iOS, as shown in the image below. We also added Sonoff's Motion Sensor and Door Sensor to the Apple HomeKit app.
Open API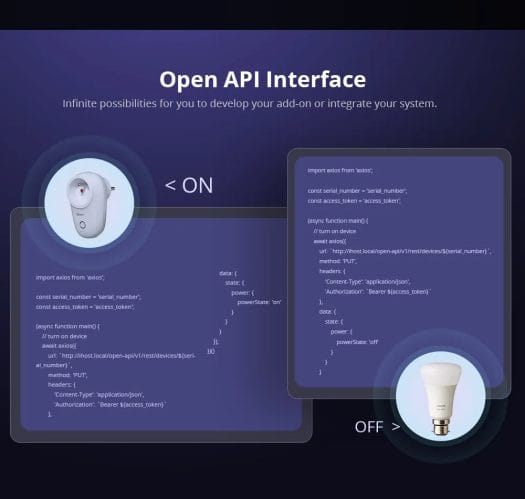 Before concluding this review, another interesting thing worth mentioning is that SONOFF has released an Open API, which allows iHost to communicate with other gateways or devices bidirectionally. Developers can create end devices and manage them through iHost via the Open API, or connect gateways and exchange data between them. An example of this is the HomeBridge Add-on we mentioned earlier, which adds more functionality and benefits users greatly by enabling cross-platform compatibility. This makes things much more convenient compared to SONOFF's previous DIY mode, which was only available for its own devices.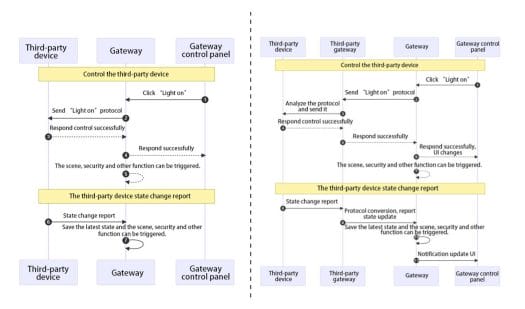 Summary
It's like a starting point for something. What we expected before iHost came out to the market was to serve as a local hub for all SONOFF devices. But the SONOFF iHost does more than that, from being a platform for future updates from Open Source repositories such as Node-Red, HomeBridge, and others that will follow (see Roadmap image below), and not limited to SONOFF devices as long as they comply with the standards like Zigbee. If compared to Home Assistant, it is not as flexible, but it is easier for users who do not want to spend too much time to do maintenance. There's no need to use a terminal with CLI command, and everything is mostly done in the GUI. We still need to follow up on what SONOFFF will gradually release. Finally, what else do you think iHost should come up? We want to know.
Thank you to ITEAD for sending the SONOFF iHost for testing. You can pre-order the RV1126/4GB model for $84.90 (Special Sale price) with an additional 10% discount with CNXSOFTSONOFF coupon. Shipping will start on May 10.
Note: We will continue to test iHost. If there is any progress, we may post the update in the comment section.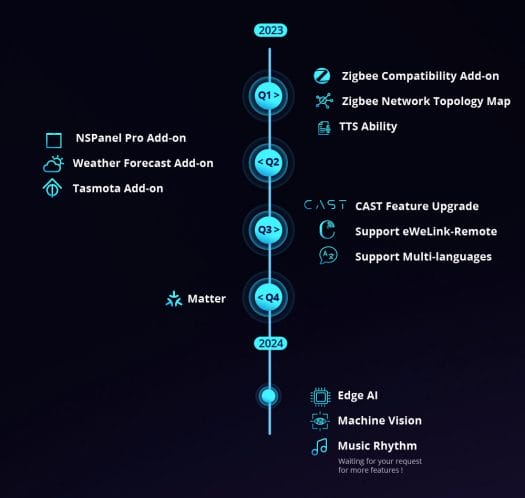 Computer Engineering who previously worked with multinational IT company, rich experience in IT infrastructure, has a passion on Internet Of Thing i.e., Smart Home, Smart Farm as well as interested on Sustainability such as renewable energy, organic farming