Stellar Data Recovery Technician is a RAID data recovery software that works on Windows 7, 8, 10, or 11 and can recover RAID data from RAID 0, 5, and 6 drives including deleted documents, photos, emails & more from RAID drives.
The software can also recover data from lost or formatted RAID logical volumes, create bootable USB media to recover data from a crashed PC, and supports RAID arrays with NTFS, FAT, and exFAT file systems. It can be used whether you've accidentally deleted or lost RAID data, incorrectly rebuild a RAID array, or are starting to get RAID read/write errors while accessing data such as 'Can't read data from RAID disk' or 'Unrecoverable Read Error' which can result in data loss.
Stellar Data Recovery Technician key features:
Recovers data from an inaccessible RAID volume – The program recovers data from logically corrupt and inaccessible RAID 0, RAID 5, and RAID 6 volumes, hybrid RAID volumes and partitions by directly recovering raw data from the missing RAID volumes.
Recovers data from SSD RAID array – Stellar Data Recovery Technician also works with RAID arrays comprised of solid-state drives (SSDs) that may have failed due to RAID controller failure, software glitch, a sudden power outage, RAID errors, worn-out SSD connectors, overheating, and other reasons.
Formatted RAID array recovery – If you've formatted your RAID 0, RAID 5, and RAID 6 logical volume and partition by mistake, the program can automatically rebuild a virtual RAID array and lets you save the recovered data to an internal or external disk.
Deleted RAID partition recovery – Stellar Data Recovery Technician can also recover critical data from deleted, lost, undetected, failed, or corrupted RAID partitions by scanning and retrieving data on a RAID partition lost due to accidental deletion, failed RAID stripping, sudden power failure or system shutdown, malware or virus intrusion, bad sectors, software related errors, and so on and so forth.
Recovers data from RAID-configured NAS – The program also works with NAS devices configured to use RAID 0, 5, or 6 arrays, including NAS from Iomega StorCenter, Buffalo Terrastation, LinkStation, Synology, LaCie, QNAP and other Linux-based NAS devices.
Recovery with virtual RAID construction – Stellar Data Recovery Technician automatically rebuilds a virtual RAID even if some of its parameters are unknown such as the number of disks, file system, block size, parity order, etc…
Hardware and software RAID recovery –  The tool supports data recovery from hardware-based RAID servers without controller cards or software-based RAID installations
Recovery from a non-booting Windows system – You can recover your data even if your Windows computer fails to boot since Stellar Data Recovery Technician can create a bootable USB media to initiate RAID data recovery.
The program is available in multiple languages including English, German, French, Italian, Spanish, Japanese, Korean, Portuguese, Dutch, and Hindi, and works on Windows machines with at least 4 GB RAM (8 GB recommended) and 250 MB of free storage in order to install the program and associated files.
Stellar Data Recovery Technician is available as a free download to scan your RAID array(s) and preview lost data, and as a $199 (1-year license) or $399 (lifetime) download to perform recovery of your critical data. After installing the tool on Windows 32-bit or 64-bit, you'll be presented with a wizard helping you select which data you'd like to recover, either all data or specific file types such as office documents, folders, emails or multimedia files such as photos, videos, and audio.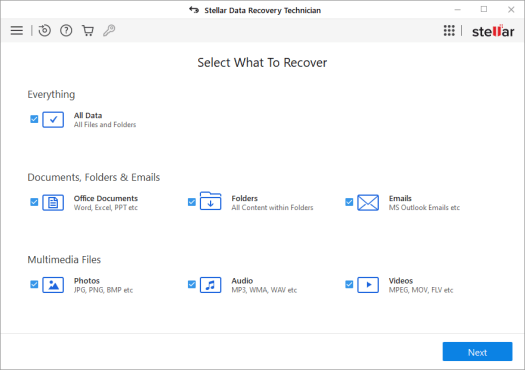 The next step is to select the drive for recovery or "RAID Recovery" to specifically recover data from RAID drives.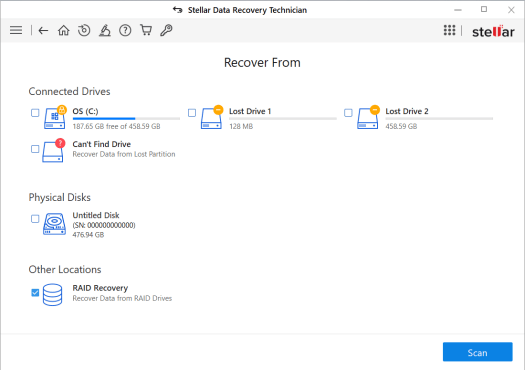 Now click on the "Scan" button to select the hard drives or SSDs configured in the RAID array, configure RAID parameters, and re-construct your damaged or corrupted RAID array.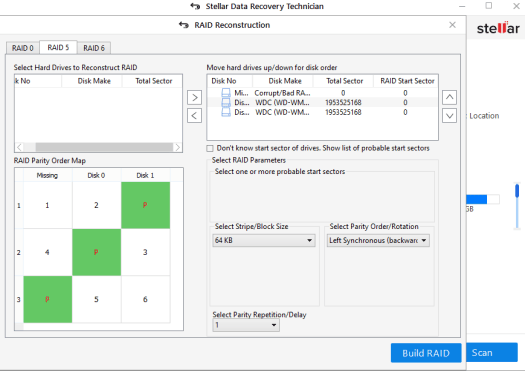 Once you are confident the parameters are correct, click on the "Build RAID" button to show the recoverable files with the option to recover a whole folder or a single file.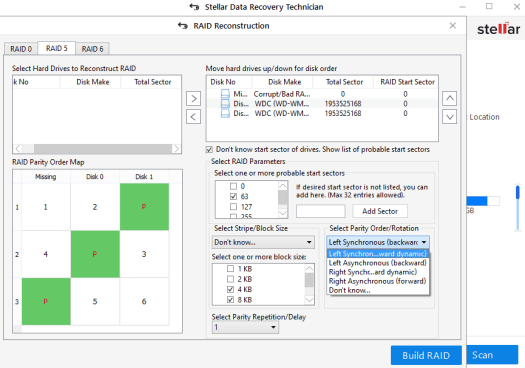 Finally, the program will ask you to select a location to save your data, and once the path is entered your data will be saved to the selected location or mass storage device.
Stellar Data Recovery Technician has no limit on the number of recovered files and recovery attempts and software from the company has been used by millions of users, reviewed by top technology news outlets such as TechRadar, Forbes, and CNET, and is 100% safe & secure to use. Once you've purchased the software, you'll receive an email with instructions to use the program immediately. Note a license is only valid for one Windows machine, but Stellar offers discounts for multiple machines with licenses for up to 200 computers. Note that if you need to recover data from Mac OS drives (APFS, HFS, HFS+ file systems), Linux drives (Ext4 and Ext3 file systems), virtual machines (VMDK, VDI, VHD & VHDX files), or Synology drives (BTRFS file system), you would need to purchase a premium version called "Stellar Data Recovery Toolkit" instead with all the same features as the "Technician" version covered in this post, plus the extra aforementioned features.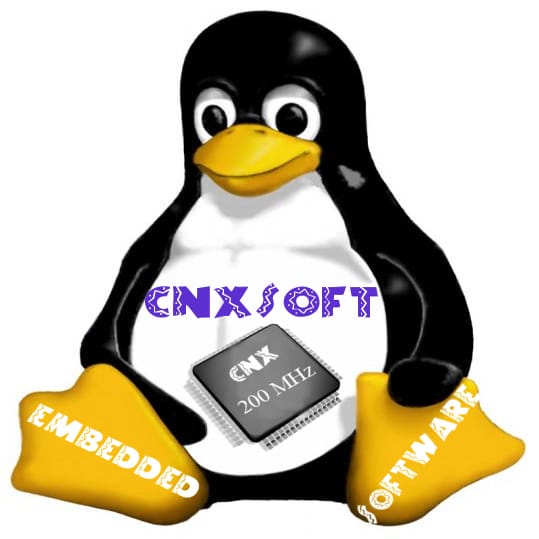 This account is for paid-for, sponsored posts. We do not collect any commission on sales, and content is usually provided by the advertisers themselves, although we sometimes write it for our clients.