Archos is known for its Android Tablets and MP3 player. But Henri Crohas, Archos's CEO, would like to release a human robot with the height of a child for 300 Euros, a bit like a small version of Asimo, the Honda human robot.
In an article about Henri Crohas, published by Liberation (French Newspaper), it is mentioned "No, Crohas rejoices when we mention the evolution of Archos advances: thinner and thinner tablets and on the domotics (Home Automation) side, a robot of the height of a child sold for less than 300 Euros".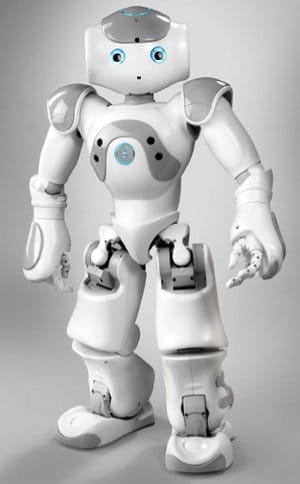 Archos has since then confirmed to PC World France, they worked on this type of products, but would not provide further details at this point. But such robot could be used as a toy or it could be programmed to do some simple tasks.
Rumours are that they work with another French company, Alrebaran Robotics, which designed Nao, a 57 cm high child-like robot.
Nao's key features:
A body with 25 degrees of freedom (DOF), whose key elements are electric motors and actuators.
A series of sensors – 2 cameras, 4 microphones, a Sonar distance sensor, 2 IR emitters and receivers, 1 inertial board, 9 tactile sensors, 8 pressure sensors.
Various devices to express itself – voice synthesizer, LED lights, 2 high quality speakers.
A CPU (located in the head) which runs a Linux kernel and supports ALDEBARAN's own proprietary middleware (NAOqi).
A second CPU (located in the torso).
A 55 Watt-Hours battery, giving NAO 1.5 hours autonomy or more depending on the usage.
The robot comes with a development kit which allows you to control the robot with C++, Python, C#, Java, Visual Basic and more. Aldebaran Robotics also says that it will open the source code and share the cross-platform build tools, the core communication library and other essential modules with researchers, developers and emerging projects in humanoid robotics.
Three management software are also available:
Choregraphe, a programming software that lets NAO users create and edit movements and interactive behaviours.
Telepathe,  a desktop application that gives users a feedback of what NAO is seeing and feeling.
NaoSIM, a simulator that enables users to test their algorithms in a virtual world governed by real physics before releasing Nao robot to the real world.
You can watch Nao's walk, talk and grab objects in the video below.

Jean-Luc started CNX Software in 2010 as a part-time endeavor, before quitting his job as a software engineering manager, and starting to write daily news, and reviews full time later in 2011.