I've just received the CX-01 Mini Android PC I ordered 3 weeks ago on Pandawill website using Togetho.ru group buy coupon and paid $41.89 as I selected "Singapore Post" shipping option. Today, I'll post some unboxing pictures and provide a review of this tiny and cheap device.
I received the device in the box below.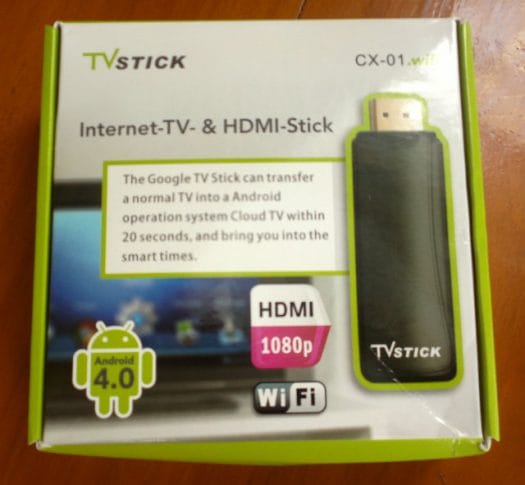 The device characteristics are listed on the back on the package.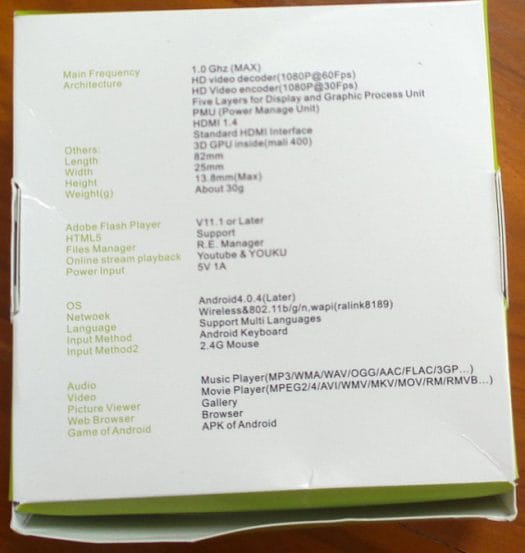 Telechips TCC8925 does not support 1 GHz (max 833 MHz), and I'm unable to play some of the video container format listed, but more on that later.
You'll just find the TV Stick and a microUSB to USB cable to power the device in the package.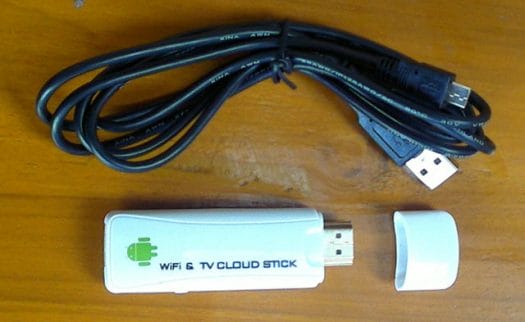 Now let's connect it to the TV. The device can plug neatly into on the HDMI port of my HDTV (Samsung LA328450), and it's powered by the TV's "USB service" port.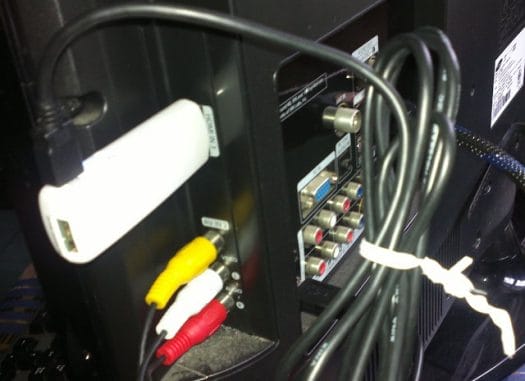 $40 is a low price to turn a standard HDTV into a Smart TV, and you don't get the cables hanging around like products using an HDMI female connector. I understand this could be a problem if you have to connect it perpendicularly to the TV and have limited space, but a female to male HDMI cable could solve this issue as well. Now all you need to add is an input device. Ideally it should be one of those 2.4 GHz remotes (possibly dual-sided with a qwerty keyboard), but I don't have one yet, so I've just connected a mouse to the USB port.
After you connect the power, you should see the boot picture below within 3 to 4 seconds.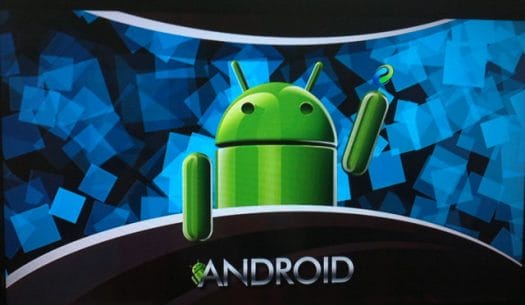 After waiting around one minute, you can see the home screen. The pre-installed applications are at the bottom, and I've installed all  other apps via Google Play. The Play Store was pre-installed, but not available on the home screen.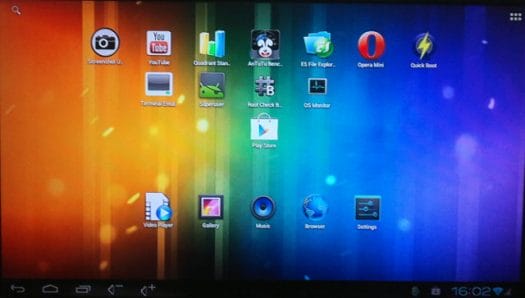 The default language is in English which is probably a good thing for most people, and 5 applications are shown in the home screen: Video player. Gallery, Music, Browser and Settings.
I haven't been able to take screenshots, because the device is NOT rooted and some apps won't work. There are some other methods to take screenshot with a non-rooted device, but it's a pain, so instead I've taken some pictures. I found a method to root CX-01, and some people appear to have been successful, but I haven't tried it yet.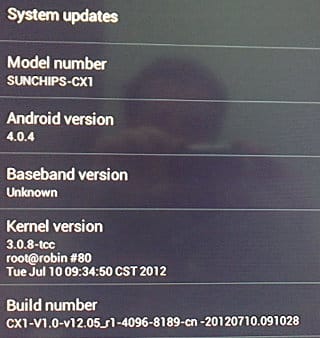 Going into the "About Tablet" section,  you'll find out the device runs Android 4.0.4 and the model is SUNCHIPS-CX1. Interestingly there is also a "System updates" menu that lets you update the firmware via NAND Storage (I guess after firmware download), SD Card storage (although there is no microSD card slot) or USB storage. This might be useful if the manufacturer ever release the firmware. You may add your voice to the "where is the firmware?" complaint on Pandawill forum.
Google Play seems to work just fine and you'll be able to install and run most of your favorite apps. I installed ES File Explorer, Antutu benchmark, Quadrant, Android Terminal Emulator, Opera Mini, the YoutTube App and a few others, all of which appear to work fine. The only exception (for now) is the Quadrant benchmark which installed and started fine, but I was unable to run the benchmarks. It's exactly the same issue as I had with Mele A1000 stb.
After playing around a few hours, I find the device to usually perform very well, and I don't really see performance difference compare to Mele A1000. I said "usually", because sometimes the device will become very very slow due to high system CPU usage. It happened twice in one afternoon. The first time, I just disconnected and reconnected the power, and the second time I just went away for a while, and It appeared to work fine again. You may want to install a widget to reboot your device when that happens. You'll need to root the device first though.
I've tested video playback and found it quite good, better than the Mele A1000 (Android 2.3) I tested in April. I could play YouTube videos both in the stock web browser and the YouTube app. There are 3 video players available by default:
ES Media Player
PPTV Pad
Video Player
I found "Video Player" to support the most files, and I used this player to test some video format/codec, mostly from http://samplemedia.linaro.org/, but also some others I downloaded:
H.264 codec / MP4 container (Big Buck Bunny), 480p/720p/1080p* – OK
MPEG2 codec / MPG container, 480p/720p/1080p* – OK
MPEG4 codec, AVI container – OK
VC1 codec (WMV) – OK
Real Media (RMVB) – FAIL
MOV file from Kodak camera – OK
FLV videos – Video OK, but no Audio
MKV (several codecs) – FAIL
*One very important thing, if you plan to play videos on a Windows share or your NAS: Videos with bit rate above 5/6 Mbps could not play smoothly on the device, and basically all 1080p I tried (Samba share on Windows XP playing with ES File Explorer) could not play smoothly due to buffering. But if I just press pause, and wait a bit for the video to buffer, it's just fine, so I expect 1080p to play just fine from USB devices. Another possibility could be to share files via NFS, as the performance should be better.
Time for some benchmark. Quadrant did not work, so I only ran Antutu benchmark.
A score of 2216 with this resolution (1280×672) is not too bad, it's only slightly lower than the score I got with Mele A1000 (2337) using a similar resolution (1280×720), although it was running Android 2.3, so the performance might have improve since Android 4.0 release.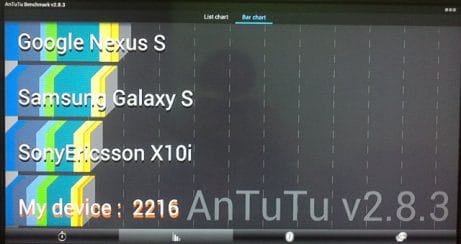 Details of Antutu benchmark:
RAM – 204
CPU Integer – 402
CPU float – 286
2D Graphics – 291
3D Graphics – 696
Database I/O – 190
I also used Quandrant to find about some details about the system. Interestingly, the memory is reported to be 512 MB for Linux, so I suppose they manage the memory differently than with other SoC, where part of the memory is reserved and not accessible in Linux.
The processor is called tcc8920st and the frequency is set to 716 MHz each time I go to this menu, but a look at the log should that the processor switches between 716 MHz and 812 MHz regularly, probably to reduce power usage and avoid the device to become to hot. The device is warm during use, but it's not excessive, like it appears to be with other mini PCs like MK802.
Quandrant also report that the product name is "full_tcc8920st_evm_4096_cn" and the board "tcc8920st_evm" which looks like something I found in the kernel source code, but I was still expecting something with tcc8925 in the code, so the board I have may really use tcc8920 processor. Not sure how to check this.
To conclude, I'm quite satisfied with this product, but with 4 main issues:
Relative instability (High CPU usage)
Network performance (Choppy "high" bitrate video playback over the network)
MKV video playback does not seem to work
Lack of microSD card slot (only 2 GB flash available for apps)
Hopefully, the first 2 can be fixed with a firmware update. For the last one, you can install external storage (USB), but I'm not sure Android let you install apps on a USB drive.
The group buy is not available anymore, but if you are interested, it can be purchased on Pandawill for $47.99, Dealextreme for $51 or Aliexpress for $49.99. All companies include free shipping, Pandawill with China Post, and the other two via Hong Kong Post.
There is also a 8GB version on Dealextreme for $54.50

Jean-Luc started CNX Software in 2010 as a part-time endeavor, before quitting his job as a software engineering manager, and starting to write daily news, and reviews full time later in 2011.