I recently bought an Android 4.0 tablet with a 7″ capacitive touchscreen based on the new WonderMedia WM8850 processor (Cortex A9 + Mali-400). In my first post, I called this tablet UGoos UG-LMW70, but I just received a no brand package with nothing mentioning Ugoos or the model number UG-LMW70 anywhere. Android settings just show WW8850-mid for the model number.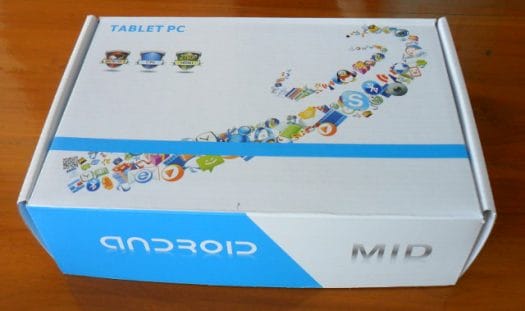 The tablet comes with a 5V power supply, a miniUSB to USB cable, a short miniUSB to USB female adapter, headphones and a user manual in English explaining how to use Android, but nothing about the tablet itself.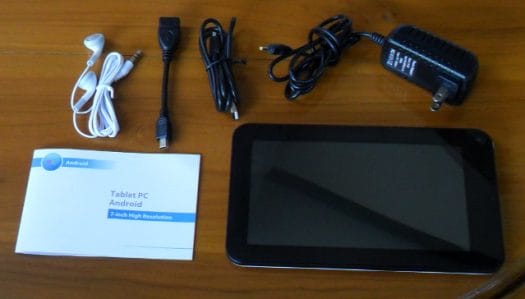 The tablet has vol-/+ buttons and a power button (left side below), and a power jack, microSD slot, headphones jack, a USB host port, a mini HDMI port, a miniUSB port and a microphone (right to left). They did not include a mini HDMI to HDMI cable, so I did not try HDMI output.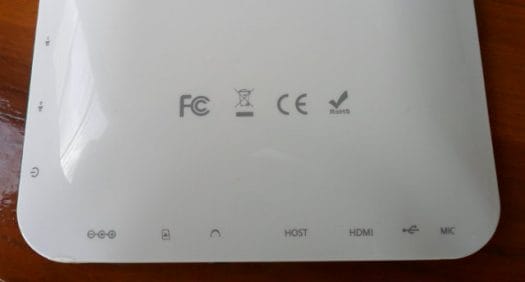 Windows 8 style home screen is pre-loaded in the device, but you can easily switch between Win 8 and Android theme with a button in the taskbar. After playing with this tablet for a while, I find it operates very smoothly while browsing, flickering through pictures and watching videos.
The biggest problem I found is that it may not always be usable when connected to power, as the touchscreen just gets crazy. For example, if you press one key on the virtual keyboard, it will just quickly act as if many random keys are pressed. Later I used another power extension and the problem just disappeared. I'm also disappointed by the battery life, as I can use it only about 3 hours browsing the web, but this should be expected with the size of the battery (2300mAH).
Google Play is installed, but some applications are not available including Facebook and Youtube (Update: This is fixed with firmware v1.10). I've also noticed Face Unlock is not available in the settings, even though this tablet has a front camera.
After 2 or 3 days, the Windows 8 home screen just stopped working and I got the message "Unfortunately, Win 8 has stopped". At that point I could not access anything, except the settings and my emails once I got a notification. I fixed it by installing GO Launcher EX which let me choose between Win 8, Go Launcher and Android home screens.
I've also tried a few more applications such as Skype which works fine, although the speaker is not loud even with maximum volume.
I've shot a video to show the performance of the device with the following:
Home page
Web browsing in Opera Mini with a well-known website 🙂
H.264 1080p video playback (on the 800×480 screen) using big_buck_bunny_1080p_H264_AAC_25fps_7200K.MP4 in http://samplemedia.linaro.org/H264/
Photo gallery
Antutu Benchmark
My webcam resolution and refresh rate are not really good, but it can still give an idea of this little tablet performance. The last part of the video is just the Antutu benchmark (02:00 until the end).
The Antutu benchmark results (2950 to 3020) show this device is equivalent to a Samsung Galaxy S and noticeably faster than AllWinner A10 devices based on the results I got with the AllWinner A10 based Mele A1000 (2337). Both processors use the same Mali-400 GPU, but the A10 is based on Cortex A8 @ 1 GHz and WM8850 on Cortex A9 @ 1.2 or 1.5 GHz depending where you read… The resolution on the WM8850-MID (800×480) is lower than Mele A1000's (1280×720) and this may also have affected the results. [Update: Total score is actually similar to A10 tablets with 800×480 resolution. See Vlad comment below]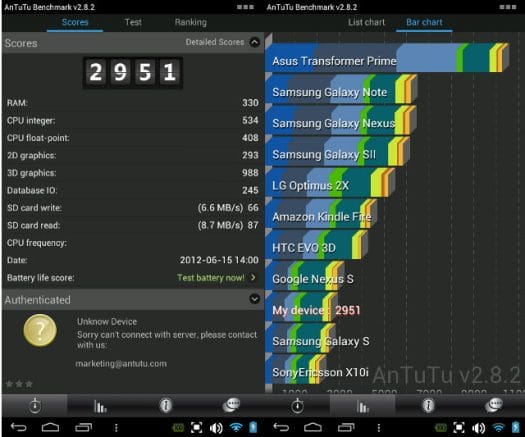 All in all I'm pretty happy with my purchase. The price is now about 75 USD including shipping from the same shop I bought it from (Eternal), or as low as $64 including shipping from other shops with decent ratings on Aliexpress.

Jean-Luc started CNX Software in 2010 as a part-time endeavor, before quitting his job as a software engineering manager, and starting to write daily news, and reviews full time later in 2011.