I've just received a Smallart Uhost mini PC based on AllWinner A10 from the "The Cubies hacker shop" on Aliexpress. The device features 1GB RAM, 4B flash, includes 802.11 b/g/n built-in, USB ports, HDMI output and a microSD card. It costs $70 including shipping.
I received the device in the simple package below.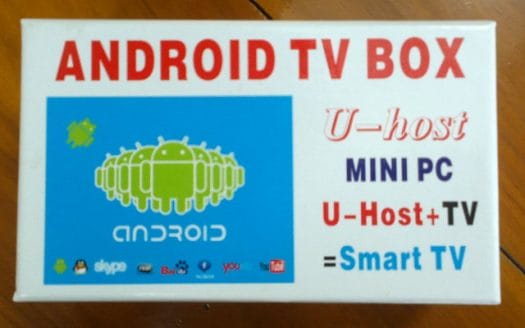 There is a whole bunch of stuffs inside the package.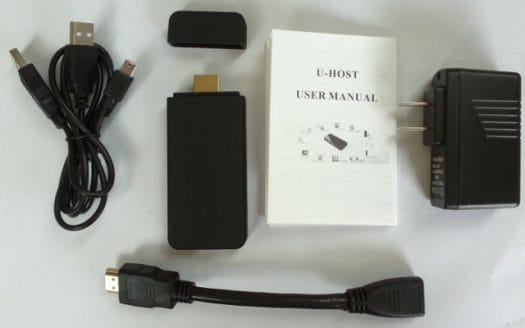 A USB to mini USB cable for power and to connect the device to PC to act as a USB drive, the Smallart U-host mini PC itself, a user manual in English, the power supply 5V/2A with a USB port, an HDMI female to male cable.
The USB to mini USB cable has actually 2 large USB connector in order to provide up to 5W power (2 x 500mA x 5V). The mini PC has several connectors including an HDMI male connector, a USB Host port (for mouse/keyboard/wireless dongle), a mini USB device port (for power and USB drive function), a micro SD card slot, a microphone jack (although there is a built-in mic as well) and a "Ukey " used to switch the mini PC function to USB flashdrive when connected to a PC. The HDMI Female to Male cable can be used for those who cannot plug the device directly into the TV, so you've got the best of both world with this TV stick. I just find the cable very short, so for most people who use it the device may just hang by the TV.
As I opened the package I was surprised by the size of the Uhost. It looked rather big to me, but it's probably because I just used CX-01 mini PC this week, and would I have received it one or two weeks earlier I would probably have wondered how they could fit all those features in such as small casing. The dimensions are 120mm x 50mm x 13mm.
Since this is supposed to be an hackable device suitable for bootloader and kernel development, I opened it to see how difficult or easy it would be to access the serial port. First, you need to remove 2 screws on both side of the HDMI ports with a precision screw driver, open it with a screw driver, remove 4 screws holding the PCB, and I finally manage to release the PCB quite easily. You can see the serial port (marked with a red ellipse below) that can be used together with a TTL to USB debug board to access the board with Putty / minicom. This connector is not available on other mini PCs such as the MK802, and you have to do some soldering to connect the serial adapter. [Update: It appears this is not a serial port header, but instead a USB port to connect a 2.4 GHz wireless module (Thanks to deadhp1 for the tip). I've also tried it myself with the serial board and could only receive some random garbage].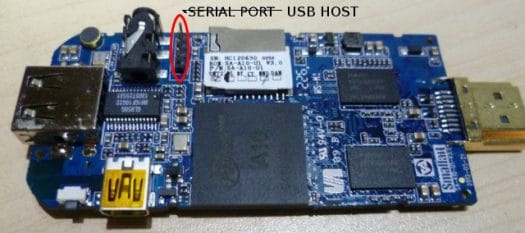 The HDMI ESD protection components and AXP209 power supply chip are soldered on the board (not seen on this side), and this is not always available on lower cost AllWinner A10 mini PC. The lack of those components may damage the device and even your TV, but I have yet to read about this horror story where the TV HDMI port blew up. This will also affect the longevity of the device.
Today, I won't test the serial port console, and run Linux on the board, so let's put this back together and play a bit with Android 4.0. Smallart Uhost can neatly connect to my TV just like the CX-01, and I connected the cable to the USB port of my TV. The device will start, but it will just reboot after a few seconds because there is not enough power. So you have to use the power adapter. This is inconvenient to me, so I just plugged the USB cable in 2 USB ports of the Mele A1000 STB (It's sick I know :)) and the device works perfectly.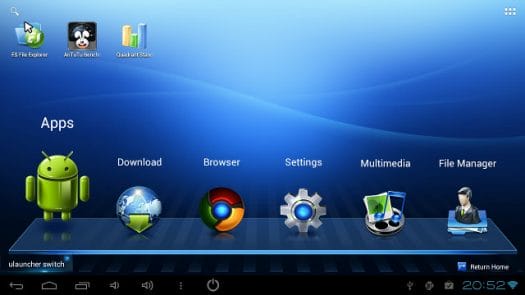 I really like the Android home screen, the lower part with the icons is static, and the icons and widgets can be "installed" in the top part which you can swipe to access all the 5 screens like you would do with other Android devices. There are 6 icons: Apps, Download (i.e. Google Play…), Browser (but not Chromium for Android here despite the icon), Settings, Multimedia and File manager. If you don't like that you can click on "ulauncher switch" to move to a full screen page with the 6 default icons and no apps, or "Return Home" to get the standard Android home.
You'll also notice a power button in the action bar.

This can be used to Power and Reboot your device, which is a very useful option not available in (most) other mini PCs. This is not perfect however, as power supply is still provided to the USB port when the device is powered off. I assume this is an hardware design issue and can't be solved by software.
Going into the "About Device" section shows the model is U1A, but not much else. The "System updates" appears to only support OTA updates (TBC), and the "Developers Options" menu is present contrary to CX-01.
I had no problem installing applications with Google Play such as ES File Manager Antutu, Quadrant, YouTube, etc.. and everything runs very smoothly and the firmware appears to be very stable. As usual Quadrant benchmark can be installed, started, but the benchmarks just won't run.
I've tested video playback and found similar results than with Mele A1000 (Android 2.3) I tested in April. I could play YouTube videos in the YouTube app, but not in the stock browser (It will open the video player). There are 2 video players available by default:
I've used both players to test some video formats/codecs from http://samplemedia.linaro.org/, and others I have downloaded:
H.264 codec / MP4 container (Big Buck Bunny), 480p/720p/1080p – OK
MPEG2 codec / MPG container, 480p/720p/1080p – FAIL
MPEG4 codec, AVI container – OK with "samplemedia: videos, but some other AVIs could not be played at all.
VC1 codec (WMV) – Videos play just fine, but I could hear audio noise regularly (short time 1 seconds) during playback.
Real Media (RMVB) – FAIL
MOV file from Kodak camera – It can play but the video is scrambled like with the Mele A1000
FLV videos – FAIL
WebM/VP8 – It can play but there are massive artifacts from time to time (like half of the screen filled with artifacts), and it's not due to buffering.
MKV (several codecs) – OK
The good thing is that this device does not experience the buffering issues I had with CX-01 when playing "high bitrate" videos from SAMBA/CIFS (Windows Share). However, in terms of video supported, AllWinner A10 based solutions really lack in this field (not only the U-Host). Hopefully this is not related to the silicon, and can be fixed with better software. Maybe the XBMC implementation will help once it is available.
Antutu benchmarks show the device is much faster than CX-01 mini PC (2216) and even Mele A1000 STB (2337) based on the same processor @ 1GHz (but running Android 2.3 at the time) using the same resolution 1280×720.

I assume this is just because of improvement between Android 2.3 and Android 4.0.
I could not find much interesting info in Quadrant, except it appears to always run at full speed (1GHz), and it indicates it can be clocked as low as 60 MHz. Even if it always run at full speed, this device does not appear to have overheating issues like the MK802.
As with other A10 devices, you'll be able to run Linux distributions (Ubuntu, Lubuntu, Xubuntu, Debian, Fedora…) by booting from a microSD card, or even replace to default firmware in Flash. In case you play with the NAND flash, and something goes wrong, I've been told we should be able to get the firmware file to recover, Smallart U-Host firmware is available for download.
Smallart U-host is a stable device and offers good performance, and the only major drawback I can see for now, is its inability to play all sort of video files, but hopefully this can be solved in the future. There are also some minor downsides such A10 devices power consumption which is higher than others solutions like Telechips TCC8925, and the device casing is not the most beautiful. But if it's going to be hidden behind the TV who cares?
If you want to hack the device, and play with u-boot and kernel development, the Smallart U-host, together with the Mele A1000/A2000, is the best hackable device for AllWinner A10 I've seen due to the presence of the serial connector and easy opening. . [Update: It's still possible to use the serial port, but this requires some soldering]. If so, you can subscribe to arm-netbook mailing list, chat on #arm-network irc channel and visit the developers' resources on Rhombus Tech or the AllWinner A1X posts on this blog to get started.
Smallart U-Host is available for $70 on Aliexpress. Remember you'll also need to buy a USB to TLL debug board ($5). If you don't have one yet, you can ask on Aliexpress (Tom), he will add one with the ribbon cable for free.

Jean-Luc started CNX Software in 2010 as a part-time endeavor, before quitting his job as a software engineering manager, and starting to write daily news, and reviews full time later in 2011.