Yesterday, I received 2 mini PCs from Zero Devices: The AllWinner A10 based Z802 and the Telechips TCC8925 based Z900. Today, I'll show the unboxing pictures of the Z802 and review the device, and I'll take care of Z900 mini PC another day.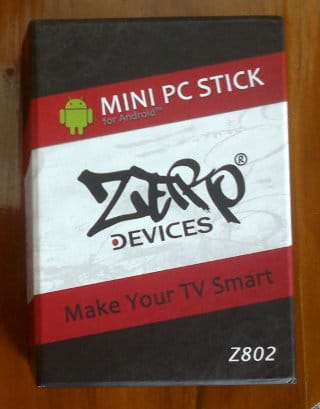 Zero Devices Z802 is actually the same design as Rikomagic MK802, and was released about 2 weeks earlier, but fate made the media "gods" hype MK802 instead of Zero Device Z802. This mini PC features AllWinner A10 Cortex A8 processor clocked at up to 1.5 GHz, 512 MB RAM, 4 GB flash,  built-in Wifi 802.11 b/g/n, a mini USB OTG port, USB 2.0 host port, a microSD card slot and an HDMI female connector. I received the device in the package pictured on the left.
Once you open the box, you'll see the Z802 on top, and once you pull off the cover, you'll see quite a lot of accessories (Pictured below):
USB to mini USB cable
5V/2A power supply
USB female to mini USB adaptor
mini HDMI to HDMI cable
mini CD with English user manual
Zero Devices Authenticity Card
The Authenticity Card contains a number at the back that allows to register your product on zero-devices.com, and access a VIP Area where you can access the Download section (Only the user manual is available, the same file as in the CD, but I've been told firmware will come very soon), forums (ready, but yet to be opened), promotions (nothing at this time) and contact section. The contact form in the VIP area is different from the general contact section on the site, so you may be able to get support faster via this channel.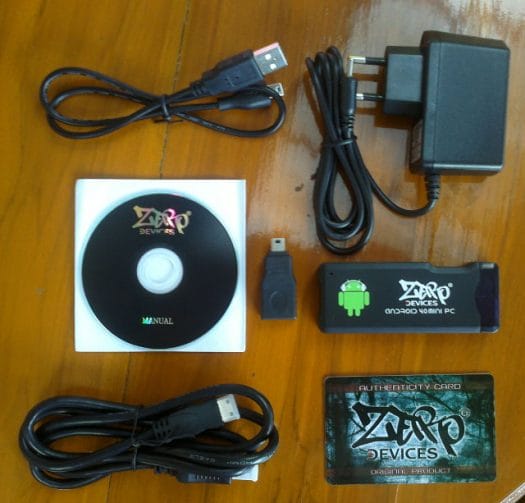 Let's connect Z802 to the TV via the mini HDMI to HDMI cable, connect a USB mouse and the power supply, and get started. There has probably been a lot of reviews of MK802 HDMI TV Sticks, but I'll give it a go anyway :).
After a few seconds (ok, one minute), the Android home screen shows up.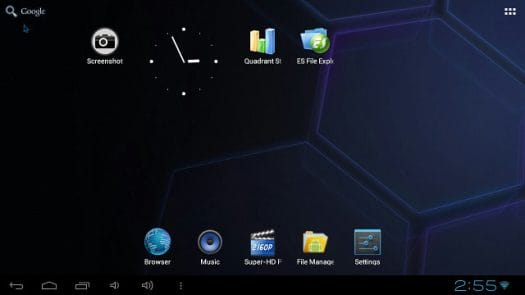 Screentshot UX trial, Quadrant and ES File Explorer are apps that I installed myself, but the rest is the same, and the UI was already setup to use English. This type of Home screen is fine, but personally I prefer the Smallart U-Host Home as it's better adapted for the TV. Then I setup WiFi, configure Google Play, and install a few apps, no problem, except than Antutu was not available via Google Play, so I installed the apk instead.
I went to the "About mini PC" section (yep they changed the "About Tablet"!), and the device is codenamed AK-MINI-PC-001 and RISCTEK is mentioned in the build string, so it's very similar indeed to the MK802 which is codenamed AK-MINI-PC-002 and also using the "RISCTEK" brand.
As usual, I've tested video playback with the Linaro media files and some videos of my own using pre-installed video plays: ES Media Player, PPTV Pad and "Video Player".  I played the video via ES File Manager connected to a Windows Samba share, and as with other A10 devices there was no problem streaming videos over the network, but some files were not support. Here are the tests results:
H.264 codec / MP4 container (Big Buck Bunny), 480p/720p/1080p – OK
MPEG2 codec / MPG container, 480p/720p/1080p – OK
MPEG4 codec, AVI container – OK with "samplemedia: videos, but some other AVIs could not be played at all.
VC1 codec (WMV) – Videos play just fine, but I could hear audio noise regularly (short time 1 seconds) during playback.
Real Media (RMVB) – FAIL
FLV videos – FAIL
WebM/VP8 – It can play
MKV (several codecs) – OK
Interestingly Z802 appears to be better at playing some videos than Smallart U-Host, as it could play the MPEG2 and WebM without issue which was not the case with the Smallart U-Host. This could because it's switch to another software (e.g. PPTV Pad) to play those files. For videos up to 720p resolution, I also recommend installing MX Player which can take advantage of hardware video decoding when available, and if not, switch to software decoding.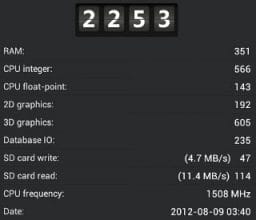 The Antutu benchmark results are disappointing (2253) as Smallart U-Host based on the same processor achieves 2918, especially since Allwinner A10 processor in Z802 is reported to be clocked at 1.5 Ghz, whereas it is only clocked at 1 Ghz in Smallart U-Host. A side by side comparison shows Smallart is faster in every aspect, and especially "SD card" read/write (SD card is here Flash).  As I mentioned above, I installed the apk from Antutu benchmark (version 2.7.1), but the version in Google Play used to test Smallart U-Host is 2.9, so this could be the reason. [Update: This type of score seems standard for MK802, and updated firmware could greatly improve performance]
I also noticed a bug reported for MK802, in which the screen rotates by 90 degrees in some applications, and it happens both with Antutu and Quadrant. I could not see those rotations in other applications such as the Browser, ES File Manager and the video players.
Speaking about Quadrant, Z802 was the first ever A10 device where I could run Quadrant successfully. Yeah! The score (1518) is not that far from Samsung Nexus S as you can see in the screenshot below.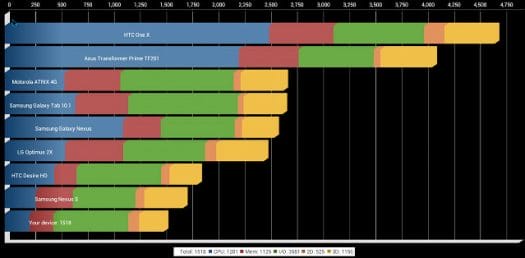 One common complain about MK802 is that it overheats excessively, but during the few hours I played with Z802 I noticed the box gets hot, but nothing excessive, very similar to other mini PCs I tried.
Zero Devices Z802 appears to be exclusively available on Asiapads for $85 including shipping via Shenzhen Post. This is more expensive than other similar (not to say identical) devices, but the higher price could be due to extra accessories, and you may get better support than when buying a no-name device.

Jean-Luc started CNX Software in 2010 as a part-time endeavor, before quitting his job as a software engineering manager, and starting to write daily news, and reviews full time later in 2011.