Now is the time to review another device sent to me by Geekbuying. Tronsmart Promotheus is an Android 4.1 Android set-top box powered by AMLogic AML8726-MX (aka AML8726-M6) with 1GB RAM and 4GB Flash, 3 USB ports, as well as Wi-Fi and Ethernet for connectivity. This device, which looks like a spaceship (my wife said it looks like a buffalo), has the potential to run XBMC with full hardware acceleration in Android and/or Linux.
Tronsmart Prometheus Unboxing
I've received the box in the package below.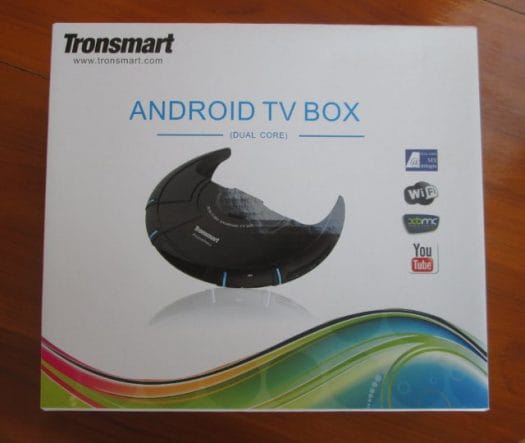 Apart from Promotheus media player, the package contains a 12V/1A power supply, an HDMI cable, an AV cable and a user manual in English that appears to be useful for once. It explains how to connect to device to the TV, to the networks, and to the power, how to do firmware upgrade, and how to troubleshoot it. It is presented in a way that may actually may want you to read it.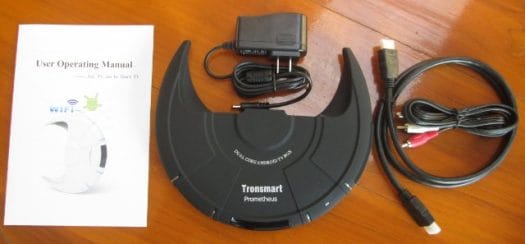 Time for a close-up on the box itself.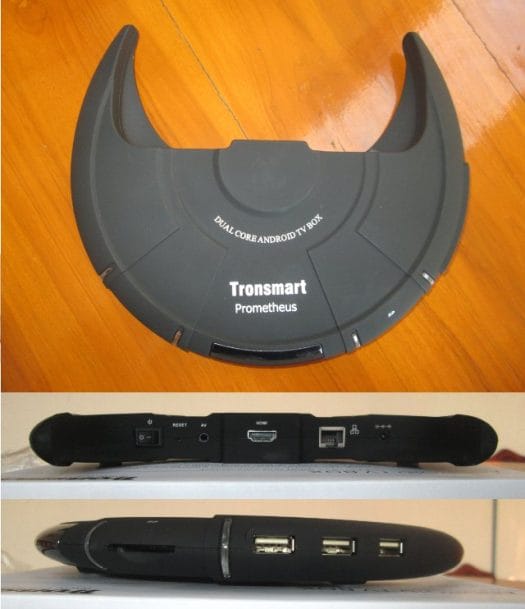 That's a great change from the usual black box type media players, and I find the design really appealing. There's not much to see from the top view, except the 4 LEDs and the plastic for the IR sensor. At the back, we'll find the power switch, a reset button, AV output (composite video + stereo audio), HDMI, Ethernet, and the power jack. On the front of the device (rotated by around 45 deg in the picture above), we'll find an SD card slot, and 3 USB ports.
First Boot, Settings, and First Impressions
Let's now connect the device to the TV via HDMI (and composite), add a USB keyboard and mouse, connect an Ethernet cable, the power adapter, and start the device. The device is small enough to be partially placed under my TV screen, but the HDMI connector position prevents me from centering the device under the TV, but that's just a small aesthetic issue. When the device is powered on the four LED will light up. The orange one on the right of the picture blinks with Ethernet traffic.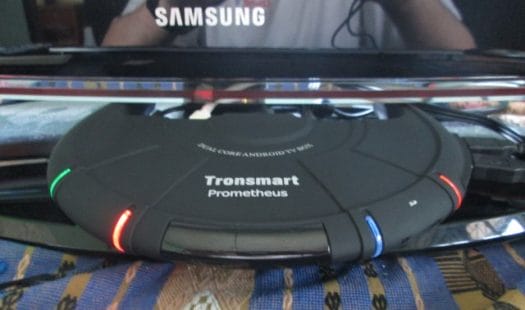 After a few second the boot completes, and you're greeted by a menu asking to select "Launcher" or "MainScreenTheme" for your Android skin. The first one is the default Android Home Screen, and the second is a user interface especially designed for the TV.
You can opt to try a launcher once, or set it as the default launcher. You'll still have access to the same applications, the 2 options are just different ways to present the same thing, but the first one may be better to use with a mouse and keyboard, and the second better with an IR remote. There's a screenshot button, but no Volume control, power off button, nor full screen button in the main screen.
I was slightly disappointed that Ethernet was not enabled automatically as I connected the cable, but it's easy to enable it in the Settings Menu. Other connectivity options include Wi-Fi, B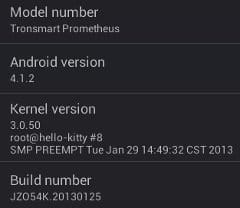 luetooth (via USB dongle), VPN and portable hotspot. The "Sound" menu allows you to set digital audio output to PCM (downsampling), SPDIF passthrough (Although there's no optical out), or HDMI passthrough.  The "Display" section lets you select several HDMI output modes: 480i/p, 576i/p, 720p50, 720p60, 1080o/p @ 60 Hz, or 1080i/p @ 50Hz, and  one AV output mode: YUV. This means only component output is available, and you can't output to composite [Update: You need to set 480i or 576i first and then change to CVBS in the menu]. As you can see from the unboxing pictures, the cable is for composite + stereo audio, so after some trials and errors, I manage to connect the YUV cables to my TV (Yellow <-> Green, White <-> Blue, Red <-> Red), and display Android, but it's just mainly black and white, with some color ghosting. The higher the resolution the worse ghosting becomes. Basically that means HDMI is currently your only option with this media player. Several Developer Options are available (including USB debugging). In the "About MediaBox" section, the model "number" is indeed Tronsmart Prometheus, and it's running Android 4.1.2 with kernel 3.0.50.
Google Play works fine, and I could install benchmarks (Antutu, Quadrant), utilities (Es File Explorer), social apps (Facebook, YouTube..), and games (Temple Run 2, Angry Birds Star Wars…). The latest firmware comes rooted, so no need to look for the rooting method in case some of your apps require it.
As with other dual core Android media devices, operation is smooth, and Prometheus firmware appears to be very stable. Many games can't be played due to lack of input support, but that's the same for all Android devices I've recently tested.
Video Playback on Tronsmart Promotheus
There are two media players pre-installed:
ES Media Player
Video Player
I just used ES Media Player for video playback testing, and installed MX Player as a fallback software. As usual, the samples includes videos from  samplemedia.linaro.org videos, and a few other video samples, and played them from a CIFS/SAMBA share in Ubuntu via the Ethernet connection:
H.264 codec / MP4 container (Big Buck Bunny), 480p/720p/1080p – OK
MPEG2 codec / MPG container, 480p/720p/080p – OK
MPEG4 codec, AVI container – OK
VC1 codec (WMV) – OK
Real Media (RMVB) – RV10 and RV9 OK, but playing RV8 made my Samsung TV go into an unsupported mode. Same results with MX Player.
MOV file from Canon camera – OK
FLV videos – OK.
WebM – 480p/720p/1080p – Failed.
MKV (several codecs) – OK.
Since I'm playing videos via Ethernet, I also had to try a few high bitrate videos:
ED_HD.avi (1080p MPEG-4 – 10Mbps) – Black screen audio only. Same for MX Player except if I use S/W decoding, but the CPU is not fast enough to handle it smoothly.
big_buck_bunny_1080p_surround.avi (1080p H.264 – 12 Mbps) – OK
hddvd_demo_1080p.mkv (1080p VC1 – 17.5 Mbps) – It can play but it's very obvious lots of frames are skipped during playback, and this has nothing to do with buffering.
h264_1080p_hp_4.1_40mbps_birds.mkv (1080p MKV – 39.1 Mbps) – I played it a few times, sometimes it looked perfect, sometimes a frame or more was skipped.
I did not get the short regular (3 seconds) static noise ("sshhh") when playing AC3 that I experienced with Droid Stick A2, and reported for previous Promotheus' firmware, as it's fixed in the latest firmware. But it still happens with DTS/DTS-HD audio tracks. Oh.. an in case you wondered, Prometheus (the movie) just plays great in Prometheus (the set-top box) :).
For those who plan to connect via Wi-Fi, I had no problems playing a 8.6 Mbps VC1/WMV over Wi-Fi, and a file copy (278 MB) between the network share and the flash memory took 3m20s (1.39MB/s) which is roughly the same performance as Android mini PCs.

Although there are still a few issues (DTS static noise could be the main issue), video playback is pretty good on this device.
I could run both Antutu (version 3.1.1) and Quadrant successfully.

An Antutu score of 7827 is slightly lower than I expect, but still decent. You'll notice the AMLogic SoC is clocked at 1.32 GHz, whereas in other devices it's usually clocked at 1.2Ghz. Compared to the 8461 score achieved by
Droid Stick A2
(same AMLogic AML8726-MX SoC) this resulted in faster RAM and CPU benchmark, equivalent 2D graphics, SD card test, and DB I/O, but strangely the 3D graphics are nearly twice as slow (1205 vs 2235), albeit both devices output at the same resolution (1280×672). However, in Quadrant benchmark, Prometheus performs better than Droid Stick A2 with a score of 3410 (vs. 3181), and 3D performance is basically the same in both devices (1824 vs 1817).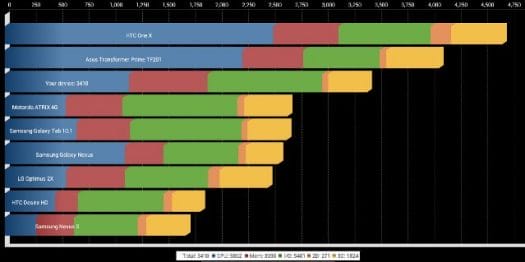 The information tabs in Antutu and Quadrant show the CPU frequency oscillates between 48/96 MHz and 1320 MHz, the user interface resolution is 1280×672, the product and board name is g02ref, and there's a total of 874,892 KB RAM available for Android.
After removing the 6 screws from the casing, we can see the hardware inside the box is composed of two boards:
A baseboard – VISSON_MBX_BASE BOARD_V01
A CPU Module – MBX_CPU BOARD_V01 with AMLLogic AML8726-MX, and the NAND flash, as wll as 4x RAM chipsets.
Those two are apparently manufactured by a Chinese company called VISSON.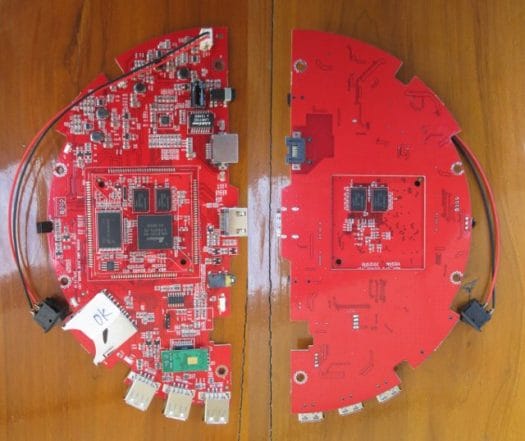 Most of the components are at the top with the CPU board soldered to the main board which feature the rest of the components, and the connectors including 3 USB ports, one SD card slot, the Wi-Fi module (soldered in a way that does not seem reliable), HDMI & component outputs, RJ45 Ethernet jack and Ethernet PHY, IR sensor, and all the circuitry to handle power. On the left of the top view, close to the IR sensor, you'll noticed 4 through holes that might be the UART port for debugging.
Conclusion
All in all I'm very happy with Tronsmart Promotheus media player. It's a good looking (and geekish) device, that performs smoothly and reliably, with pretty good video playback capabilities, and good Wi-Fi performance (although I would really use Ethernet instead, when possible/convenient).
But there are still some issues I've found through my testing, and improvements I'd like:
AV output – Lack of composite support (hardware limitation?), and component output did not work properly on my TV. [Update: Composite does work, but you have to change to 480i or 576i first before being able to switching to CVBS. This type of user interface is just wrong IMHO. I also get snow on the screen, and some audio noise in the Home Screen, so AV output is basically crap on that device]
Video/Audio issues:

WebM / VP8 video decoding does not work
Static noise with DTS audio [Update: I've just learned it may be done on purpose when license has not been purchased]
One video failed to play: Elephant dream (MPEG-4)
One video appears to skipped a lot of frames: hddvd_demo_1080p.mkv (VC1)
One RV8 video failed to play and switched the TV to "unsupported mode".

Potential 3D performance issue (Cf. low Antutu 3D graphics benchmark score)
Lack of soft power and full screen buttons.
Auto-detection and enablement of Ethernet when cable is detected at startup, or plugged during use.
Game input support for games such as Temple Run 2, Subway Surfers, Shadowgun …
In my latest Measy U2C review, I got some complains that I did not address XBMC support and Linux. So I'll give some details about this today. The stable release of XBMC only support specific devices currently, and if you want to use XBMC with an external player, video testing above already addresses that, indirectly. The good news is that Tronsmart is allegedly working to bring XBMC support with full hardware acceleration to the device [Update: following j1nx comment, it may be that Tronsmart actually hopes XBMC dev will port it to their hardware, but initial contacts do not look promising…]. I'm not aware of a Linux port on AML8726-MX yet, although we have the "common" source code, as some customers' specific drivers may be missing. But it will surely be possible to eventually get Linux running on the device, and possibly have a port of XBMC Linux on it, since I understand the VPU (Video Processing Unit) is the same as on AMLogic AML8726-M1/M3 SoC.
Geekbuying sells the device for $99.99 including shipping. It's also available in other online stores such as several shops in Aliexpress for the same price, and Amazon US
US ($109.98).

Jean-Luc started CNX Software in 2010 as a part-time endeavor, before quitting his job as a software engineering manager, and starting to write daily news, and reviews full time later in 2011.